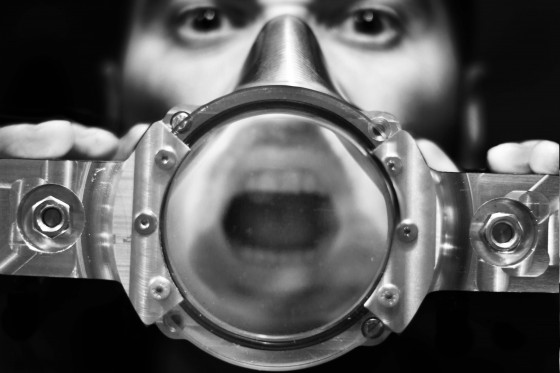 As the imminent unleashing of AUTHOR & PUNISHER's Women & Children full-length draws near, industrial sound savage/engineer/former robotics major Tristan Shone is very pleased to announce a run of North American tour dates supporting Philip H. Anselmo & The Illegals! Set to commence July 31st in Tulsa, Oklahoma, the Technicians Of Distortion Tour will rampage its way through 15 cities, coming to a sweltering close on August 20th in Atlanta, Georgia. Additional support will be provided by Warbeast.
Comments Shone: "I am extremely excited that Phil invited me on this tour…I think for A&P to be able to play through these sound systems in rooms this size with a ravenous audience will be killer. I can't wait!" See confirmed dates below.
AUTHOR & PUNISHER mercilessly manipulate the principal conventions of doom, industrial and heavy bass music relying on cold steel and soulless machinery to sonically replicate the despondency of life. Described most succinctly as "industrial doom," this one-man project utilizes primarily custom designed and fabricated machines and speakers, devices that draw heavily on aspects of industrial automation and robotics and focus upon the eroticism of interaction with machine. Through his maniacal audio decomposition, Shone paints an often disturbing soundscape of a diseased world.
In celebration of Shone's compelling creations, today Nation Public Radio hurls forth third track "Melee." Fittingly notes NPR: "Bloated, muddled beats hang in the air like zeppelins until Shone's steel-toed boot of a chorus comes crashing down. The structure is something like Nine Inch Nails' strongest songs: the build, the climax, then the chaos. The last minute of 'Melee' sounds like a death march led by a million-strong war cry. The machines have taken over. You have 20 seconds to comply."
Check out the "Melee" RIGHT HERE.
And if you missed it, you can still hear title track "Women & Children" streaming at Stereogum at THIS LOCATION as well as "In Remorse" courtesy of Pitchfork HERE, where you'll also find in in-depth interview with Shone.
AUTHOR & PUNISHER – Technicians of Distortion Tour 2013
w/ Philip H. Anselmo & The Illegals, Warbeast
7/31/2013 Cain's Ballroom – Tulsa, OK
8/02/2013 Wooly's – Des Moines, IA
8/03/2013 First Avenue – Minneapolis, MN
8/04/2013 House of Blues – Chicago, IL
8/06/2013 House of Blues – Cleveland, OH
8/07/2013 The Intersection – Grand Rapids, MI
8/09/2013 Royal Oak Music Theatre – Royal Oak, MI
8/10/2013 Danforth Music Hall – Toronto, ONT
8/11/2013 Heavy MTL Festival – Montreal, QC
8/13/2013 The Palladium – Worcester, MA
8/14 /2013 Upstate Concert Hall – Clifton Park, NY
8/16/2013 Best Buy Theatre – New York, NY
8/17/2013 Union Transfer – Philadelphia, PA
8/18/2013 The Fillmore – Silver Spring, MD
8/20/2013 The Masquerade – Heaven Stage, Atlanta, GA
Women & Children will be released via Seventh Rule Recordings on June 11, 2013. Preorder bundles are currently available at THIS LOCATION.
"It's the kind of music that renders the listener helpless but to listen again and again." – Steel For Brains
"Shone's apocalyptic noise blends elements of industrial, doom, and dubstep, and contorts that mass into some chilling, unrecognizable form…" – Stereogum
"Once again the envelope has been pushed, the box stepped outside of and the tenants of doom and industrial have been refracted through the prism of the mind of a true innovator and they sound all the better for it. There are so few unique and wonderful things left in music, but AUTHOR & PUNISHER truly is one of them." –The Sleeping Shaman
"…an all-consuming trip into the realm of mental destruction that amazes with its potent use of musical machinery. Shone certainly knows how to draw from many influences without making them painfully obvious, and this new album only refines his knack for crafting electronic music that's chiefly ingrained in industrial and doom metal. Both greatly daring and innovative, the record is destined to be one of the most coveted underground releases of the year." – Sputnik Music
http://www.tristanshone.com
http://authorandpunisher.bandcamp.com
A&P Facebook
http://www.seventhrule.com