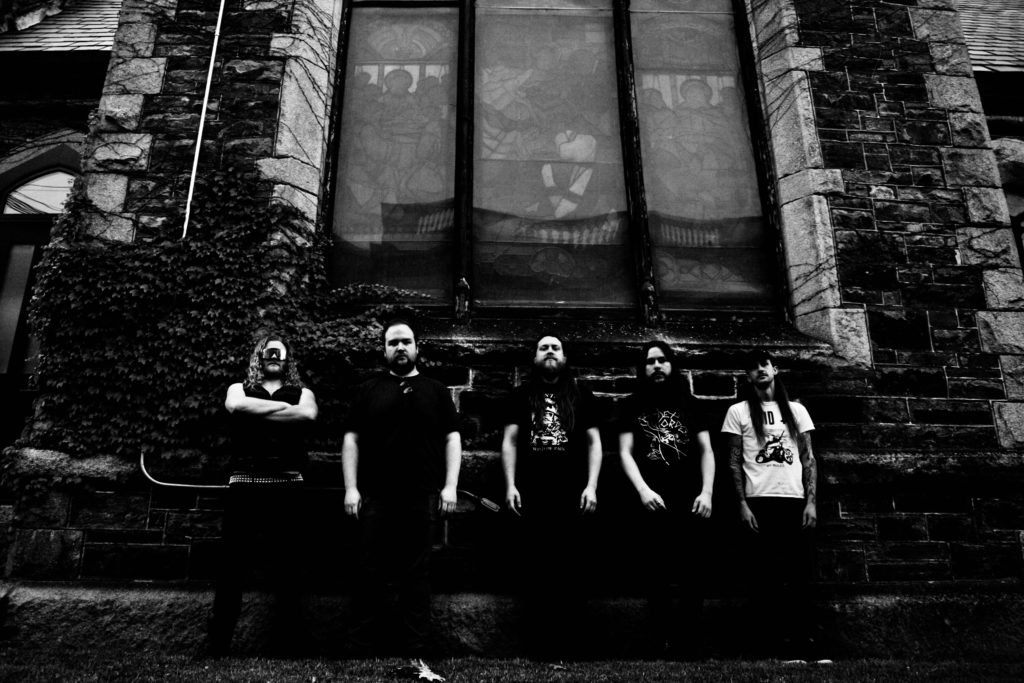 [photo by Bill Shaner]
As Southern Lord prepares to release Beyond The Wall Of Desolation, the debut LP by Worcester, Massachusetts crossover crew HIGH COMMAND, Revolver Magazine is now hosting an exclusive premiere of the album's scorching "Merciless Steel."
Recorded at Machines With Magnets in Pawtucket, Rhode Island, (Daughters, The Body, Lingua Ignota) and mastered by Brad Boatright at Audiosiege (Obituary, Integrity, Black Breath), the eight bludgeoning tracks on Beyond The Wall Of Desolation cleave the tender cranium of the listener asunder across their forty-three-minute running time.
HIGH COMMAND declares with the "Merciless Steel" premiere, "Beneath the blackened skies of Secartha, Dikeptor leads the infernal march to battle into the Valley Of Death. As blood drips from torch-lined passages of the Primordial Tomb, the unholy Shadow God appears. Heed the call of valor! Behold the power of merciless steel! For what punishment does failure demand?"
"We at Revolver have been fans of HIGH COMMAND for some time now," the popular magazine writes, continuing, "these Mass boys fucking rip. Now comes word that HIGH COMMAND have bottled that lightning on the forthcoming Beyond The Walls Of Desolation, their Southern Lord debut LP. The lead single is 'Merciless Steel,' a blazing crossover destroyer that has all the necessary parts for a killer metal anthem, with the sum of its parts combining to much, much more. Bursting with dive bombs, snarling vocals, a 1,000MPH thrash riffage and a breakdown built for the extinction of cowards, 'Merciless Steel' is every bit as tough as the title suggests."
Unleash HIGH COMMAND's "Merciless Steel" at Revolver Magazine RIGHT HERE.
Southern Lord will release Beyond The Wall Of Desolation on September 27th. Find preorders at the label webshop HERE and at Bandcamp HERE.
Following their extensive tour with Spirit Adrift in recent weeks, watch for HIGH COMMAND to declare new waves of touring throughout the year in support of Beyond The Wall Of Desolation.
https://highcommand.bandcamp.com
https://www.facebook.com/HighCommand
http://www.southernlord.com
http://southernlord.bandcamp.com
http://twitter.com/twatterlord
https://www.facebook.com/SLadmin
https://www.instagram.com/southernlordrecords