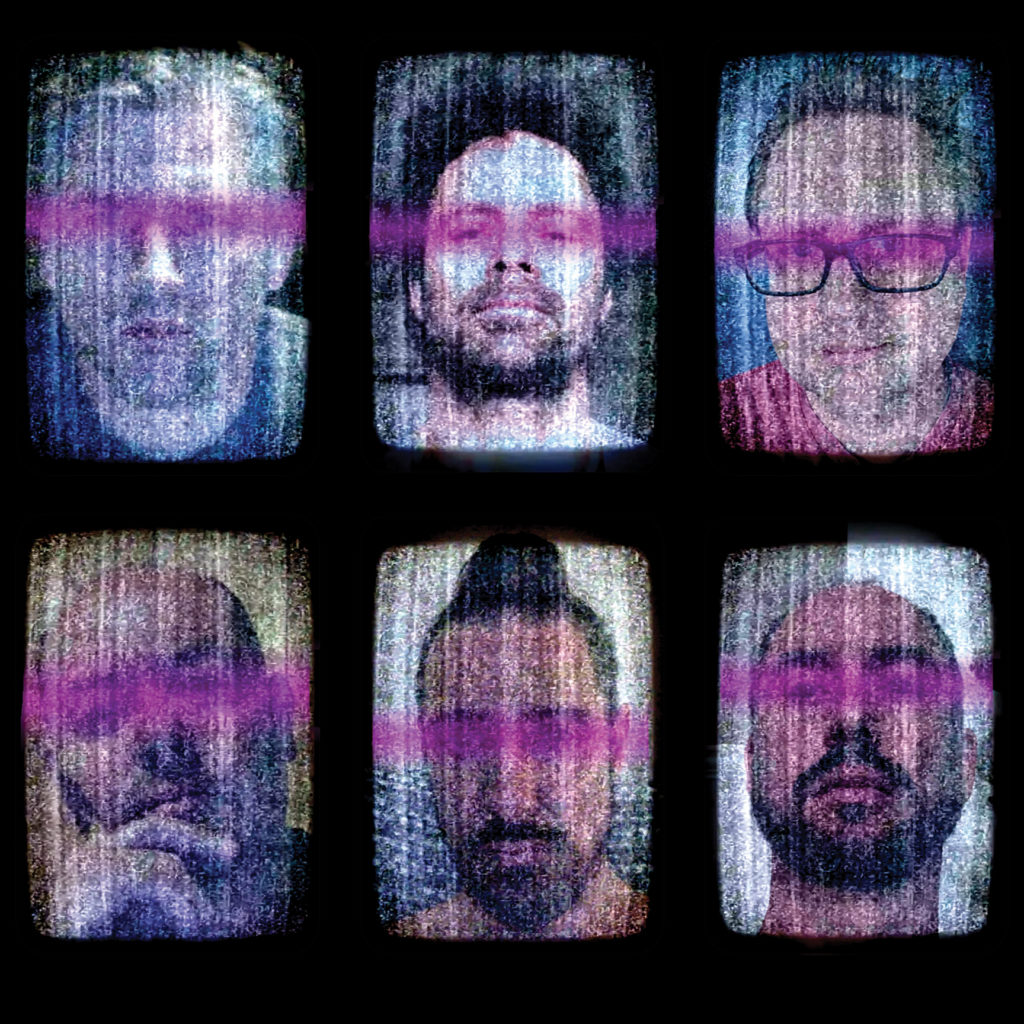 High-octane experimental/metal fusion act HIGH CASTLE TELEORKESTRA – founded by musicians who currently or formerly have played with the likes of Estradasphere, Secret Chiefs 3, Mr. Bungle, Farmers Market, and more – will release its The Egg That Never Opened debut LP via Art As Catharsis in June. Today, Treble is hosting the exclusive premiere of a new video for the LP's debilitating closing number, "Mutual Hazard."
Gently playful in certain places, exhilarating in others, and even teetering on the brink of cacophony at times, HIGH CASTLE TELEORKESTRA's The Egg That Never Opened is truly a dynamic and engaging listening experience for lovers of avant-garde, experimental, and progressive music of all shapes and sizes.
Crossing retro-futurism, psychedelia, and their own jam session imagery, the video for "Mutual Hazard" shows HIGH CASTLE TELEORKESTRA taking the first steps towards expanding on the Radio Free Albemuth narrative first penned (and discarded) by Phillip K. Dick. The video captures the spirit of the band's wild, free formed approach – there's light humor, heavy instrumentals, and a sense of unfolding mystery as the band communicates the story to each other over scrawled signage.
"We worked with a small team on our video," says Bogen, "consisting of Casey Beatrix (lead editor, animator), Kevin Shipp (analog video processing), David Dines (graphic designer and artist), and Larry Joe Smith (concepts and an early video collaborator). It looks amazing. The video serves up band member performances, a narrative thread based on the book but transposed to the world of HIGH CASTLE TELEORKESTRA's remote collaborations and subsequent government surveillance, and plenty of surreal imagery that goes along with the underlying story of the song."
Treble writes with their exclusive premiere of the video, "Today, they've shared a new video for 'Mutual Hazard,' a clip that showcases just how rich and eclectic their hybrid of sounds truly is, blending elements of metal, progressive rock, Eastern European folk, jazz, and other unique bits, all of which come together in an invigorating track that embraces the unexpected. Combined with a video inspired by Philip K. Dick, it's a rich and cinematic experience."
Watch HIGH CASTLE TELEORKESTRA's face-melting "Mutual Hazard" video first through Treble now at THIS LOCATION.
The Egg That Never Opened will see release through Art As Catharsis June 17th on LP, CD, and digital platforms. Find preorders at Bandcamp HERE and an array of other DSP options HERE.
Watch for additional audio previews and more on the LP to post over the weeks ahead.
HIGH CASTLE TELEORKESTRA was born of the artistic frustrations of the pandemic and comprised of middle-aged collaborators scattered across The United States, Australia, Norway, and France. Focusing on superbly produced, enigmatic recordings, the diverse skillset of the various members traverses a wide landscape of musical learning from jazz, classical, rock, doo-wop, avant-garde, metal, various international folk music, and more. Spearheaded by Tim Smolens (Estradasphere, I.S.S., Don Salsa, session work with Secret Chiefs 3) and Chris Bogen (Doc Booger), the ensemble is filled out by Bär McKinnon (Umlaut, Mr. Bungle), Dave Murray (Estradasphere, Traun), Stian Carstensen (Farmers Market, collaborations with Jacob Collier, Mike Patton, Jimmy Rosenberg), and Timba Harris (Estradasphere, Probosci, session work with Secret Chiefs 3).
Fans of non-traditional uses of metal – such as were in play in their previous bands, or in the Baltic-esque stylings of Igorrr – will find themselves right at home within the thundering aural cosmos borne by The Egg That Never Opened. The unorthodox sonic landscape traversed on this forty-eight-minute musical odyssey is not entirely unexpected from a roster with this collective musical résumé. Yet it is somehow fresh, vibrant, and dare we say mature in its eclectic cadence. HIGH CASTLE TELEORKESTRA makes music that is experimental but catchy; intense yet fun without being sophomoric, and deftly avoids the pitfalls of uber-technical progressive music.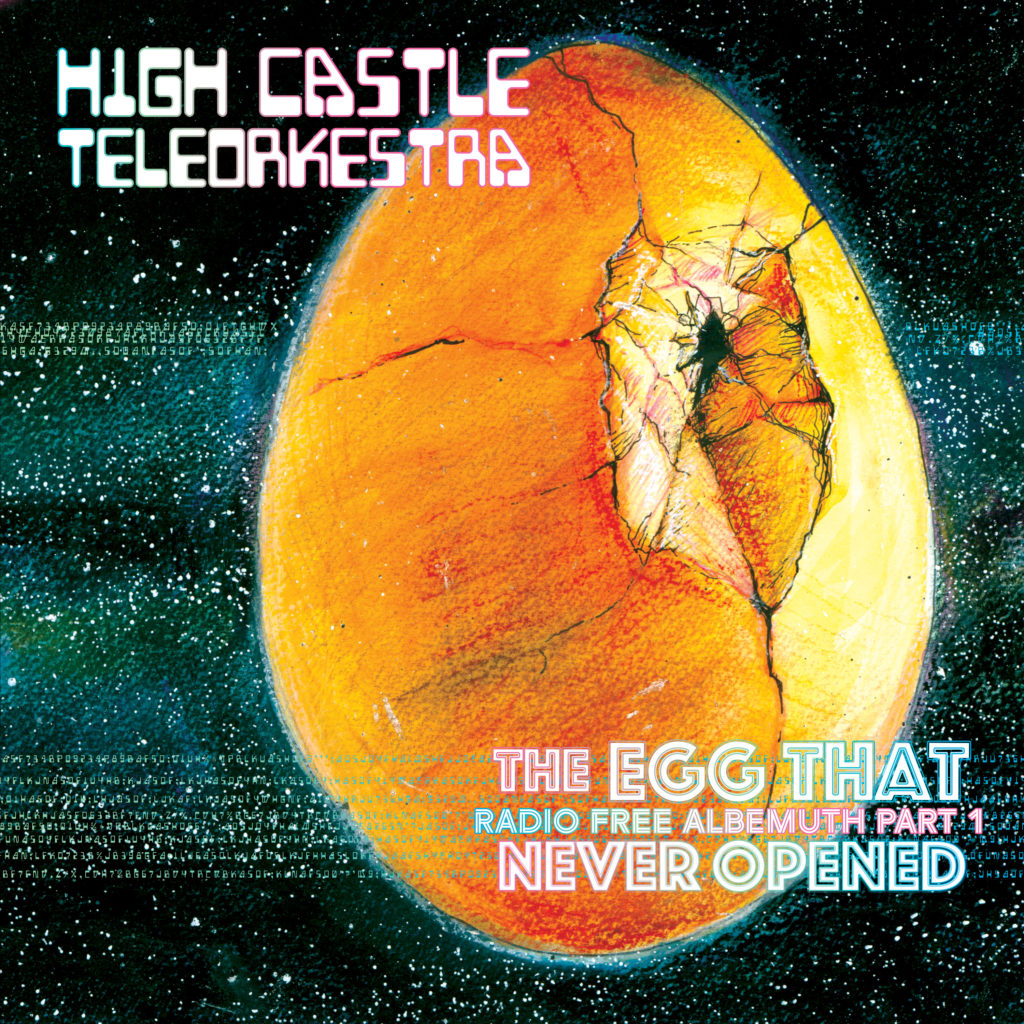 https://highcastleteleorkestra.com
https://www.instagram.com/highcastleteleorkestra
https://www.facebook.com/HighCastleTeleorkestra
https://highcastleteleorkestra.bandcamp.com
https://www.artascatharsis.com
https://www.facebook.com/artascatharsis
https://www.instagram.com/artascatharsis
https://music.artascatharsis.com