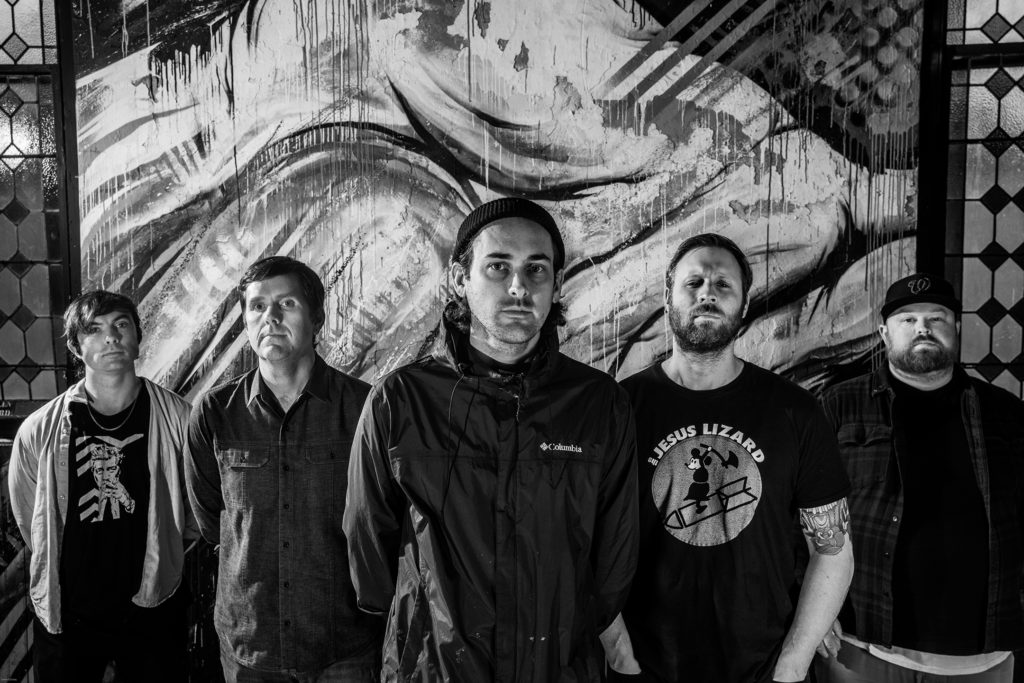 photos by Seannie Camera
BURIAL WAVES has issued a new official video for "Light Heads," a song found on their Holy Ground debut, released last year through Dark Operative. The video sees its public premiere through No Echo as the band prepares for a run of Northeast US shows supporting Kowloon Walled City this week.
Formed by a cast of musicians from a wide range of acts including Black Clouds, Pianos Become The Teeth, Caverns, The EFFECTS, and more, BURIAL WAVES' collective output is quintessential of the DC-area, blending elements of post-rock, post-hardcore, alt/indie rock and more, recalling the later 1980s Discord Records alumni and the third wave of Revelation Records' catalog. The band's colorful Holy Ground EP was recorded and engineered by J Robbins (Jawbox, Burning Airlines) and Dennis Manuel, mixed by Paul Malinowski (Shiner), mastered by Mike Nolte at Eureka Mastering, and completed with cover art by Joby Ford (The Bronx).
The latest video from Holy Ground comes in the form of "Light Heads," which was directed by Rory Sheridan. The band's Ross Hurt reveals, "This is the second time BURIAL WAVES worked with Rory on a video, and this time we very much turned it over to him to help bring the song into something visual. The song has some pretty dizzying moments with moments of prettiness, and that's kind of Rory's wheelhouse… He nailed it. We're excited to have another way to have these songs out there. We're finally able to play them out live at some of our favorite venues with some of our favorite bands this coming week, and now we have even more to look forward to, potentially working with Rory more. Special thanks to The Showroom, Atmosphere Lighting, Fabrications Events, and Pete Duvall."
"There were two very weird aspects of this video. First, Rory had to shoot it while we were all needing to be socially distant in the middle of a pandemic. And if that wasn't weird enough, this was shot in a building in downtown DC just after the riots happened Jan 6th, 2020. We were lucky that we still had access to the building, which was on the perimeter of the highly military-guarded zone of the capitol. We would look outside from where we were shooting, and it felt like a military state seeing barbed wire fences and roadblocks guarding the capitol perimeter. There were literally tanks and armed guards right on the other side of the wall where we were filming. It was a very surreal experience."
No Echo writes with the video's first public showing, "…BURIAL WAVES is a band that creates music that isn't that easy to peg down to a single genre bucket… the DC-based quintet's stylistic approach finds them building tension and atmosphere with dissonance and soaring melodies, both from the guitars and vocals. Their press materials compare what Burial Waves is producing to late '80s Dischord Records and third wave Revelation Records, and that's definitely an apt observation."."
Watch BURIAL WAVES' "Light Heads" first at No Echo RIGHT HERE.
Having supported Quicksand in DC last Fall, BURIAL WAVES is booking new live excursions for 2022, having been added to a run of dates with Kowloon and Rid Of Me, hitting Brooklyn this Thursday the 21st, Philadelphia the following day, Baltimore on Saturday, and DC on Sunday.
BURIAL WAVES w/ Kowloon Walled City, Rid Of Me:
4/21/2022 Saint Vitus Bar – Brooklyn, NY
4/22/2022 Silk City – Philadelphia, PA
4/23/2022 The Ottobar – Baltimore, MD
4/24/2022 Comet Ping Pong – Washington, DC
Watch for additional live announcements and more to post over the weeks ahead.
BURIAL WAVES' Holy Ground is available now through Dark Operative, streaming and available through all digital providers including Bandcamp HERE, Apple Music HERE, and Spotify HERE.
"Jarring, occasionally disjointed, and cathartic… sounds like a cross between Caspian's post-rock beauty and The Jesus Lizard's thunderous post-hardcore, and Kyle's soaring voice suits it perfectly." – BrooklynVegan
"…merges the atmospheric density of Hum with the punk immediacy of Fugazi." – Treble
"It's only the first BURIAL WAVES record, and hopefully it won't be the last, but even if it proves to only be a pandemic project, it's a hell of a mark to leave. It's a record that feels genuinely new in a genre that too often defaults to reliance on nostalgia for its power. But what else can be expected from such veterans of the craft?" – The Alternative
https://www.facebook.com/Burial-Waves-104541117635074/
https://twitter.com/burialwaves
https://burialwaves.bandcamp.com
https://www.instagram.com/burialwaves
http://darkops.site
http://darkoperative.bandcamp.com
https://www.instagram.com/darkoperative
https://twitter.com/dark0perative
https://www.facebook.com/darkoperativemusic