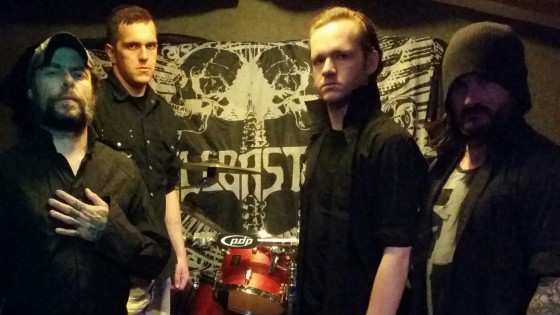 [photo by Damian Thompson]
As the imminent release of Feral, the brand new full-length from long-running UK crust metal crossover crew, HELLBASTARD, draws ever closer, today Cvlt Nation sears the ears of the willing with a stream of second track, "Outsider Of The Year."
HELLBASTARD's Feral is unlike any other modern crossover album. This is primal, back-to-nature shit; a tsunami of raw emotion made sound that demands everything of the listener, no half measures. Not ever. You have to give yourself to the flow completely, or not at all, but the reward for such fearless trust in others is great indeed. An adrenaline shot of pure punk energy, for starters, all filtered through with some of thrash metal's intricacies – but thankfully none of its overblown ego. And there is melody to be had here too, but you have to dig deep, claw through the wreckage and get your hands bloodied; subtle harmonies in the guitar interplays and peaceful interludes where you can rest a while between the harrowing heaviness of most of the material. Because honesty is always harrowing, isn't it? And this is so honest, so utterly uncompromising in its pure existentialism, it will shake you to your core. As the album title suggests, this is a force of nature that refuses to be tamed, and will sweep everything before it asunder, rending it apart with its violent rhythmic contortions. A social hand grenade jammed in your teeth, literally blowing your skull apart with endless possibilities.
Issues guitarist/vocalist Scruff Lewty of "Outsider Of The Year," "You know that feeling you get where you don't like anything about what you experience? Where you'd rather be somewhere else? Like in the company of a beloved pet, like a cat or dog you love spending time with. Anything but the drone of the shitty experience you're having? That's what 'Outsider…' is about. The urge to escape the fools."
Plan your exodus with "Outsider Of The Year" streaming at THIS LOCATION.
And if you were asleep at the wheel and missed it, check out the Feral track teaser along with the official video for the three-part "We Are Coven" video currently streaming at Decibel at THIS LOCATION.
In celebration of its looming release, HELLBASTARD is hosting is special Feral contest. To win, HELLBASTARD devotees need only send the band the most "interesting" photo of themselves holding a copy of their Feral CD, set for official unveiling worldwide on July 17th 2015. Photos should be sent via the band's official FaceBook page: http://www.facebook.com/hellbastardofficial. The winner will be announced on the page exactly one month after the official street release date. Mega prize pack includes:
– A signed guitar (matte black – typical HELLBASTARD fashion) used on several Feral tracks complete with carry case, spare set of strings, a tuner, a DVD of tutorials and basic methodologies of guitar playing.
– Loads of records, some signed, some not, colored vinyl galore
– HELLBASTARD T-shirt
– Various HELLBASTARD CDs
– A DVD featuring full sets from HELLBASTARD and Panzerbastard filmed on the Bastards Over Europe 2011 tour.
A photo of the prize pack can be viewed below Good luck!
Formed in 1985 in the North East of England in the midst of Thatcherism, HELLBASTARD set out to play what they wanted to listen to themselves…. too "metal" for the punks and too "punk" for the metallers the band went on hiatus in 1992 before officially reuniting in 2008 and continue to bring a relevant lyric and sound to counteract against, mediocre sub-standard radio friendly, safety-rock.
Feral was tracked at the prestigious Hellfire Recording Studios (Slayer, Motörhead, Orange Goblin, Napalm Death etc.) in Derbyshire, engineered, recorded, produced and mixed by Ajeet Gill (Warlock UK, Slab, I Am Colossus, etc) and includes guest appearances from Andy "A. Droid" Wiggins (ex Amebix) on "In Praise Of Bast – Feral," Rob "The Baron" Miller (also ex-Amebix… indeed, the love of all things Amebix permeates every note and beat of this album) on "Wychcraft" and Andy Sneap (ex-Sabbat/Hell) on "And The Point Of Your Being Is….?"
Feral will be officially unleashed worldwide on July 17th 2015 on CD and digitally via PATAC Records with exclusive distribution by Independent Label Distribution. The first CD pressing will include a bonus track (not available on digital download or the upcoming 2016 vinyl edition) as well as an eight-page booklet and embossed digipack packaging.
"As ever, the legendary punk-thrashers, led by founder-member guitarist/vocalist Scruff, have poured into this album a massive amount of passion, sadness, anger and sincerity: the work sways from incandescent, bone-crushing, proper (and I mean proper – proper – proper!) thrash to heart-breaking, bleak ambience magnificence…" – 3rdEye.com
http://www.hellbastard.co.uk
http://www.twitter.com/tomhellbastard
http://www.facebook.com/hellbastardofficial?fref=ts
http://www.patacrecords.com/
https://www.facebook.com/patacrecords?fref=ts