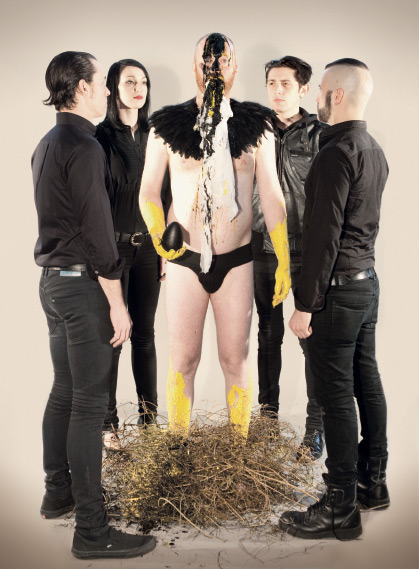 Earsplit PR is proud to work with Melbourne-based instrumental act HEIRS, as the band prepare to officially release their sophomore album Fowl upon U.S. shores this Spring.
Hailed as one of the best post-metal albums of 2009, the band's debut, Alchera, established HEIRS as one of Australia's foremost instrumental acts. Released by German label Denovali Records, the album's accompanying tour saw the band play 69 shows across Europe and Japan, cementing their reputation for delivering an engulfing and all-consuming live experience.
HEIRS' new album, Fowl — again released on Denovali Records — displays a shift towards a broader sonic palette. Incorporating a pugilistic rhythmic foundation with coarse, threatening guitar textures and a stronger electronic presence, a great leap forward for HEIRS, Fowl takes their sound beyond genres and into a realm that is almost hermetic in its vision. Intensely focused yet expansive, the album is technically complex, yet uncluttered and sparse in its execution, simplicity, self-discipline and restraint are the keys to the album's success.
Having recently completed their second European tour, and having already released Fowl in Europe and Australia, HEIRS have set their sights on the U.S., and are set will officially release the album on CD, LP and digital download stateside on April 4th, 2011.
Fowl Track Listing:
1. Dust
2. Fowl
3. Burrow [LISTEN HERE!]
4. Tyrant
5. Men
6. Mother
7. Drain
Promos of Fowl and interviews with HEIRS are available to North American journalists via Earsplit immediately. Diehard fans of Swans, Controlled Bleeding, Ufomammut, Godflesh and Nadja should definitely pay attention to this one!
"…the album's highlights — particularly the relentlessly dark, hammering percussion of the title track and the drunken, The Jesus Lizard-on-codeine swagger of 'Men' — are impressive enough to make this a worthy addition to any burgeoning doom collection." – Rock Sound
"The tension created by the arrangement of these seven pieces sets the listener up for an almost meditative experience, especially when combined with the right setting." – The Silent Ballet
"The night fog, the cold winds along with the infinite array of slow cars moving harmoniously combined to form a bleak image for which only Fowl is the perfect soundtrack." – Chronicles Of Chaos
"…darkness is the overwhelming texture of choice, with an inevitable release that can materialize in the form of Explosions in the Sky-esque guitar ('Dust'), piston-like industrial stabs ('Tyrant'), or a simple gnashing of instrumental teeth ('Men')." – Cyclic Defrost
Heirs – Drain (Live @ Denovali Swingfest, Essen 10.10.10) from Hemi Behmoaras on Vimeo.
http://www.myspace.com/heirsmusic
http://www.heirs.com.au
http://www.myspace.com/denovali
http://www.denovali.com