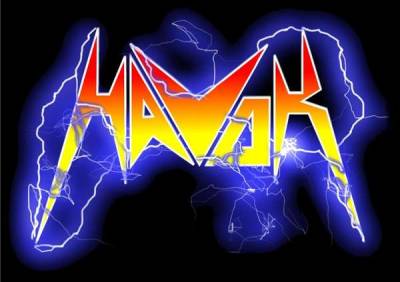 Denver thrashers HAVOK continue their metal assault today confirming May 22 as the North American release date of their new EP titled The Point Of No Return. Recorded by the band with final touches coming via James Murphy (Death, Testament), the EP will contain two brand new songs plus a few HAVOK reworked cover tunes. The Point Of No Return precedes the band's first European adventure beginning early May.
"We've been writing some new music in between tours and we're excited to unveil it," comments vocalist/guitarist Dave Sanchez. "These are the first new songs since Time Is Up came out last year. We recorded a cover of Sepultura's classic 'Arise' for your listening enjoyment and the EP features our Slayer medley that was only available on the digital version of Time Is Up. The EP is a good precursor to where the next album will be taking us. I can't wait to play this new stuff live… See you all on the road!"
Currently on tour with English Dogs, HAVOK's stage show continues to gather critical fan and media applause. On announcement of the tour, Los Angeles' Big Wheel Magazine noted, "opening the show will be Colorado's fiercest… HAVOK are definitely a band to keep a watch for as their break-neck speed metal is taking the states by storm." The band has confirmed a string of headline dates beginning March 2 which includes a performance in Puerto Rico. HAVOK then will align with Sepultura, Death Angel, and Krisiun for a tour beginning in Santa Ana, California on April 10 and wraps in New York on April 30.
HAVOK released their full-length debut, Burn, mid 2009. The record instantly found a nice pocket of fans while initiating the early curiosity of media around the globe. Commenting after signing with Candlelight Records, Sanchez said, "this is the break we've been working towards. It is the beginning of great things to come. We know that the work is really just beginning and that the pressure is on. But pressure, as you know, makes diamonds."
It was with the release of Time Is Up early 2011 that things really started to fall into place for the young four-piece. "HAVOK have hit their stride," said Decibel Magazine. "HAVOK is everything that is great about thrash," notes Terrorizer. "Everyone should be worshipping at these Denver native's altar as they have the flashy skill, ridiculous song-writing chops, and prodigious lead guitar work that'll have even the most jaded ears saying, 'okay just this last one,'" adds Rock Sound. Two videos, "Covering Fire" and "D.O.A." have added to the ongoing success of Time Is Up, which has seen double the sales compared to Burn, all while the band has maintained an insane touring schedule. Sanchez says, "we've been touring a lot in support of Time Is Up and this year is no exception. We're hitting the road harder than ever in 2012. There is a lot to look forward to, including some things outside of North America. I can't wait!"
To view both videos, visit the band's YouTube channel HERE.
Upcoming HAVOK tour dates include:
HAVOK w/ English Dogs, The Casualties, Toxic Holocaust:
2/17/2012 Station 4 – St. Paul, MN
2/19/2012 Summit Music Hall – Denver, CO
2/21/2012 Studio Seven – Seattle, WA
2/22/2012 Branx – Portland, OR
2/23/2012 The Pound – San Francisco, CA
2/24/2012 Key Club – Hollywood, CA
2/25/2012 Galaxy Theatre – Santa Ana, CA
2/26/2012 Epicentre – San Diego, CA
HAVOK Headlining Shows:
3/02/2012 Another Hole In The Wall – Steger, IL
3/09/2012 Outta Bounds Saloon – Loveland, CO
3/13/2012 Riot Room – Kansas City, MO
3/14/2012 The Conservatory – Oklahoma City, OK
3/15/2012 Click's Billiards – Tyler, TX
3/16/2012 Betsey's – Austin, TX
3/17/2012 Bonds 007 – San Antonio, TX
3/31/2012 La Respuesta – Santurce, PR
HAVOK w/ Sepultura, Death Angel, Krisiun:
4/10/2012 Yost Theater – Santa Ana, CA
4/11/2012 DNA Lounge – San Francisco, CA
4/12/2012 Branx – Portland, OR
4/13/2012 Studio Seven – Seattle, WA
4/14/2012 In The Venue – Salt Lake City, UT
4/15/2012 Gothic Theatre – Englewood, CO
4/16/2012 Manny's – Billings, MT
4/17/2012 The Exchange – Regina, SK
4/18/2012 Pryamid Cabaret – Winnipeg, MB
4/20/2012 Majestic Theater – Madison, WI
4/21/2012 Mojo's – Joliet, IL
4/22/2012 Water Street Music Hall – Rochester, NY
4/23/2012 Opera House – Toronto, ON
4/24/2012 Imperial Theater – Quebec City, QC
4/25/2012 Club Soda – Montreal, QC
4/26/2012 Bogie's – Albany, NY
4/27/2012 Sonar – Baltimore, MD
4/29/2012 Higher Ground – South Burlington, VT
4/30/2012 Irving Plaza – New York, NY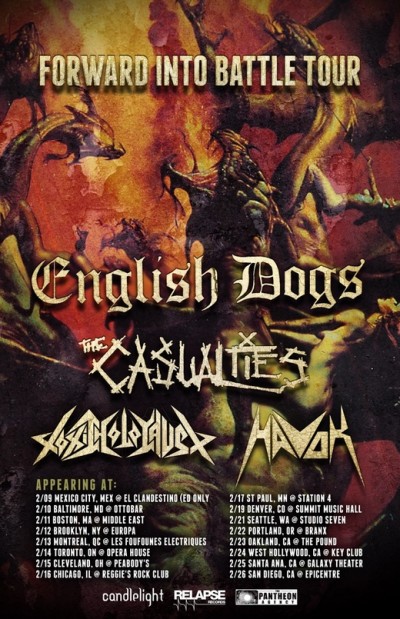 https://www.facebook.com/HavokOfficial
http://candlelightrecordsusa.com