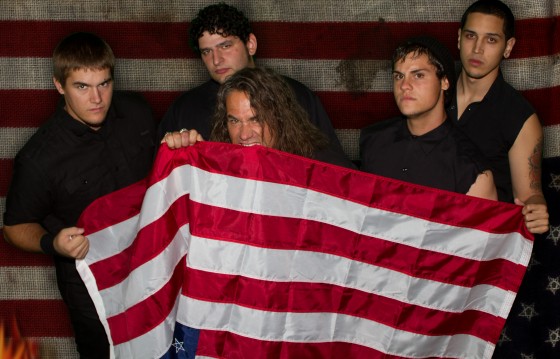 Massacre Records is set to unleash the debut album from American thrash outfit HATRIOT, celebrating the comeback of the infamous original vocalist for Bay Area legends Exodus, Testament and others, Steve "Zetro" Souza!
Having recently signed a deal with Germany's Massacre Records, the band are now prepared to drop their debut, Heroes Of Origin, the album set for North American release on February 12th, and preceded by the European release next week, on January 25th. Raging with old-school Bay Area thrash metal in the best Testament/Exodus/Forbidden tradition, the album's ten anthems were produced by Juan Urteaga at Trident Studios (Testament, Heathen, Exodus, Skinlab). The cover art and booklet was designed by Mark Devito (Motörhead, Laaz Rockit, Ruffians, Exodus).
Having proven his metal allegiance by fronting such acts as Exodus, Legacy (Testament), Dublin Death Patrol, Tenet, AC/DZ, and more, Steve Souza has once again stepped into the thrash metal world with HATRIOT, taking his musical roots back in time to the 1980's when metal was fast, furious, and yet still melodic. Souza has a vocal style that few singers possess, boasting a powerful sting yet at the same time delivering in a way where fans can fully understand the lyrics, a trademark trait that made him one of the premier singers in the thrash metal world.
Still residing in the evolutionary birthplace of thrash metal, Steve Souza brings HATRIOT to life backed by his two sons — bassist Cody Souza and drummer Nick — along with young guitar wizard, Kosta "V" and second guitarist Miguel Esparza, the quintet out to crush and destroy everything in its path. Unsatisfied with the newer trends in the metal scene, the band produces quality old-school metal with a proven formula with the perfect chemistry and hits the stage light a freight train!
HATRIOT has earned respect having supported Testament and Forbidden on stage with sporadic performances, and in 2013 will take to the road in a much more rigorous fashion in support of Heroes Of Origin!
Check out HATRIOT's official video for "Blood Stained Wings" from Heroes Of Origin and more RIGHT HERE.
Heroes Of Origin Track Listing:
1. Suicide Run
2. Weapons of Class Destruction
3. Murder American Style
4. Blood Stained Wings
5. The Violent Time Of My Dark Passenger
6. Globicidal
7. And Your Children To Be Damned
8. The Mechanics Of Annihilation
9. Shadows Of The Buried
10. Heroes Of Origin
HATRIOT Lineup:
Steve "Zetro" Souza – vocals
Kosta "V" – guitars
Miguel Esparza – guitars
Cody Souza – bass
Nick Souza – drums
http://www.hatriotmetal.com
https://www.facebook.com/hatriot
http://www.reverbnation.com/hatriot
http://www.massacre-records.com
https://www.facebook.com/massacrerecordseurope