HARM'S WAY will head back out on the road next month supporting Terror on a North American tour. The trek begins September 28th in San Diego, California and will run through October 16th in Philadelphia, Pennsylvania. Additional support will come from Backtrack, Year Of The Knife, and Candy. From there, the band will take a short break before joining Cannibal Corpse and Hate Eternal for a US tour that will stretch from November 2nd in Columbia, South Carolina through December 6th in Ft. Lauderdale, Florida. The band's latest run of onstage bedlam follows their summer journey on the final edition of Vans Warped Tour. See all confirmed dates below.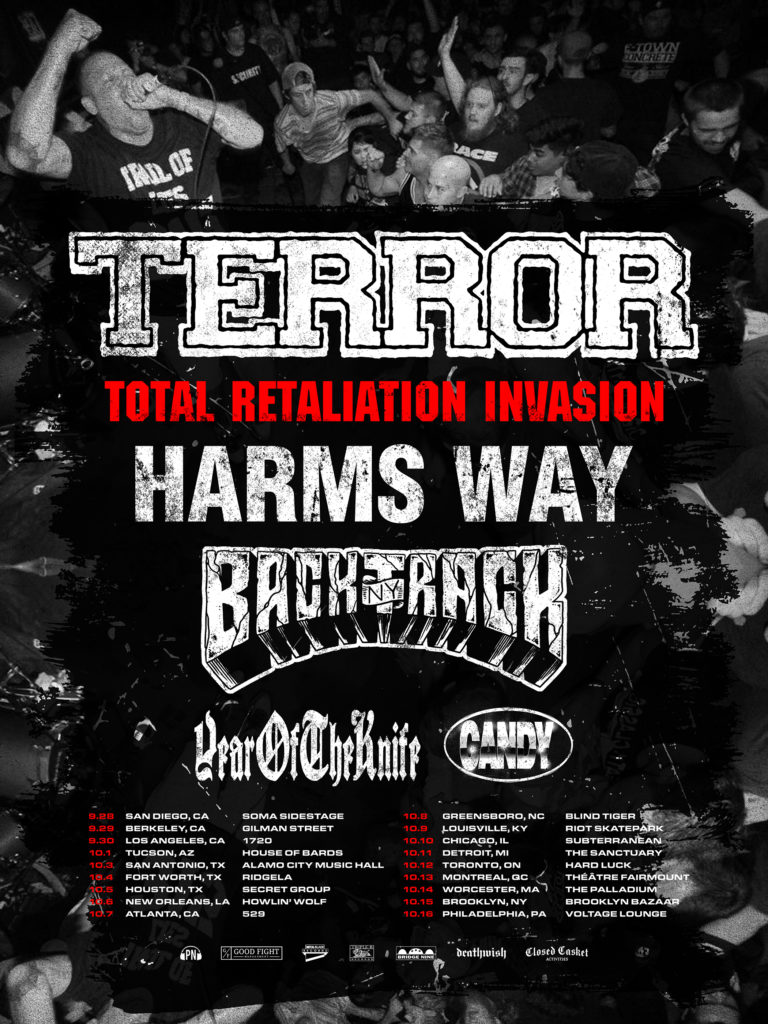 HARM'S WAY w/ Terror, Backtrack, Year Of The Knife, Candy:
9/28/2018 Soma Sidestage – San Diego, CA
9/29/2018 Gilman Street – Berkeley, CA
9/30/2018 1720 – Los Angeles, CA
10/01/2018 House Of Bards – Tucson, AZ
10/03/2018 Alamo City Music Hall – San Antonio , TX
10/04/2018 Ridgela – Fort Worth, TX
10/05/2018 Secret Group – Houston, TX
10/06/2018 Howlin' Wolf – New Orleans, LA
10/07/2018 529 – Atlanta, GA
10/08/2018 Blind Tiger – Greensboro, NC
10/09/2018 Riot Skatepark – Louisville, KY
10/10/2018 Subterranean – Chicago, IL
10/11/2018 The Sanctuary – Detroit, MI
10/12/2018 Hard Luck – Toronto, ON
10/13/2018 Théâtre Fairmount – Montreal, QC
10/14/2018 The Palladium – Worcester, MA
10/15/2018 Brooklyn Bazaar – Brooklyn, NY
10/16/2018 Voltage Lounge – Philadelphia, PA
w/ Cannibal Corpse, Hate Eternal:
11/02/2018 The Music Farm – Columbia, SC
11/03/2018 Orange Peel – Asheville, NC
11/04/2018 Shaka's Live – Norfolk, VA
11/05/2018 Chameleon Club – Lancaster, PA
11/07/2018 Higher Ground – Burlington, VT
11/08/2018 Fete – Providence, RI
11/09/2018 White Eagle Hall – Jersey City, NJ
11/10/2018 Anthology – Rochester, NY
11/11/2018 Skully's – Columbus, OH
11/13/2018 The Intersection – Grand Rapids, MI
11/14/2018 Civic Music Hall – Toledo, OH
11/15/2018 The Castle Theater – Bloomington, IL
11/16/2018 Durty Nelly's – Palatine, IL
11/17/2018 The Majestic Theater – Madison, WI
11/18/2018 Wooly's – Des Moines, IA
11/20/2018 The Waiting Room – Omaha, NE
11/21/2018 Diamond Ballroom – Oklahoma City, OK
11/23/2018 House Of Rock – Corpus Christi, TX
11/24/2018 Warehouse Live – Houston, TX
11/25/2018 The Varsity Theater – Baton Rouge, LA
11/27/2018 Cosmic Charlies – Lexington, KY
11/28/2018 Mr. Smalls Theatre – Pittsburgh, PA
11/29/2018 The Vogue – Indianapolis, IN
11/30/2018 Delmar Hall – St. Louis, MO
12/01/2018 The Blue Note – Columbia, MO
12/03/2018 Growlers – Memphis, TN
12/04/2018 Georgia Theater – Athens, GA
12/05/2018 The Abbey – Orlando, FL
12/06/2018 The Culture Room – Ft. Lauderdale, FL
HARM'S WAY will be touring in support of their latest album, Posthuman, out now on Metal Blade Records. Having grown with each subsequent release, Posthuman is a devastating addition to HARM'S WAY's catalog. "We've always stayed true to who we are and allowed the songwriting process to take shape organically from record to record, and as the band has progressed, our sound has become more refined with metal and industrial influences," states drummer Chris Mills.
Guitarist Bo Lueders succinctly sums up what people can expect when they first spin the record, "To a HARM'S WAY fan, I would describe Posthuman as a blend of Isolation (2011) and Rust (2015), but it's sonically way more insane. To anyone else, I would simply say it's full on heavy and full on aggression."
To preview and purchase Posthuman, visit metalblade.com/harmsway.
"The swole Chicago hardcore band's latest album shows their raw strength while adding shades of industrial and groove metal for character." – Pitchfork
"HARM'S WAY Posthuman gives fans absolutely solid hardcore material, promising utter chaos while providing some welcoming blends in variety in regards to tone and sound. From beginning to end Posthuman is pure savagery and an early contender for one of the year's heaviest albums." – Metal Injection
"…an impressive display of brute force that keeps its momentum up from beginning to end." – Exclaim!
http://harmsway13.com/
http://www.facebook.com/harmsxway
http://www.twitter.com/harmsxway
http://www.metalblade.com
http://www.facebook.com/metalbladerecords
http://twitter.com/MetalBlade