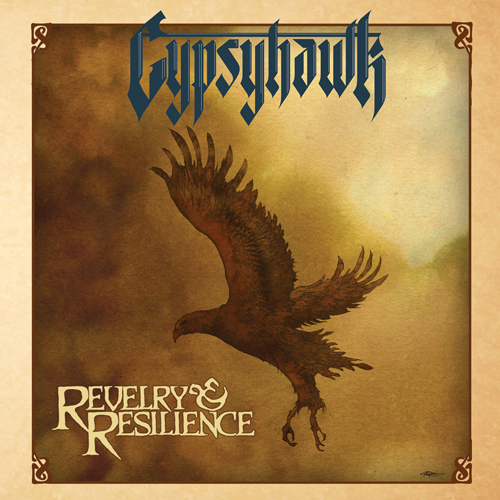 GYPSYHAWK will be hitting the road again for a series of headlining shows, as well as a slew of performances with Black Pussy and Scattered Hamlet. The trek begins tomorrow in Los Angeles at Club Loaded and will sully nearly three-dozen stages through Canada, the Pacific Northwest, the Midwest, and the East Coast, wrapping up on July 18th in Reno, Nevada. View the video greeting from vocalist/bassist Eric Harris below.
GYPSYHAWK churns electrifying, bullshit-free '70s rock. Marinating their wares in whiskey and weed, they hurl out blistering riffs and irresistible hooks and grooves on Revelry & Resilience, their second full-length and Metal Blade debut. "It's music for girls to shake their asses to and dudes to bang their heads," states Harris. "It's goodtime rock 'n' roll, and we don't take ourselves too seriously, but at the same time we're not one-dimensional. I like to think there's something for everyone in our music."
Check out GYPSYHAWK's videos for "Silver Queen," "Hedgeking," and "State Lines" viewable online now at metalblade.com/gypsyhawk.
GYPSYHAWK
5/13/2014 Club Loaded – Los Angeles, CA
5/14/2014 Jonny Bs – Medford, OR
5/15/2014 Black Forrest – Eugene, OR
w/ Black Pussy
5/17/2014 Jones Radiator – Spokane, WA
5/18/2014 Columbia City Theatre – Seattle, WA
5/19/2014 Rickshaw – Vancouver, BC
5/21/2014 Palomino Smokehouse – Calgary, AB
5/22/2014 Pawn Shop – Edmonton, AB
5/28/2014 7th Street Entry – Minneapolis, MN
5/29/2014 Schubas – Chicago, IL
6/6/2014 Beachland Ballroom – Cleveland, OH
6/7/2014 Hardluck – Toronto, ON
6/11/2014 TT The Bears – Cambridge, MA
w/ Scattered Hamlet
6/27/2014 The Dive Bar- Oceansdie, CA
6/28/2014 Big Fish Pub – Tempe, AZ
6/29/2014 The Rock – Tucson, AZ
7/02/2014 Sisters Bar – Albuquerque, NM
7/03/2014 Triple Nickel – Co Springs, CO
7/04/2014 3 Kings – Denver, CO
7/05/2014 The Scene – Kansas City, MO
7/06/2014 Fubar – St Louis, MO
7/07/2014 Hi Tone Café – Memphis, TN
7/08/2014 The Rutladge – Nashville, TN
7/10/2014 Ace of Spades – Columbus, OH
7/11/2014 Token Lounge – Detroit, MI
7/12/2014 Alehorn of Power Fest – Chicago, IL
7/13/2014 Vaudville Mews – Des Moines, IA
7/14/2014 Bourbon Theatre – Lincoln, NE
7/16/2014 Burts Tiki – Salt Lake City, UT
7/18/2014 The Alley – Reno, NV
"You won't find a more charismatic band in their subgenre." — Decibel
"I like this band; like the singer's voice, like the grooves, like the twin-guitar attack, the songwriting. What's not to like?" – MetalSucks
"..a frills-free charge of rock 'n' roll, Southern boogie and the odd metallic riff, all of which come coated in a dense fog of bourbon and weed." — Kerrang
http://www.metalblade.com/gypsyhawk
http://www.facebook.com/Gypsyhawkusa
http://www.twitter.com/GypsyhawkUSA