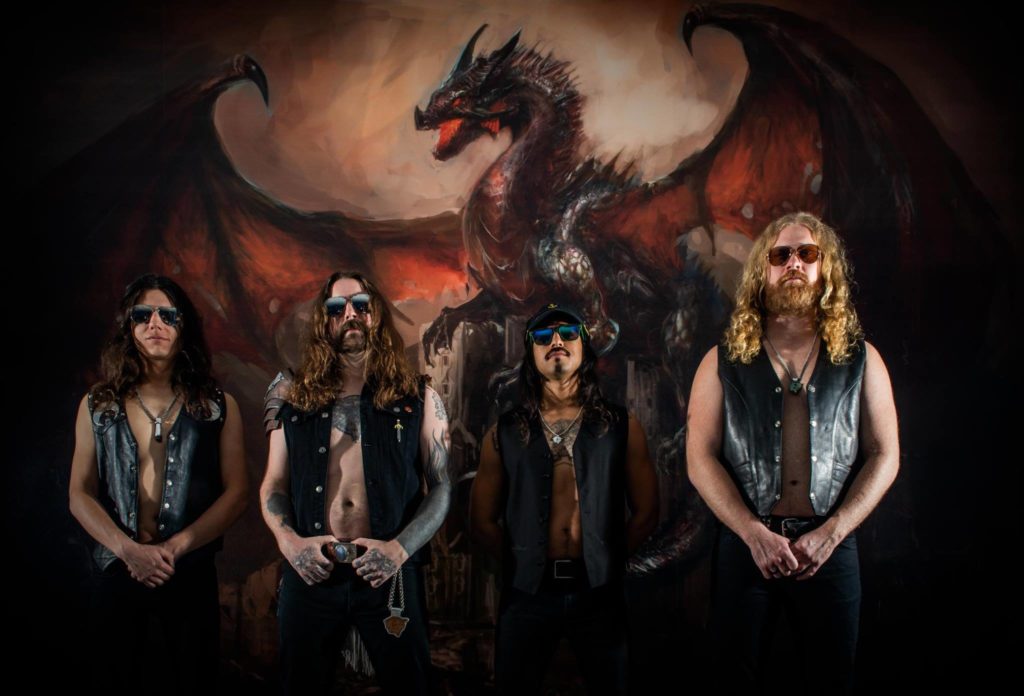 [photo by Cliff Montgomery]
Ventura, California-based GYGAX has just released the soaring title track to their impending third LP, High Fantasy, which is nearing release through the band's allies at Creator-Destructor Records in two weeks.
GYGAX delivers their third, and most triumphant album to date with High Fantasy, which arrives barely more than a year after their acclaimed Second Edition album. On High Fantasy, the band's fantastic storylines come blazing to life in the nine brand new tracks, which surge with powerful riffs, incredible harmonization, and unavoidable hooks, from the first note to the last.
High Fantasy was recorded live in The Captain's Quarters Studios in GYGAX's hometown with former guitar player Armand Tambouris at the helm. As with their prior album, the High Fantasy artwork was completed by Fares Maese, who is also a renowned artist through his works in the gaming community, including Warhammer, Pathfinder, and more.
Stream GYGAX's "High Fantasy" at YouTube HERE and Bandcamp HERE.
Creator-Destructor Records will release High Fantasy on CD, LP, and digitally on June 21st. Preorders for all formats, including three vinyl color variants, new shirts and other items, merch bundles, and more, have been posted at the label webshop HERE and Bandcamp where prior single "Hide Mind" is also streaming HERE.
Having recently returned from their first tour in support of the High Fantasy, which took them across the West Coast with Pounder, GYGAX will be announcing new tour dates in support of the album shortly.
https://www.facebook.com/GygaxGuild
http://www.gygaxguild.bandcamp.com
https://twitter.com/gygaxguild
https://www.instagram.com/gygaxguild
http://www.creator-destructor.com
http://www.facebook.com/creatordestructorrecords
http://www.twitter.com/CD_Records
http://www.creator-destructor.bandcamp.com