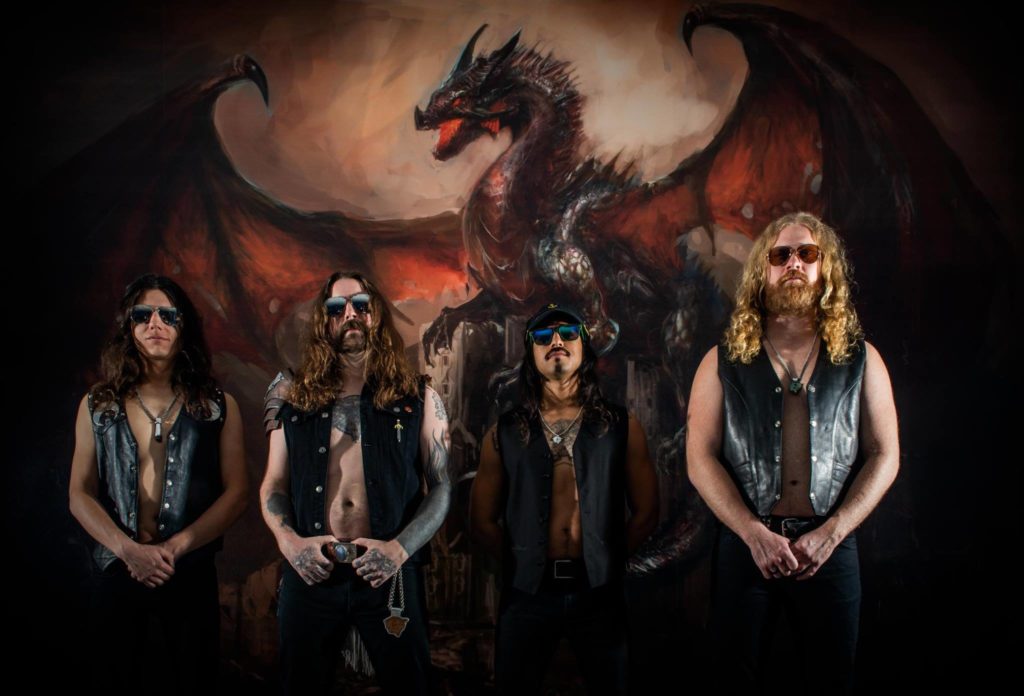 [photo by Cliff Montgomery]
Ventura, California fantasy metal warriors GYGAX have completed their third LP, High Fantasy, now confirmed for release on June 21st through Creator-Destructor Records. The band embarks on a West Coast tour with Pounder tomorrow as well.
GYGAX has stormed through 2018 and 2019 playing live in support of their acclaimed second album, Second Edition. Drenched in influence from the likes of Dungeons & Dragons and Thin Lizzy, the album showcased the band's top-notch musicianship through a fiery onslaught of infectious grooves and pristine hooks. In support of the LP, the band hit the West Coast several times, and more recently, hit the East Coast with labelmates Light This City.
Just over a year after the Second Edition album's release, GYGAX returns with their third, and most triumphant album to date, High Fantasy. The band's fantastic story lines come blazing to life in the nine brand new tracks on the new LP. Surging with powerful riffs and unavoidable hooks, High Fantasy was recorded live in The Captain's Quarters Studios in the band's hometown of Ventura, California, with former guitar player Armand Tambouris at the helm. As with their prior album, the High Fantasy artwork was completed by Fares Maese, who is also a renowned artist through his works in the gaming community, including Warhammer, Pathfinder, and more.
Proclaims GYGAX founder Eric Harris, "At long last, we've taken time to amass a group of the most talented individuals working together to bring you another chapter in the GYGAX campaign. Speaking on behalf of all the guild, we've never been so proud to present you with this catalogue of sweet sonic symphonies. We deeply thank Ben Murray, Rachel Autumn Deering, Fares Maese, and Armand John Anthony for allowing us to create this magnum opus. We'll see you all soon, adventurers. Party on from dusk til dawn."
Creator-Destructor Records will release GYGAX's High Fantasy on CD, LP, and digital platforms on June 21st. Watch for preorders, audio premieres, and more to be issued in the day ahead.
High Fantasy Track Listing:
1. Light Bender
2. Hide Mind
3. Mage Lust
4. Mirror Image
5. Aquisition, Magnus Canis
6. Spell Shaker
7. Something So Familiar
8. The Eyes Have It
9. High Fantasy
GYGAX will initiate their first tour in support of High Fantasy ahead of its release, kicking off the new trek tomorrow. The new tour sees the band hitting the West Coast from May 9th through May 18th alongside Pounder, with shows booked in Portland, Seattle, Grant's Pass, Oakland, Sacramento, San Diego, and Los Angeles. Fans in the tour zone can expect to get the first dose of new material from the impending LP.
See all confirmed GYGAX tour dates below and watch for further announcements on the LP and the tour to be issued in the weeks ahead.
GYGAX w/ Pounder:
5/09/2019 Star Theater – Portland, OR
5/10/2019 Highline – Seattle, WA
5/11/2019 The Haul – Grant's Pass, OR
5/12/2019 Elbo Room Jack London – Oakland, CA
5/16/2019 Blue Lamp – Sacramento, CA
5/17/2019 Tower Bar – San Diego, CA
5/18/2019 Five Star Bar – Los Angeles, CA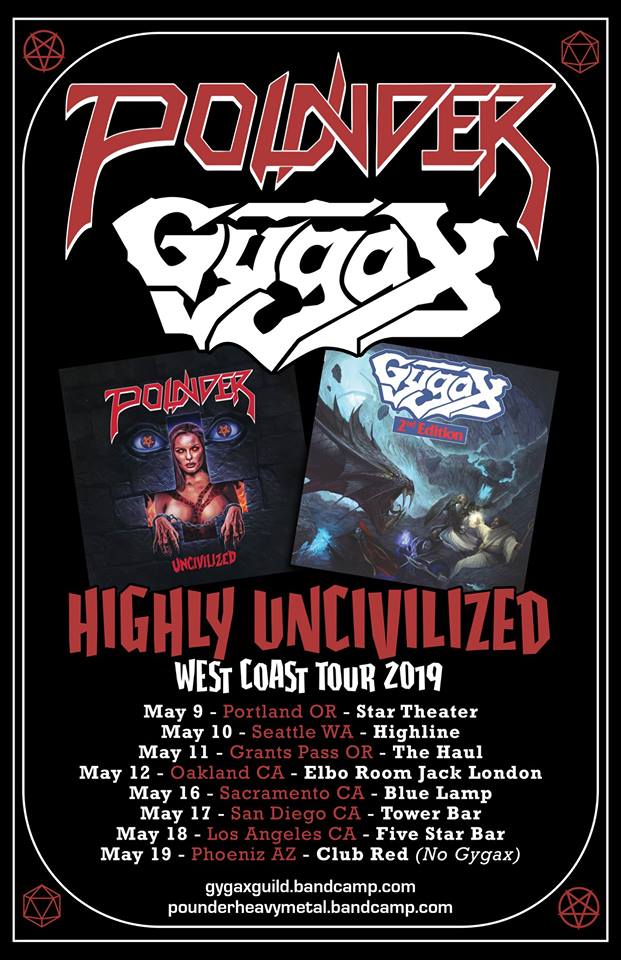 https://www.facebook.com/GygaxGuild
http://www.gygaxguild.bandcamp.com
https://twitter.com/gygaxguild
https://www.instagram.com/gygaxguild
http://www.creator-destructor.com
http://www.facebook.com/creatordestructorrecords
http://www.twitter.com/CD_Records
http://www.creator-destructor.bandcamp.com