New York City-area hostile solo outfit/collaborator cult GRIDFAILURE presents its harrowing new opus, Sixth Mass-Extinction Skulduggery II. The second album in the five-title concept series will see its initial release on June 5th via Nefarious Industries
Containing material spanning GRIDFAILURE's entire four-year lifespan, Sixth Mass-Extinction Skulduggery II infuses many styles of analog and digital percussion, acoustic and electric guitars, bass, ukulele, many types of keys and synth, accordion, trumpet, theremin, powerelectronics, harmonica, didgeridoo, field recordings, and more, some of which were recorded outdoors including in extreme weather events. The record features guest contributions from members of Deadbird, Vastum, T.O.M.B., Chrome Waves, Mountaineer, A Fucking Elephant, Megalophobe, The Third Kind, Cutworm, Fuck Your Birthday, Fyrhtu, Feel Happiness, and musicians who've played with likes of David Bowie and Miles Davis, and more.
Sixth Mass-Extinction Skulduggery II was performed/arranged, recorded, and mixed by GRIDFAILURE's David Brenner at The Compound in Valley Cottage, New York, who also drew the cover art. The record was mastered by Dan Emery at Black Matter Mastering in Nashville, Tennessee (Kool Keith, Benjamin Tod, Krieg, Thetan).
Stream GRIDFAILURE's "No Defensive Wounds To Be Found" RIGHT HERE.
Sixth Mass-Extinction Skulduggery II will see release through all digital platforms through Nefarious Industries on June 5th with a limited physical version to follow. Find digital preorders HERE. Also see a full live set from Queens, NYC just days before the city went into COVID-19 quarantine rule HERE.
The first three albums in GRIDFAILURE's five-album Sixth Mass-Extinction Skulduggery concept series – Sixth Mass-Extinction Skulduggery I, II, and III – embody current unraveling of society: murder, outbreak, dystopian governments, warfare, depletion of resources, and survival by any means necessary. The final two albums in the series – Teeth Collection and Drought Stick – prophesize the next phase of society with a further atavistic style. The second installment in this dark arc delivers an expansive dose of pulsating wrath which shows GRIDFAILURE's harsh dirge diving into further depths of the ongoing apocalypse in which we're currently living, as humankind consumes itself and the entire planet and nature's wrath becomes more apparent by the day.
As resources are depleted, so are morals. This is the underlying theme of GRIDFAILURE's Sixth Mass-Extinction Skulduggery II. Marauding factions, societal collapse, revenge, organ harvesting, nuclear warfare, pandemic contagion, unfathomable storms, cannibalism, and other grim topics poetically permeate this intense album which fully envisions the extreme, anti-genre, experimental vision more than any prior release from GRIDFAILURE to date.
As with many GRIDFAILURE albums, a wide array of guest contributors and collaborators offer their talented and varied arts to the album's diverse flow. The album features GRIDFAILURE's primary live members – Benjamin Levitt (Megalophobe), Greg Meisenberg (Maid Myriad, A Fucking Elephant), and Richard Muller (The Third Kind, Vise Massacre, Great Planes) – as well as Mac Gollehon (David Bowie, Miles Davis, Onyx, Madonna, Blondie), Liz Ciavarella-Brenner, Faith Ciavarella, Pete Tsakiris, Leila Abdul-Rauf (Vastum, Fyrhtu), Nathan Verrill (Fyrhtu, Cardinal Wyrm), No One (T.O.M.B., Dreadlords), Clayton Batholomew (Mountaineer, ex-Secrets Of The Sky), Dave Small (Cutworm), Christian Molenaar (Those Darn Gnomes), Lane Oliver (Feel Happiness, Yatsu), Christopher Henry (Fuck Your Birthday, Humans Etcetera), Jeff Wilson (Chrome Waves), Matt Bacon, Andrew Hess, and Chuck Schaaf (Deadbird, ex-Rwake) and his family Star, Izzie, and Mason Schaaf.
GRIDFAILURE recently released its split album with Chrome Waves, and is immersed in collaborative albums with Megalophobe, Fyrhtu, Pornohelmut, Feel Happiness, Interstitia, Rack, and more.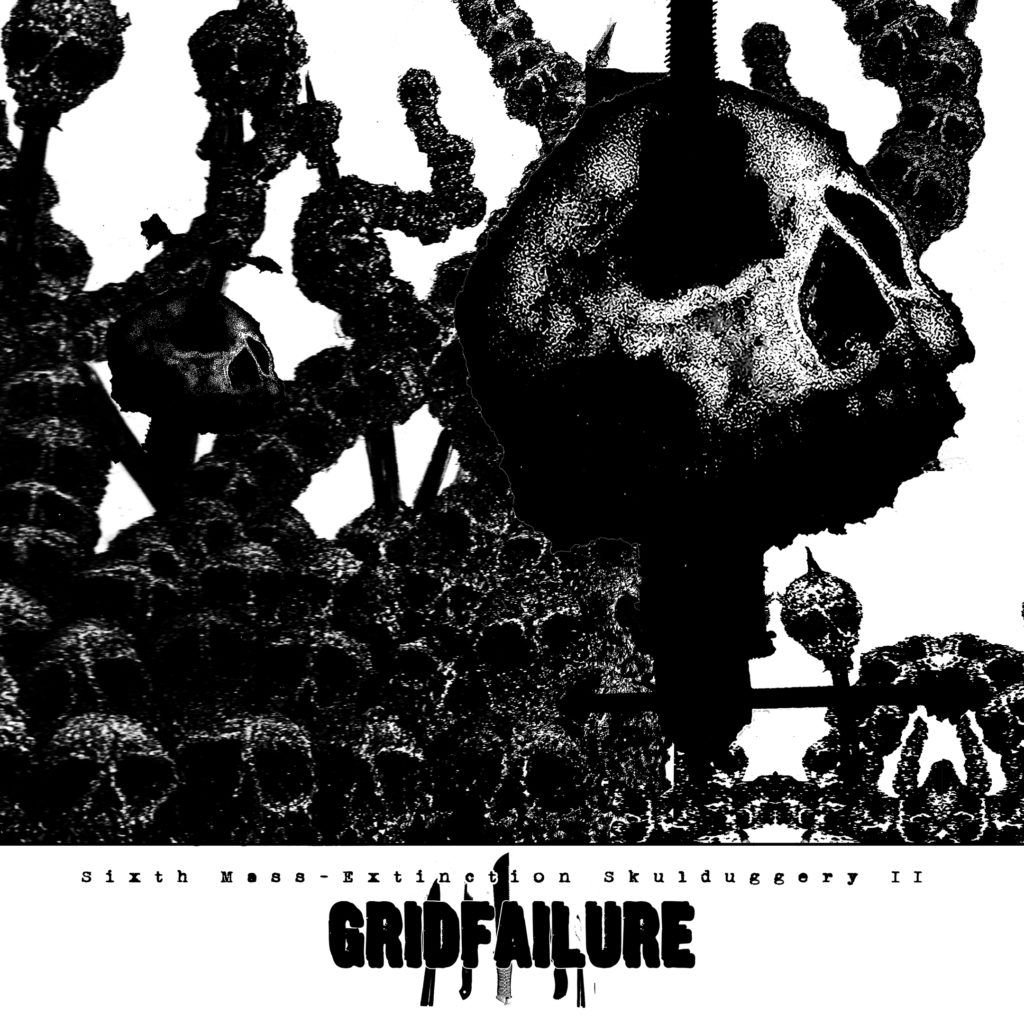 Sixth Mass-Extinction Skulduggery II Track Listing:
1. Stoking The Embers
2. No Defensive Wounds To Be Found
3. Outlander Harvesters
4. Sabotaging Panacea
5. Invocate Collapse
6. Rapid Intensification
7. Proven Finite
8. Sixth Mass-Extinction Skulduggery II: As Resources Are Depleted, So Are Morals
9. Red Tide Baptism
10. Farmer Suicide
11. Autophagia Demonstration
12. Wish To Disinvent
13. Debris Signature
14. Beyond Containment
15. Irma
http://www.facebook.com/gridfailure
http://www.gridfailure.bandcamp.com
https://twitter.com/GRIDFAILURE
https://www.instagram.com/gridfailure
https://www.youtube.com/channel/UCRbk4oQvuhLgZmUZ1hyceog
http://nefariousindustries.com
http://www.facebook.com/NefariousIndustries
http://www.twitter.com/NefariousInd
https://www.instagram.com/nefarious_industries