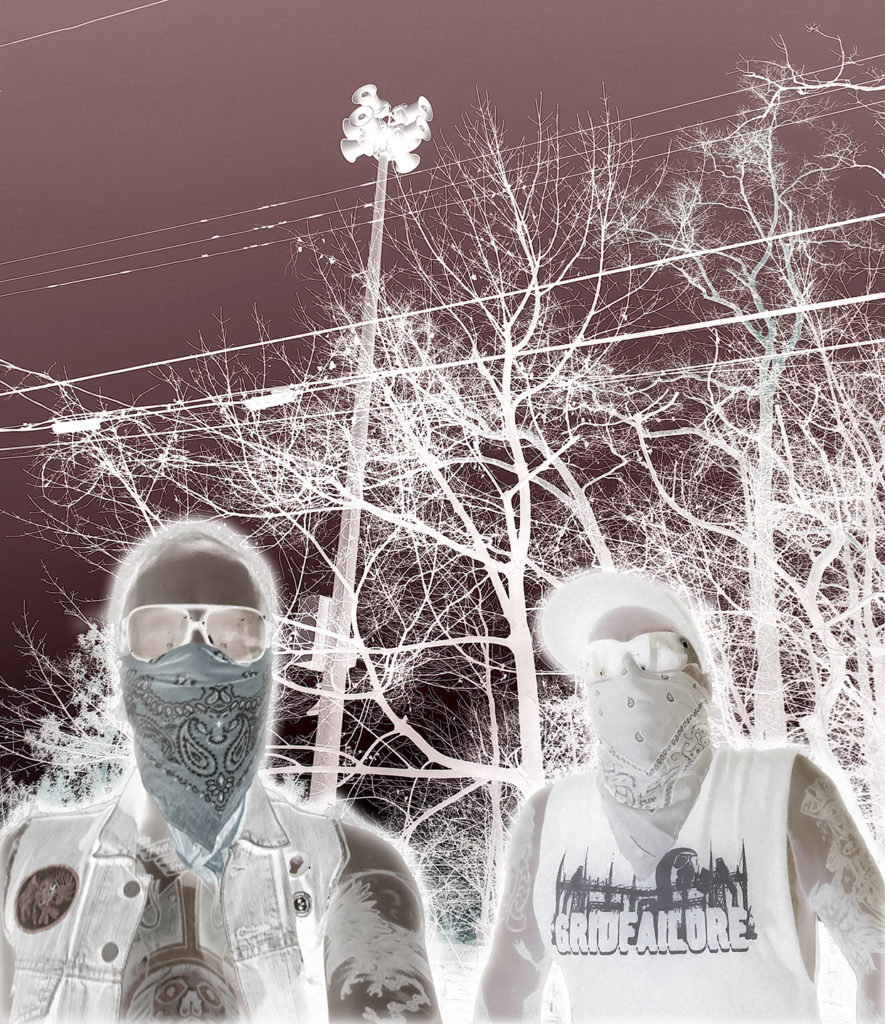 Pax Aeternum today unveils Sunyata Ontology, the cinematic, dystopian, post-industrial/EDM-infused collaboration between North Carolina-based INTERSTITIA and New York-based GRIDFAILURE.
Conceptually based in a new Cold War, INTERSTITIA's Graham Scala and GRIDFAILURE's David Brenner merge their primary elements on the dense Sunyata Ontology. The ten-movement album envisions a disparate not-too-distant America, with military/espionage tactics, civil unrest, off-the-grid cults and militant factions, covert government police, the takeover of artificial intelligence, and the looming threat of nuclear catastrophe more realistic than ever. The signature sci-fi techno beats, structures, and electronics Scala creates with INTERSTITIA are here doused in ominous low-end tones and broken communications through an amorphous blend of GRIDFAILURE's caustic guitar, bass, percussion, keyboards, synths, pedals, field recordings and more, with Brenner's demoralizing vocals sporadically erupting through the sulfuric fog.
Sunyata Ontology was recorded by Graham Scala in Asheville, North Carolina and David Brenner in Valley Cottage, New York, the final mix and master were handled by Scala, and the cover art was created by Brenner with additional direction by Scala.
Sunyata Ontology is now streaming everywhere including INTERSTITIA's Bandcamp HERE, GRIDFAILURE's Bandcamp HERE, and other services HERE.
Also watch the "Call Of The Black Hand" video HERE and "Population Compliance Attained Through The Dissemination Of A Psychotropic Agent" video HERE.
Additional videos/singles from Sunyata Ontology will be disseminated shortly. Watch for more new material from both GRIDFAILURE and INTERSTITIA to be released this year, including contributions from Scala on GRIDFAILURE's impending Sixth Mass-Extinction Skulduggery III album.
"What you're about to witness in this premiere is something like a throwback to the time of silent movies, even if it is a step forward into a dystopian future — though silent-movie audiences would have been horrified to see and hear this short film. The imagery is reality turned inside-out, and the music provides no real comfort, no 'shock absorbers' despite its viscerally compulsive movements, but instead an ultimate reinforcement of fear." – No Clean Singing
"Both artists inhabit a netherworld of intangible noise, deep-space ambient, and techno tones and rhythms. Together in what seems to be a seamless collaboration, Brenner and Scala have created an hour's worth of fever dreams, terror soundscapes, and corporeal electronics… Traces of Whaleskin, Scorn, Paul Schütze, and Gary Numan can be heard throughout the album, but 'Traces Of Cult Factions' sounds like Author & Punisher if Tristan Shone was honoring Ghost In The Machine-era Police synth worship." – Metal Urges
https://linktr.ee/interstitiaaa
https://interstitia.bandcamp.com
https://linktr.ee/gridfailure
http://www.gridfailure.bandcamp.com
https://www.youtube.com/@gridfailure
https://www.facebook.com/paxaeternumdigital
https://www.instagram.com/paxaeternum
https://twitter.com/pax_aeternum
https://paxaeternum.bandcamp.com