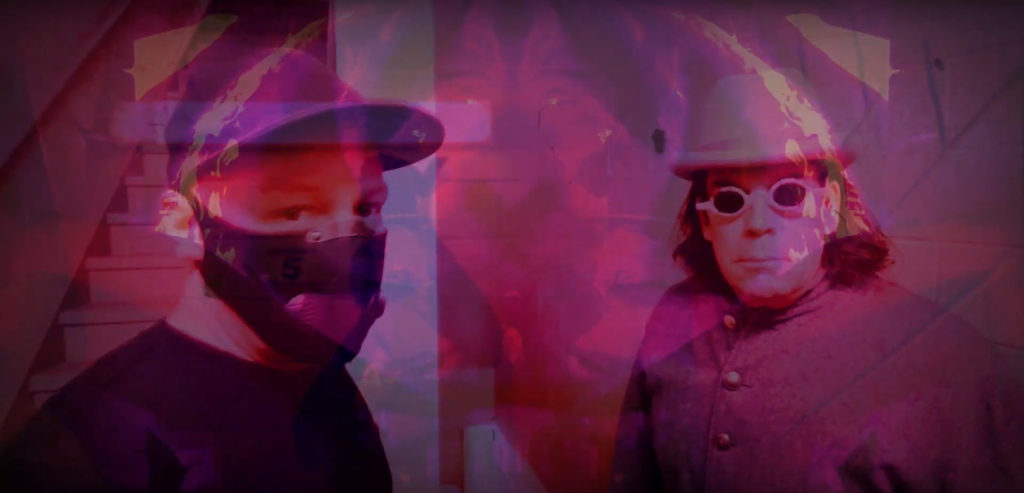 No Clean Singing is hosting a video for "Pieces," a violently disorienting new video from Dismemberment Cabaret, the harsh/jazz album from New York harsh/experimental soloist GRIDFAILURE featuring world-renowned trumpet player MAC GOLLEHON, out now on Nefarious Industries.
The uneasy combination presented on Dismemberment Cabaret acts as a suite, merging jazz and cinema influence of 1970s/1980s slasher/crime films with harsh sub-hardcore hostility and post-industrial tension. As if The Great Gatsby was re-scored by the outlanders in The Hills Have Eyes, GRIDFAILURE creator David Brenner weaves an environment of beats, bass, guitars, keys, field recordings, and unhinged vocal savagery, while MAC GOLLEHON's explosive trumpet, trombone, cornet, and didgeridoo contributions slash through the carnage with filmic intensity.
Created early in the 2020 quarantine, Dismemberment Cabaret was recorded and mixed by Brenner at The Compound in Rockland County, with GOLLEHON's material captured in stairwells of his building in Staten Island and mailed in. The album was mastered by Dan Emery at Black Matter Mastering (Kool Keith, Lost Dog Street Band, Thetan), with art, design, and visuals by Brenner.
The savage and demented "Pieces" video was created with footage from Tyler Adams/Wolfchild Productions and both album artists, and directed and edited by David Brenner, who offers, "This song is lyrically written in direct homage to the 1982 slasher Pieces, and the video needed to be intense to match lyrics like, Untaught, unwrought, unwound. Vengeance, vengeance by the pound. The blade remains a favorite of mine However, I'm not resigned To deviation from the design. Perhaps I'll see things clearer Once I smash through every mirror. Pieces."
GOLLEHON contemplates, "The horrors of triangulation torture and dismemberment… Pieces. Pieces of her? Pieces of him? Who would have known? Who could have known? Just pieces."
With the premiere of the track's disorienting video, No Clean Singing writes, "…'Pieces' is a sonic hallucination, one that's hellish but weirdly hypnotic. The throbbing and thudding electro-beats in the song, which come and go, reminded this writer of the warning that the oleaginous Dr. Chilton have Clarice before her first visit with Dr. Lecter in Silence Of The Lambs… There's something about the pulsations in the music (and about some of GOLLEHON's own contributions) that conveys a kind of cold and unflappable psychosis, in part because those sensations are surrounded by such sonic madness — by maniacal screams and hideous growls echoing from a torture chamber, by bursts of subterranean rumbling, by a mass of roiling and rising abrasion, and by the more deranged emanations from GOLLEHON's horn."
Watch GRIDFAILURE and MAC GOLLEHON's "Pieces" first at No Clean Singing RIGHT HERE.
Dismemberment Cabaret is available on limited Flamingo Meth cassette and through all digital providers with merch via the Nefarious Industries landing page where prior videos for "Roaming Blackouts," "Crime Scene Designers," and "Transient Fault" are playing HERE.
Remaining incredibly productive in these plague times, Brenner recorded GOLLEHON's newly released The End Is The Beginning EP, GOLLEHON appears on GRIDFAILURE's impending Harbinger Winds third collaborative album with Megalophobe and Sixth Mass Extinction Skulduggery III concept album series installment, and live actions and additional video and audio projects between the two are in the works
World-renowned NYC trumpet player MAC GOLLEHON has toured and recorded with an endless roster of rock, pop, and jazz artists since the 1970s including David Bowie, Madonna, Blondie, Chaka Khan, Buddy Rich, Al Jarreau, Grace Jones, Onyx, Billy Ocean, and countless others, including a decade in Duran Duran. GOLLEHON has released nine solo albums since the late 1990s, in recent years, focusing on his ever-morphing MAC GOLLEHON & THE HISPANIC MECHANICS, in addition to contributing other to experimental collaborations and performances.
GRIDFAILURE is the unpredictable and confrontational audiovisual output David Brenner, delivering dense, apocalyptic, dark ambient/dark hardcore infused with jazz, world music, folk, harsh noise, electronica, punk, and more. Operating solo or with a cast of collaborators, both on record and on stage, since its 2016 inception the project has amassed dozens of independent releases, including collaborations with Rack, Megalophobe, Walking Bombs, Christian Molenaar, and others, split releases with Chrome Waves, Never Presence Forever, and others, and much more.
http://www.facebook.com/gridfailure
http://www.gridfailure.bandcamp.com
https://twitter.com/GRIDFAILURE
https://www.instagram.com/gridfailure
https://www.instagram.com/macgollehon
https://www.facebook.com/mac.gollehon
https://twitter.com/gollehonmac1
http://nefariousindustries.com
http://www.facebook.com/nefariousIndustries
http://www.twitter.com/nefariousInd
https://nefariousindustries.bandcamp.com