Colorado metal force ALLEGAEON are pleased to announce their long-awaited Terrestrial Takeover US headlining tour. The journey begins June 1st in Los Angeles, California and runs through July 1st in Fresno, California. Support will be provided by Arkaik, Aenimus, and Summoning The Lich.
Comments the band, "After the unfortunate cancellation of the Terrestrial Takeover Tour in 2020 we are thrilled to announce that we will be headlining the US under the same banner with our friends in Arkaik, Aenimus, and Summoning The Lich. We will be playing a set list featuring tracks from our entire discography with a heavy emphasis on our new album DAMNUM. This will be a performance to remember and we can't wait to see you all there."
See all confirmed dates below.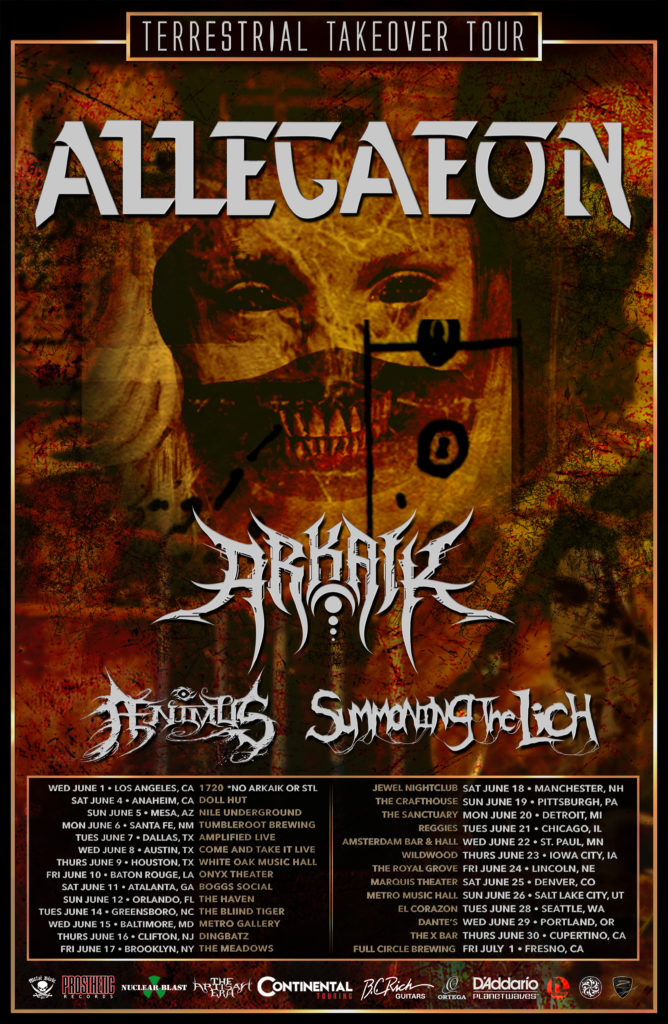 ALLEGAEON w/ Arkaik, Aenimus, Summoning The Lich:
6/01/2022 1720 – Los Angeles, CA*
6/04/2022 Doll Hut – Anaheim, CA
6/05/2022 Nile Underground – Mesa, AZ
6/06/2022 Tumbleroot Brewing – Santa Fe, NM
6/07/2022 Amplified Live – Dallas, TX
6/08/2022 Come And Take It Live – Austin, TX
6/09/2022 White Oak Music Hall – Houston, TX
6/10/2022 Onyx Theater – Baton Rouge, LA
6/11/2022 Boggs Social – Atlanta, GA
6/12/2022 The Haven – Orlando, FL
6/14/2022 The Blind Tiger – Greensboro, NC
6/15/2022 Metro Gallery – Baltimore, MD
6/16/2022 Dingbatz – Clifton, NJ
6/17/2022 The Meadows – Brooklyn, NY
6/18/2022 Jewel Nightclub – Manchester, NH
6/19/2022 The Crafthouse – Pittsburgh, PA
6/20/2022 The Sanctuary – Detroit, MI
6/21/2022 Reggies – Chicago, IL
6/22/2022 Amsterdam Bar & Hall – St. Paul, MN
6/23/2022 Wildwood – Iowa City, IA
6/24/2022 The Royal Grove – Lincoln, NE
6/25/2022 Marquis Theater – Denver, CO
6/26/2022 Metro Music Hall – Salt Lake City, UT
6/28/2022 El Corazon – Seattle, WA
6/29/2022 Dante's – Portland, OR
6/30/2022 The X Bar – Cupertino, CA
7/01/2022 Full Circle Brewing District – Fresno, CA
* ALLEGAEON only
ALLEGAEON released their sixth studio album, DAMNUM, last month via Metal Blade Records. The band has built themselves a unique place in the musical landscape, forcing both technicality and melody to the forefront as they create tumultuous and riveting death metal. With DAMNUM, they push everything further into the extreme, and in the process deliver the definitive ALLEGAEON record. Preview and purchase DAMNUM at metalblade.com/allegaeon.
"ALLEGAEON's metamorphosis from mechanical tech-deathheads to progressive wayfarers has been as smooth as it was unpredictable. They've avoided the period of stagnation that brings down so many great tech bands. We should have all guessed from those Rush and Yes covers which way the wind was blowing, but few would have predicted just how impressive DAMNUM would be." — Metal Injection
http://www.facebook.com/Allegaeon
http://twitter.com/allegaeon
http://www.instagram.com/allegaeonofficial
http://www.youtube.com/ALLEGAEON
http://metalblade.com/allegaeon
http://www.facebook.com/metalbladerecords
http://twitter.com/MetalBlade
http://www.instagram.com/metalbladerecords