New York City-area hostile faction GRIDFAILURE will release Sixth Mass-Extinction Skulduggery II through Nefarious Industries this Friday. A final precursory warning from the album has been dispatched, as Captured Howls presents the ominous "Debris Signature."
GRIDFAILURE's Sixth Mass-Extinction Skulduggery II – the second installment in the outfit's five-album concept series – features guest contributions from members of Deadbird, Vastum, T.O.M.B., Chrome Waves, Mountaineer, A Fucking Elephant, Megalophobe, The Third Kind, Cutworm, Fuck Your Birthday, Fyrhtu, Feel Happiness, and musicians who've played with likes of David Bowie and Miles Davis, and more. The record was performed/arranged, recorded, and mixed by GRIDFAILURE's David Brenner at The Compound in Valley Cottage, New York, who also drew the cover art. The record was mastered by Dan Emery at Black Matter Mastering in Nashville, Tennessee (Kool Keith, Benjamin Tod, Krieg, Thetan).
"Debris Signature" sees Brenner providing vocals, bass, drums, percussion, field recordings, and powerelectronics, with accordion from Benjamin Levitt (Megalophobe, GRIDFAILURE-live), and guitars from Lane Oliver (Feel Happiness, Yatsu) and Pete Tsakiris. With the song's premiere, Brenner offers, "The storm hit in the middle of the night while your family and neighbors slept; it took everything. Standing in the aftermath of this, the third 'Five-Hundred-Year Storm' of this year, you're left bewildered and alone in endless darkness only permeated by sparks falling from the decimated power lines. The debris signature is massive; the true horror of this catastrophe is becoming more apparent by the second."
Captured Howls writes, "It doesn't take a lot to notice the tatters in which many parts of society have been left lately. The U.S. in particular has been dealing with crisis upon crisis, sparking deep concern about the future of the country in both the short and long term. The New York-based experimental metal project GRIDFAILURE is here to soundtrack at least some of humanity's confrontation with the looming abyss… It's like the soundtrack to moments after the most raging parts of a crisis have unfolded and surveying the wreckage is essentially all that's left."
Stream GRIDFAILURE's "Debris Signature" at Captured Howls RIGHT HERE.
Sixth Mass-Extinction Skulduggery II will see release on all digital platforms through Nefarious Industries next Friday, June 5th with a limited physical version to follow.
Find digital preorders via all digital providers and see the video for "Wish To Disinvent" HERE.
As resources are depleted, so are morals. This is the underlying theme of GRIDFAILURE's Sixth Mass-Extinction Skulduggery II. Marauding factions, societal collapse, revenge, organ harvesting, nuclear warfare, pandemic contagion, unfathomable storms, cannibalism, and other grim topics poetically permeate this intense album which fully envisions the extreme, anti-genre, experimental vision more than any prior release from GRIDFAILURE to date, and even infuses elements which were recorded outdoors and in live/extreme weather conditions.
The album features GRIDFAILURE's primary live members – Benjamin Levitt (Megalophobe), Greg Meisenberg (Oxx, Maid Myriad, A Fucking Elephant), and Richard Muller (The Third Kind, Vise Massacre, Great Planes) – as well as Mac Gollehon (David Bowie, Miles Davis, Onyx, Madonna, Blondie), Liz Ciavarella-Brenner, Faith Ciavarella, Pete Tsakiris, Leila Abdul-Rauf (Vastum, Fyrhtu), Nathan Verrill (Fyrhtu, Cardinal Wyrm), No One (T.O.M.B., Dreadlords), Clayton Batholomew (Mountaineer, ex-Secrets Of The Sky), Dave Small (Cutworm), Christian Molenaar (Those Darn Gnomes), Lane Oliver (Feel Happiness, Yatsu), Christopher Henry (Fuck Your Birthday, Humans Etcetera), Jeff Wilson (Chrome Waves), Matt Bacon, Andrew Hess, and Chuck Schaaf (Deadbird, ex-Rwake) and his family Star, Izzie, and Mason Schaaf.
GRIDFAILURE recently released its split album with Chrome Waves, and is immersed in collaborative albums with Megalophobe, Fyrhtu, Pornohelmut, Feel Happiness, Interstitia, Rack, and more. Also see a full live set from Queens, NYC just days before the city went into COVID-19 quarantine rule HERE.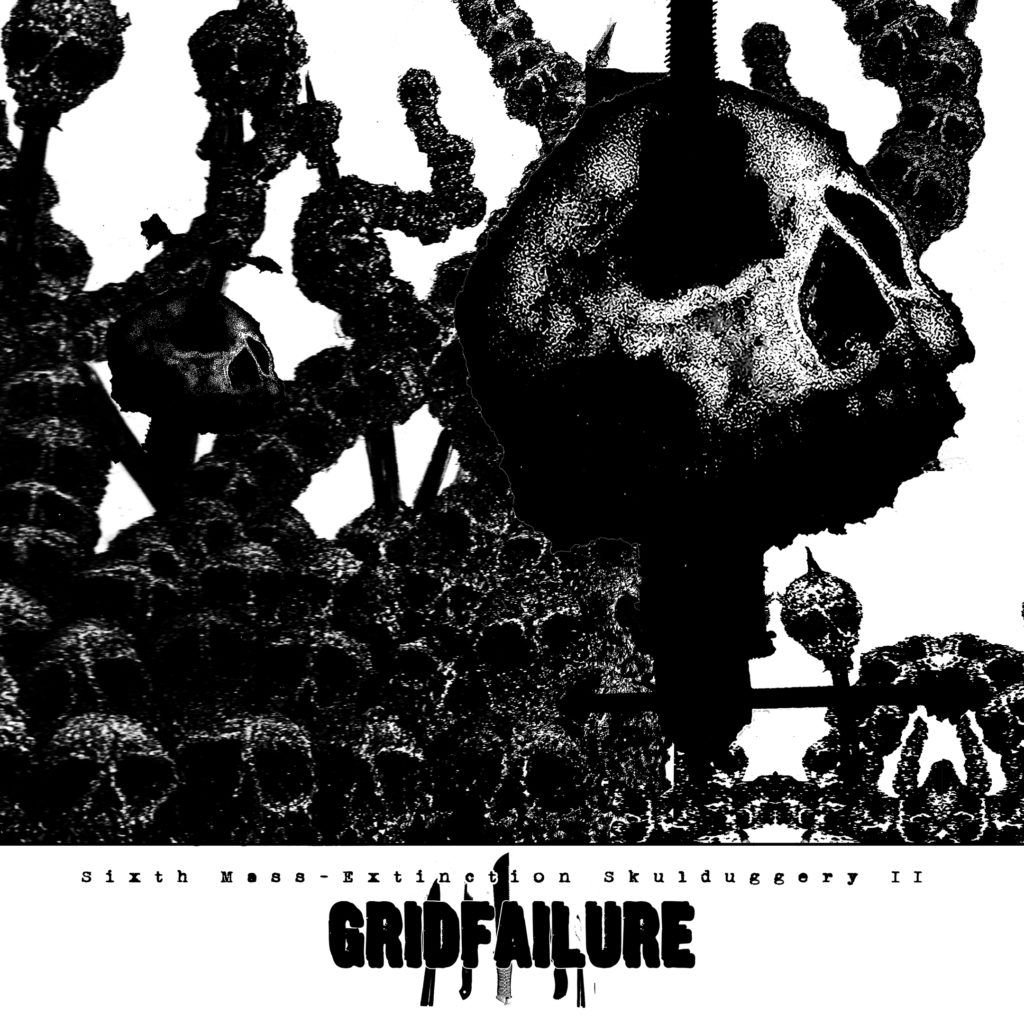 http://www.facebook.com/gridfailure
http://www.gridfailure.bandcamp.com
https://twitter.com/GRIDFAILURE
https://www.instagram.com/gridfailure
https://www.youtube.com/channel/UCRbk4oQvuhLgZmUZ1hyceog
http://nefariousindustries.com
http://www.facebook.com/NefariousIndustries
http://www.twitter.com/NefariousInd
https://www.instagram.com/nefarious_industries