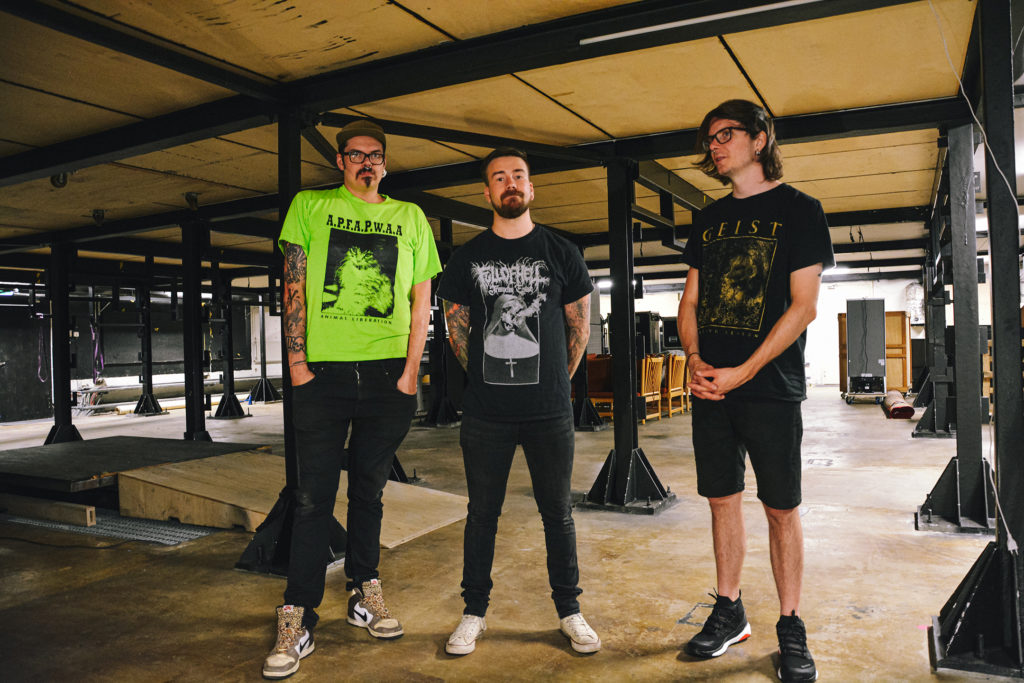 Selfmadegod Records presents Livsleda, the rabid debut album from Swedish grindcore trio GRID. The ripping new album is now streaming in its entirety as it sees its release today.
Following several vinyl and cassette EPs, Umea, Sweden's GRID unloads their relentless first full-length. Consisting of nine blistering grindcore songs with echoes of melodic crust/d-beat, Livsleda was recorded and mixed by Andreas Gren at Lillhouset Prod., mastered by Christoffer Lindmark, and finished with artwork by Daniel Wikstrom. A must-hear release for fans of Nasum, Rotten Sound, Sayyadina, Afgrund, Wake, Tragedy, and Martyrdöd.
Stream GRID's entire Livsleda now at THIS LOCATION.
Livsleda is out today on CD and all digital platforms via Selfmadegod Records. Find it at the label webshop HERE and Bandcamp HERE.
GRID was founded in 2014 in Northern Sweden by Fredrik Larsson, Andreas Backström, and Wilke. In the beginning, the goal was to annoy the Umeå hardcore elite, but it did not take long until the band began to organically create a more refined sound. In 2015 they were signed by Discouraged Records, released their Umeå Grindcore debut EP, and played several shows including a performance at Obscene Extreme 2016. Later that year Wilke left the band.
As a duo, GRID's sound and lyrics evolved into a more melodic style of grindcore with misanthropic lyrics, faster d-beats, and more brutal blastbeats, and the band released a new EP titled Human Collapse Syndrome that year, followed by a tour of Southeast Asia in 2017. In 2018, following a short Nordic tour, GRID reverted to a trio once again when Andreas Gren joined the band. Now, 2020 sees the band arriving with their debut album, Livsleda, now barreling towards release through their new label home, Selfmadegod Records.
"They've garnered a lot of comparisons to bands like Nasum and Rotten Sound, and if you like relentless, no-bullshit grindcore of that variety, you'll probably find that GRID do it very well." – BrooklynVegan
"Blending the stout Scandinavian grindcore sound with a melodic sensibility borrowed from crust punk, GRID falls in the middle ground between an Afgrund and a Martyrdöd, with the quality you'd expect of both… Livsleda hits hard and fast. The guitars are thick and stout, a razor-edged blade and a blunt instrument combined, and the drums punch like cannons." – Last Rites
https://facebook.com/gridgrindcore
https://instagram.com/gridgrindcore
https://gridumea.bandcamp.com
https://selfmadegod.com
https://twitter.com/selfmadegodrec
https://www.facebook.com/Selfmadegod
https://selfmadegod.bandcamp.com
https://www.instagram.com/selfmadegod_records
https://www.youtube.com/user/SelfmadegodRecords