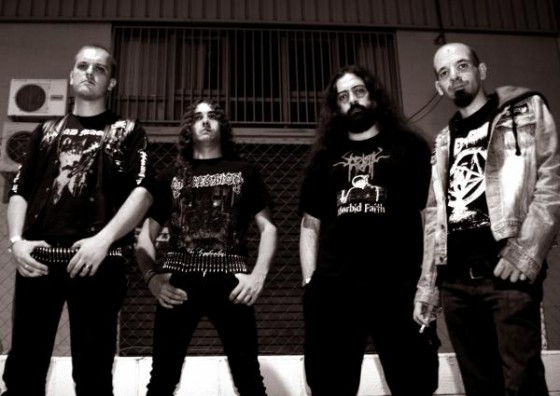 Singapore-based Pulverised Records is pleased to announce the release of The Altar Of Sculpted Skulls, the brand new EP from Spanish death metal squadron, GRAVEYARD. The Altar Of Scultped Skulls, which offers up four new tracks and two re-recorded tunes, was produced by guitarist J. Bastard with the entire effort recorded, mixed and mastered at Moontower Studios. In addition, the disc features the ultra detailed and wholly grim horror art from famed illustrator Matt Carr of Putrid Gore Art (Autopsy, Impetigo, Hooded Menace).
The Altar Of Sculpted Skulls Track Listing:
1. The Altar Of Sculpted Skulls
2. An Epitaph Written In Blood
3. Deathcrowned
4. Cult Of The Shadows
5. Howl Of The Black Death (originally featured on 7″ Split w Terrorist)
6. Ritual (originally featured on Into The Mausoleum EP)
GRAVEYARD was formed in 2007 and has since released the Into The Mausoleum EP and One With The Dead full-length debut. The band churn a filthy strain of death metal in the vein of Entombed, Autopsy, Bolt Thrower and Asphyx. An official release date to be announced in the coming weeks.
GRAVEYARD:
Julkan – Vocals, Bass
J. Bastard – Guitars
Sbe – Guitars
Gusi – Drums
http://www.graveyardofdoom.com
http://www.facebook.com/pages/Graveyard/161078517258016
http://www.myspace.com/graveyardofdoom
http://www.pulverised.net