After a wait that has spanned their entire career, Portland doom/stoner quartet GRAVES AT SEA has finally shared their highly-anticipated debut full-length in its pessimistic entirety via Noisey ahead of its release date this coming Friday.
Issues Noisey of The Curse That Is, "The album rules, and it'll take you weeks to wash off the grit and grime that comes with listening to it (Nathan Misterek's vocals alone make me want to shower in battery acid)."
Hear GRAVES AT SEA's The Curse That Is in full at THIS LOCATION.
A true tour-de-force of incredible magnitude nearly fifteen years in the making, The Curse That Is will see a worldwide release on April 1st via Relapse Records. Physical preorders are available at Relapse.com HERE. Digital preorders can be found at the band's BandCamp page HERE.
Already reaping critically accolades, Last Rites gushes, "I don't recall the last time I encountered heaviness this lumbering at the hands of just one guitar, one bass and one set of drums," further asserting, "It probably won't be the easiest listen you'll have this year, but then, lingering crushers such as this ain't always intended to be the most comfortable ride. Raise all your glasses, we're doomed from the start." In a 9.5/10 review, Svbterranean boasts, "In a world of bands that wish they were EyeHateGod or Iron Monkey, GRAVES AT SEA are an often overlooked diamond among a sea of shit. They are miserable, plodding sludge, guaranteed to make you nod your head and reach for your favorite vice… Welcome back GRAVES AT SEA, it's damn good to have you." Music And Riots concurs, "The Curse That Is illustrates perfectly the violence that extreme metal can project and will undeniably be appreciated and adored by anyone that's predispose to endure such lyrical and sonic punishment." While No Clean Singing adds, "The nastiness they teased us with on previous releases has been filtered through a bigger production value for their debut full-length. The band still thunders into your ears, with some of the evil abrasion that coated their work now snarling at you like crystal-meth-infused stoner rock. Sometimes this even borders on the post-apocalyptic sludge of Through Silver In Blood-era Neurosis."
In conjunction with the release of The Curse That Is, GRAVES AT SEA will be embarking on a two week-long US tour alongside Order Of The Owl. See confirmed dates below.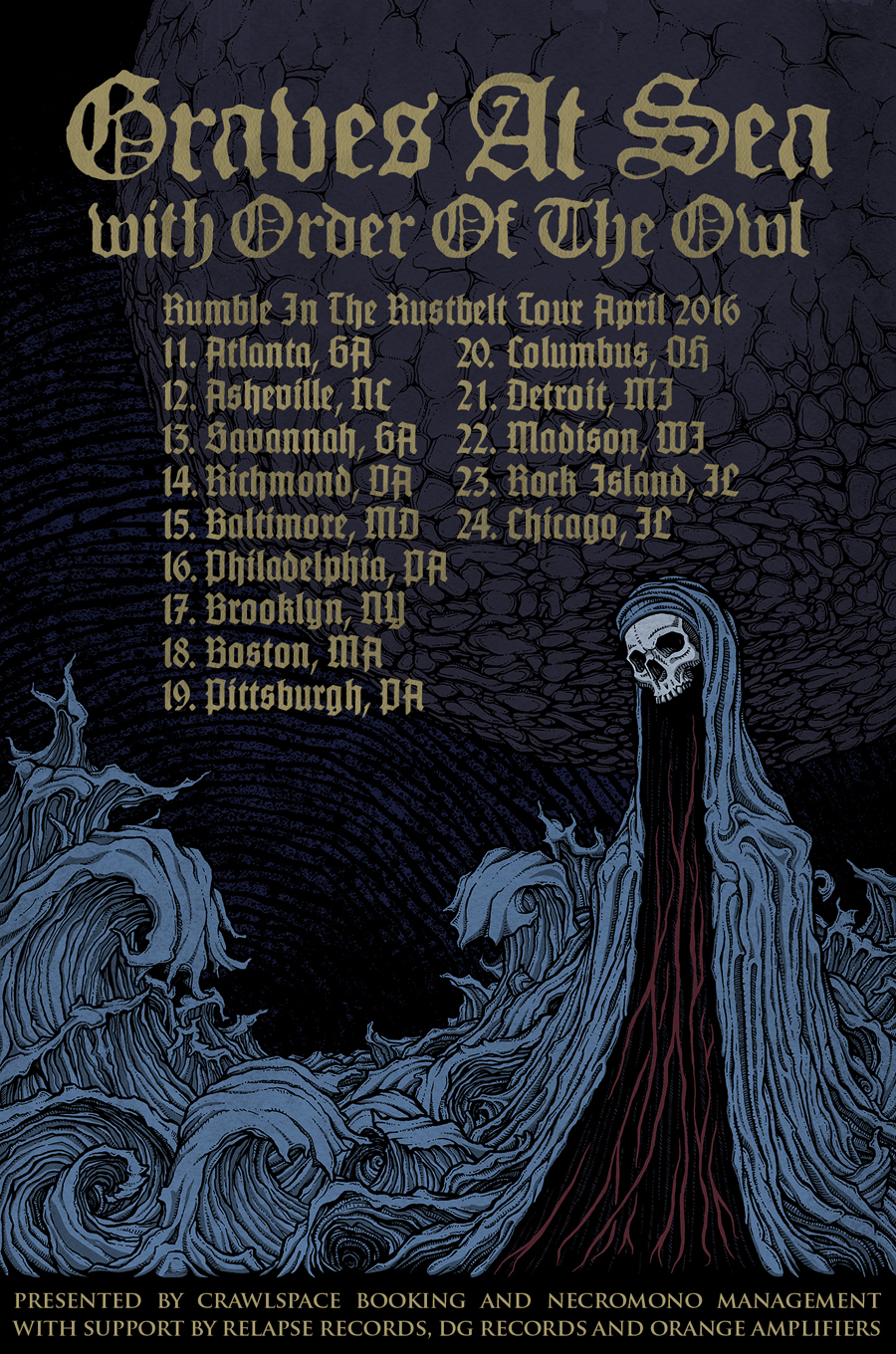 GRAVES AT SEA w/ Order Of The Owl:
4/11/2016 The Bad Earl – Atlanta, GA
4/12/2016 Mothlight – Asheville, NC
4/13/2016 The Jinx 912 – Savannah, GA
4/14/2016 Strange Matter – Richmond, VA
4/15/2016 Metro Gallery – Baltimore, MD
4/16/2016 Kung Fu Necktie (Early Show) – Philadelphia, PA
4/17/2016 Saint Vitus Bar – Brooklyn, NY
4/18/2016 Middle East – Boston, MA
4/19/2016 Spirit – Pittsburgh, PA
4/20/2016 Ace Of Cups – Columbus, OH
4/21/2016 Sanctuary – Detroit, MI
4/22/2016 Mickey's Tavern– Madison, WI
4/23/2016 Rock Island Brewing Company – Rock Island, IL
4/24/2016 Reggie's Live – Chicago, IL
After releasing a series of highly regarded demos and splits in the underground and having recently performed the mainstages at Maryland Deathfest, Roadburn and numerous other festivals, cult doom/sludge quartet GRAVES AT SEA has re-emerged. Now the band is ready to unleash its strongest, most ear-shattering material to date. Engineered by Greg Wilkinson (Noothgrush, Brainoil) and mastered by Brad Boatright (Sleep, YOB), The Curse That Is effortlessly fuses colossal walls of feedback-laden sound with gargantuan riffs that crush and crawl with the weight of mountains.
For GRAVES AT SEA coverage in North America contact liz@earsplitcompound.com, in the UK contact pip@relapse.com, in the rest of Europe contact frank@pettingzoo.nl, and elsewhere contact bob@relapse.com.
http://www.facebook.com/GravesAtSea
http://www.relapse.com
http://www.relapserecords.bandcamp.com
http://www.facebook.com/RelapseRecords