With the release of The Curse That Is, the long-anticipated debut full-length from Portland doom bringers, GRAVES AT SEA, now less than one month from official detonation, today Cvlt Nation — who crowns the record, "the best doom album of 2016" — offers up "Tempest" for communal appreciation.
Witness the corrosive enormity that is "Tempest" courtesy of Cvlt Nation at THIS LOCATION.
In addition, check out GRAVES AT SEA's monolithic, eleven-minute hymn, "Dead Eyes," which recently premiered at Decibel Magazine at THIS LOCATION, as well as the title track "The Curse That Is," first unveiled at The Obelisk, HERE.
After issuing a series of highly-regarded demos and splits and having recently cut their teeth performing the mainstages of Maryland Deathfest, Roadburn and numerous other festivals, GRAVES AT SEA unleashes its most consuming and unapologetically ear-shattering material to date. Engineered by Greg Wilkinson (Noothgrush, Brainoil) and mastered by Brad Boatright (Sleep, YOB), The Curse That Is effortlessly fuses colossal walls of feedback-laden sound with gargantuan riffs that crush and crawl with the weight of a thousand mountains alongside thunderous rhythms meant to tear a hole in this dying earth. Coupled with self-loathing howls and shrieks of torment and demise, GRAVES AT SEA engulfs listeners in wave upon furious wave of aural misery throughout the over seventy-minute ride through Hell.
A true tour-de-force of incredible magnitude nearly fifteen years in the making, The Curse That Is will see a worldwide release on April 1st via Relapse Records. Physical preorders are available at Relapse.com HERE. Digital preorders can be found at the band's BandCamp page HERE.
In conjunction with the release of The Curse That Is, GRAVES AT SEA will also be embarking on a two week-long US tour alongside Order Of The Owl. See confirmed dates below.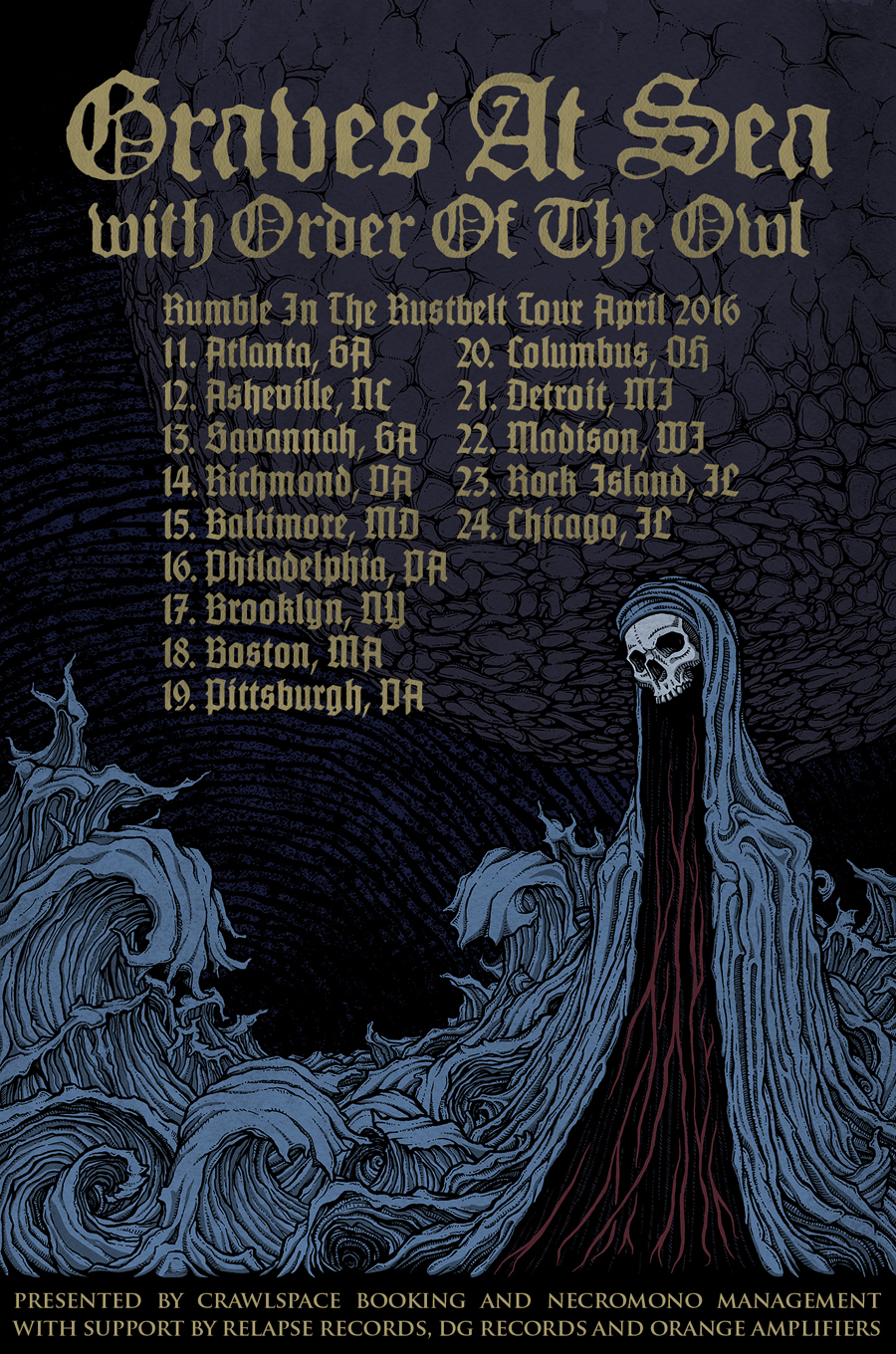 GRAVES AT SEA w/ Order Of The Owl:
4/11/2016 The Bad Earl – Atlanta, GA
4/12/2016 Mothlight – Asheville, NC
4/13/2016 The Jinx 912 – Savannah, GA
4/14/2016 Strange Matter – Richmond, VA
4/15/2016 Metro Gallery – Baltimore, MD
4/16/2016 Kung Fu Necktie (Early Show) – Philadelphia, PA
4/17/2016 Saint Vitus Bar – Brooklyn, NY
4/18/2016 Middle East – Boston, MA
4/19/2016 Spirit – Pittsburgh, PA
4/20/2016 Ace Of Cups – Columbus, OH
4/21/2016 Sanctuary – Detroit, MI
4/22/2016 Mickey's Tavern– Madison, WI
4/23/2016 Rock Island Brewing Company – Rock Island, IL
4/24/2016 Reggie's Live – Chicago, IL
GRAVES AT SEA was forged in 2002 by friends Nick Phit and Nathan Misterek, with then-members Roger Williams and Steve Klatz (RIP). After self-releasing a demo titled Documents Of Grief, they toured extensively and were quickly noticed by Greg Anderson of Southern Lord/Sunn O))), who released their Cirrohosis/Atavist Arise seven-inch in 2004. Later in 2005, the band released a split with friends Asunder on Life Is Abuse (CD) and 20 Buck Spin (vinyl). In 2007, GRAVES AT SEA went through a lineup change when Misterek moved to Oakland, California and Phit moved to Portland, Oregon. In 2008, after playing two final shows with Chiyo Nukaga (Noothgrush) on drums and Miguel Veliz (ex-Sourvein, The Roller) on bass, the band broke up. Four years later, however, they decided to reunite with Nukaga on drums and Greg Wilkinson (Brainoil) on bass, but due to touring constraints, Nukaga and Wilkinson decided to step down.
2013 marked the band's first venture to Europe, with a lengthy tour, in addition to a string of West Coast performances. 2014 brought forth their first new material since 2005 – GRAVES AT SEA issued a split LP with Sourvein on Seventh Rule Records at the start of their second European tour (this time with Sourvein), a journey that also included appearances at Roadburn Festival and SWR Festival. The split with Sourvein was quickly followed by an EP on Eolian Records titled This Place Is Poison and numerous live US appearances, including performances at Maryland Deathfest and California's Day Of The Shred Festival. Now, after having joined forces with renowned independent label Relapse Records, GRAVES AT SEA is poised to unveil their anticipated debut, The Curse That Is.
For GRAVES AT SEA coverage in North America contact liz@earsplitcompound.com, in the UK contact pip@relapse.com, in the rest of Europe contact frank@pettingzoo.nl, and elsewhere contact bob@relapse.com.
http://www.facebook.com/GravesAtSea
http://www.relapse.com
http://www.relapserecords.bandcamp.com
http://www.facebook.com/RelapseRecords