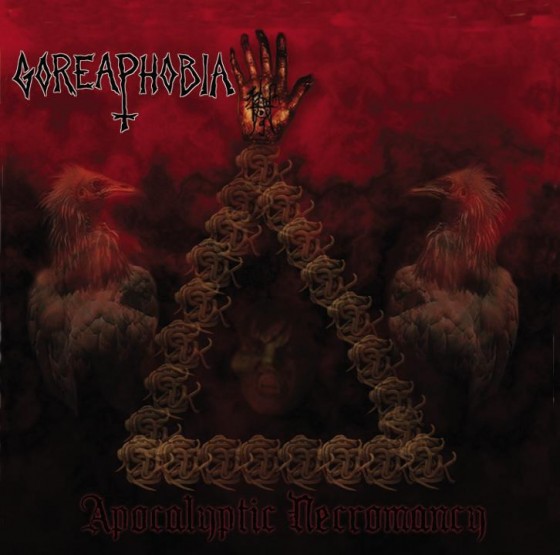 Today, MetalSucks is hosting an exclusive stream of "Rust Worms & The Noxious Fevers They Bring," the final track from GOREAPHOBIA's upcoming Apocalyptic Necromancy full-length. Set to be unleashed upon the masses on August 9, 2011 through new label home, Dark Descent Records, the follow-up to 2009's Mortal Repulsion was recorded, mixed and mastered by drummer Jim Roe and features new guitarist VJS (Kult ov Azazel, Crimson Moon, Demoncy, etc.).
Commented guitarist Alex Bouks of the song: "This was the only song on the record VJS composed all the music for. I think it's a perfect ending track. There are a lot of different elements in this song from aggression to doom and dark atmospheres….This represents the band very well in all our different diversity."
To check out the latest from Philadelphia's most extreme metal merchants, point your browser HERE.
In related news, the death metal battalion will appear on The Gathering Of The Bestial Legion V fest on August 27 at The Proud Bird in Los Angeles, California. GOREAPHOBIA will play alongside Autopsy, Incantation, Acheron, Ares Kingdom and many more. For tickets and further info, visit: http://www.ironroom.com.
GOREAPHOBIA 2011:
Chris Gamble – Vocals/Bass
Alex Bouks – Guitars
Jim Roe – Drums
VJS – Guitar
"For anybody who likes some good, dirty, grimy old school death metal, look no further than the newest release from Philly's GOREAPHOBIA." — Blistering
"Apocalyptic Necromancy is a snapshot of death metal as it was in when it was in its stage of transition between thrash metal and death metal, but GOREAPHOBIA add a lot of elements from more modern metal genres – and even some stuff from outside of metal – which makes this a focused, yet varied, listen which is bound to inspire a lot of headbanging and moshing." — Sea Of Tranquility
"You can definitely hear the Celtic Frost, Venom and Bathory influence at work here. Powerful mid to fast paced crushing riffs, the overall sound takes me back to the day's when Death Metal was just starting out…GOREAPHOBIA has done it again, Apocalyptic Necromancy is some killer Death Metal." — The Adversary
https://www.facebook.com/Goreaphobiaofficial
http://www.myspace.com/goreaphobia
http://www.darkdescentrecords.com