Legendary Philadelphia death metal battalion, GOREAPHOBIA, are pleased to join forces with Dark Descent Records for the release of their long-anticipated new full-length, Apocalyptic Necromancy. Slated for release on August 9, 2011, the follow-up to 2009's Mortal Repulsion, was recorded, mixed and mastered by drummer Jim Roe and features new guitarist VJS (Kult ov Azazel, Crimson Moon, Demoncy, etc.).
Commented Dark Descent label head Matt Calvert of the signing: "When the opportunity presented itself to release the new GOREAPHOBIA album, the choice was easy. Those who are familiar with the underground know that GOREAPHOBIA has a longstanding reputation of producing some of the filthiest death metal around. I'm more than excited to be a part of this new chapter of the band. After speaking to each member personally, it became very apparent that GOREAPHOBIA and Dark Descent Records are a perfect fit and I look forward to helping spread their message to not only long-time fans, but new ones as well."
Added guitarist Alex Bouks: "Myself and the rest of GOREAPHOBIA are very excited and pleased to be working with Matt and the rest of amazing team at Dark Descent. The label is off to great things. This is a very fresh and positive start for us to be releasing our new record with what I believe to be the next great metal label around today."
Apocalyptic Necromancy features 12 tracks of sonic decay with artwork by Linsey Wasiuta.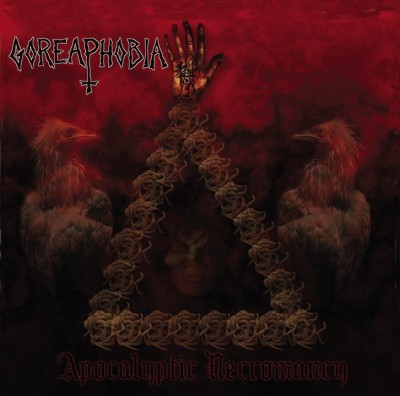 Apocalyptic Necromancy Track Listing:
01. Apocalyptic Necromancy
02. Xurroth Rreeth N'Vez Helm (City of Rot and Decay)
03. The Attractor
04. Void Of The Larva Queen
05. Shroud of The Hyena (…..Inall Ninuttix……)
06. Footpaths In The Vortex of Doom
07. Darkstar Dementia
08. Igigi Reactor
09. Totem Of The Vulture (…..Sirrix Noxhuun….)
10. Sigil On Death's Hand
11. White Wind Spectre
12. Rust Worms And The Noxious Fevers They Bring
GOREAPHOBIA 2011:
Chris Gamble – Vocals/Bass
Alex Bouks – Guitars
Jim Roe – Drums
VJS – Guitar
Further info on GOREAPHOBIA, including tour dates, to be announced soon. Stay tuned….
https://www.facebook.com/Goreaphobiaofficial
http://www.myspace.com/goreaphobia
http://www.darkdescentrecords.com