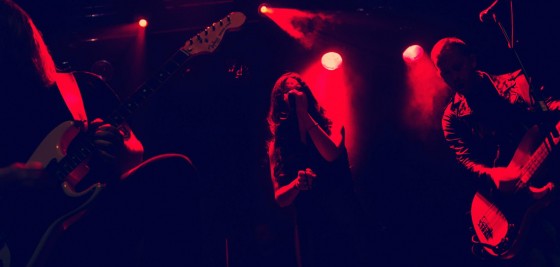 Following sporadic live actions within their home country of Holland earlier this year — including a performance at the massive annual Roadburn Festival in Tilburg — Dutch rock quintet GOLD has just been confirmed as support for Audrey Horne and Karma To Burn on their pending European tour.
Stated founding GOLD guitarist Thomas Sciarone on the upcoming trek: "We feel blessed that we are able to do our first European tour together supporting Audrey Horne and Karma To Burn. This sure to be rock and roll madhouse gives us the chance to break new grounds and deliver the songs from our debut album Interbellum to masses that are still not in the know. Europe, here's your chance to prove that you are ready to dig!"
GOLD w/ Audrey Horne, Karma To Burn:
9/29/2013 Arena – Vienna, Austria
9/30/2013 Backstage – München, Germany
10/01/2013 Kiff – Aarau, Switzerland
10/03/2013 Grillen – Colmar, France
10/04/2013 Noveau Casino – Paris, France
10/05/2013 VK – Brussels, Belgium
10/06/2013 Rosenhof – Osnabrück, Germany
10/08/2013 Rock Café St. Pauli – Hamburg, Germany
10/09/2013 Underground – Köln, Germany
10/10/2013 Magnet – Berlin, Germany
Each song on GOLD's debut, Interbellum — released in late 2012 via German cult label Ván Records — is a well-crafted piece of music and a story on its own, and overall is a monument to our time and to a civilization in decline. It deals with instability and the fear of things to come, yet offers a spark of love and hope in an attempt to give meaning to life in modern times. The album's authentic tone and warmth completes the richness of GOLD's sound, produced by Igor Wouters and Vanderbuyst's main man Willem Verbuyst. The main drive of the band's songwriting takes place between vocalist Milena Eva and guitarist Thomas Sciarone (ex-The Devil's Blood). Longtime friends, drummer Igor Wouters and bassist Harm Haverman provide a steady yet adventurous foundation and guitarist Nick Polak completes the bunch with his talent for harmony and melody.
GOLD has released a host of video singles for Interbellum including "Antebellum" [view], "Love, The Magician" [view], "One Of US" [view], a lyric video for "North" [view] and just last week they released a live video of the band covering Shocking Blue's "Send Me A Postcard" [view].
Or simply stream Interbellum in its entirety via PureGrainAudio HERE.
Stay tuned for more news on GOLD and other Ván Records artists in the coming weeks.
http://www.facebook.com/thebandGOLD
http://www.thebandGOLD.com
http://www.facebook.com/vanrecs
http://www.van-records.de