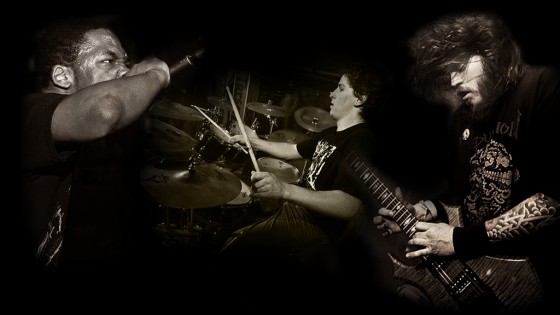 Extreme metal technicians, GIGAN, offer up a second helping from their forthcoming Multi-Dimensional Fractal Sorcery And Super-Science full-length, set to detonate this Fall via Willowtip Records. Recorded with renowned sound-weaver Sanford Parker (Minsk, Buried At Sea, Yakuza) at Earth Analog Studios in Chicago, the eight-track offering is a unapologetically mauling, technically boundless pummel fest that's at once musically proficient and psychologically enthralling. As such, Revolver Magazine seeks to bend your brain with second track, "Influence Through Ritualistic Projection."
Elaborates GIGAN master of molecular meltdowns, Eric Hersemann, of the tune, "'Influence Through Ritualistic Projection' is the second track on Multi-Dimensional Fractal Sorcery and Super Science. The song centers around a race of beings known as the Uumpluuy that, through science and Magick, have influenced countless worlds in both negative and positive ways. They have achieved this by projecting their subconscious forms into various realms and making subtle changes in both the environment and mentalities of the indigenous races."
Let the transformations begin. Point your browser HERE.
And if you missed it, you can still check out the otherworldly sounds of "Electro-Stimulated Hallucinatory Response," now playing at Decibel Magazine, HERE.
The brainchild of left-handed lead guitarist and founding member Eric Hersemann, GIGAN has been challenging the mortal laws of extreme music and creativity since early 2006. Forged around the simple notion that the imagination should be art's only limit, GIGAN's style of creative delivery has simultaneously invoked reactions of amazement, disbelief, shock, awe and ultimately, respect.
Multi-Dimensional Fractal Sorcery And Super Science will be released in North America via Willowtip Records October 15, 2013. Preorder details and live assaults to be announced soon.
"The difference between them and the throng of Cynic-fellating bands that have been kicking around as of late is that GIGAN have personality beneath their guitar wanking and trippy asides." — MetalSucks
http://www.facebook.com/Giganmusic
http://www.willowtip.com
http://www.facebook.com/willowtip
http://www.twitter.com/willowtip
http://willowtip.bandcamp.com