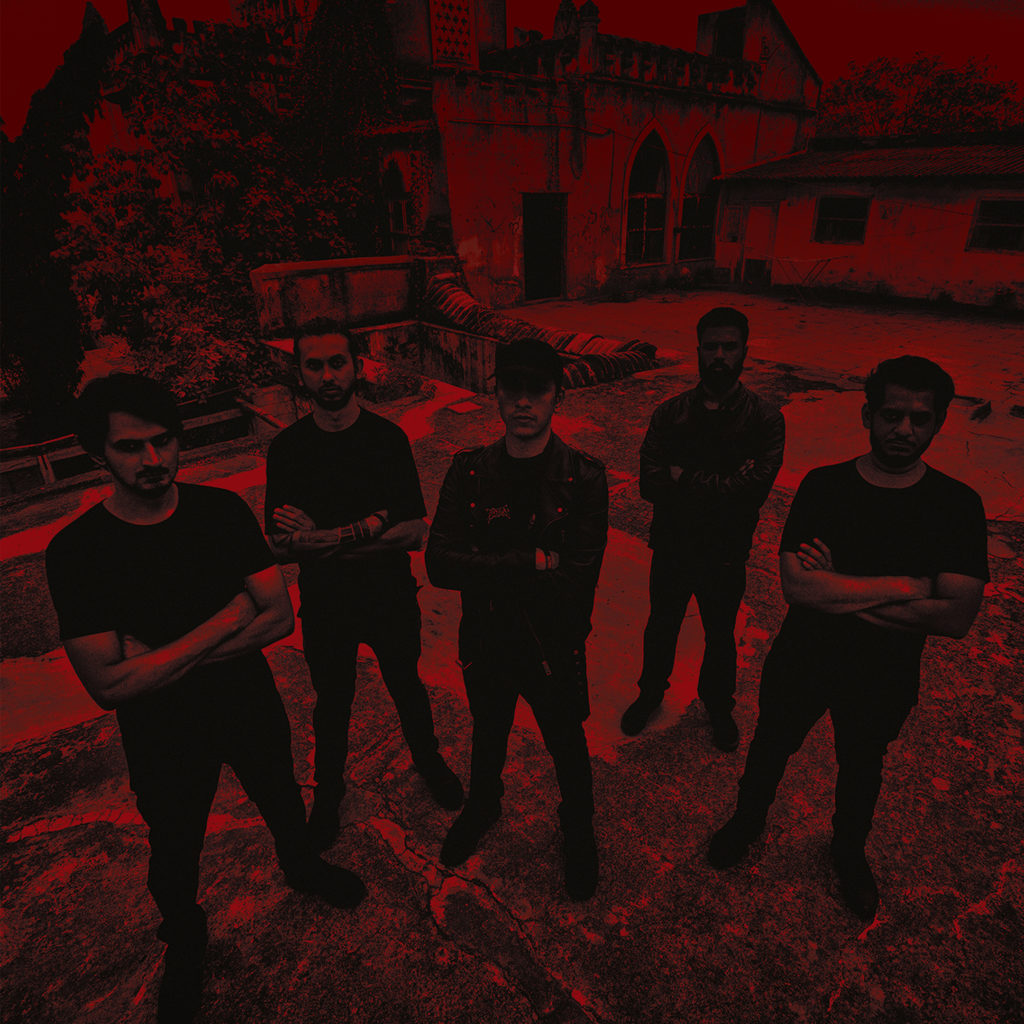 photo by David Dawson
Hyderabad, India-based GODLESS delivers their maiden LP, States Of Chaos, which sees the band unleashing eight intense and unfaltering tracks of their thrash-laced death metal which promise to pummel the listener into submission. The album's cover art, track listing, preorders, and other details have been unveiled, including a video for "Netherworld."
Thematically, States Of Chaos explores topics hinging on psychological trepidation and terror and phantasmagorias of dreamscapes that are sure to induce nightmares. The drums on States Of Chaos were recorded at Wind Horse Recording Studios, the guitars and bass recorded at Infinity Studios, and the vocals recorded at Hydrozoa HQ, with all recordings engineered by the band's Abbas Razvi. GODLESS again summoned the devastating sound of Poland's Hertz Studio (Vader, Behemoth, Decapitated) to handle the mixing and mastering duties for the album, and the result is a uniquely vicious-sounding record that takes no prisoners. The album is completed with artwork and design by New Salem and photography by David Dawson.
Lead single "Netherworld" speaks of a person trapped in a world between worlds – slowly losing his grip on sanity, making peace with the fact that he may never break free from it. The musical style reflects GODLESS' execution of its brand of death metal with elements of thrash sprinkled in for good measure. The accompanying music video for "Netherworld" perfectly captures the claustrophobic and suffocating nature of the song.
Watch the blistering video for GODLESS' lead single from States Of Chaos, "Netherworld," now playing RIGHT HERE.
GODLESS will independently release States Of Chaos on CD, LP, and digital platforms on November 19th. Preorders for all versions, including merch bundles, limited edition packages, and more, are now available HERE.
Watch for additional audio and video singles from States Of Chaos and more to be issued over the weeks ahead surrounding the album's release.
From their inauspicious origins within a very exotic metal music scene, GODLESS slowly rose to the very top of India's death metal class. Interestingly, throughout this gradual but inexorable climb, the members of the band didn't distinguish themselves for bringing innovations to the genre so much as for their unapologetic commitment to pure, unadulterated, lightning-fast, ear-shredding, thrash-influenced death metal.
With a name like GODLESS, it doesn't take a genius to file the band into the realm of uncompromising music, but since being formed in mid-2015 by musicians who have been a part of the Indian metal scene for years, the band has broken to also meddle in other old-school metallic forms. Slowly developing their craft over the next year, singer Kaushal LS, guitarists Ravi Nidamarthy and Rohit Nair, bassist Abbas Razvi, and drummer Aniketh Yadav eventually recorded a four-track EP with the mission statement-like title of Centuries Of Decadence, which was mixed and mastered by Joe Haley of Australian technical death metallers Psycroptic. After being brought under the Transcending Obscurity Records fold, GODLESS launched their EP in May 2016, which was met with rave reviews in media, including features in Rolling Stone India, Terrorizer, XXL Rock, No Clean Singing, Metal Wani, BraveWords, Dead Rhetoric, and more.
2017 brought support slots for the Indian leg of Psycroptic tour, as well as Jeff Loomis and Swedish metallers Mindshift. Encouraged by their growing fan base and received feedback for the debut EP, GODLESS rushed back into the studio in early 2018 to record their sophomore EP, Swarm, another blistering deathrash metal tour de force that boasts guest appearance from former Obscura guitarist Tom Geldschlager on the record's closing piece. Mixing and mastering was done at the renowned Hertz Studio in Poland. Unfazed, the band simply vowed to play ever faster, meaner, louder – making sure that their new effort was their fiercest yet.
To cement their position on the Indian metal scene as one of the most admired metal acts, GODLESS won the local Metal Battle India competition, leading to their international live debut at the world's most prestigious metal festival, Wacken Open Air, in August 2018. After a busy 2019, with a massive India tour, four-week European tour, and a Nepal tour, the band once again entered the studio to record their debut album.
Over time, GODLESS has proven themselves to be at the vanguard of the metal movement in the subcontinent, and with their debut LP, States Of Chaos, the band aims to propel their brand of death metal to more parts of the globe more than ever before.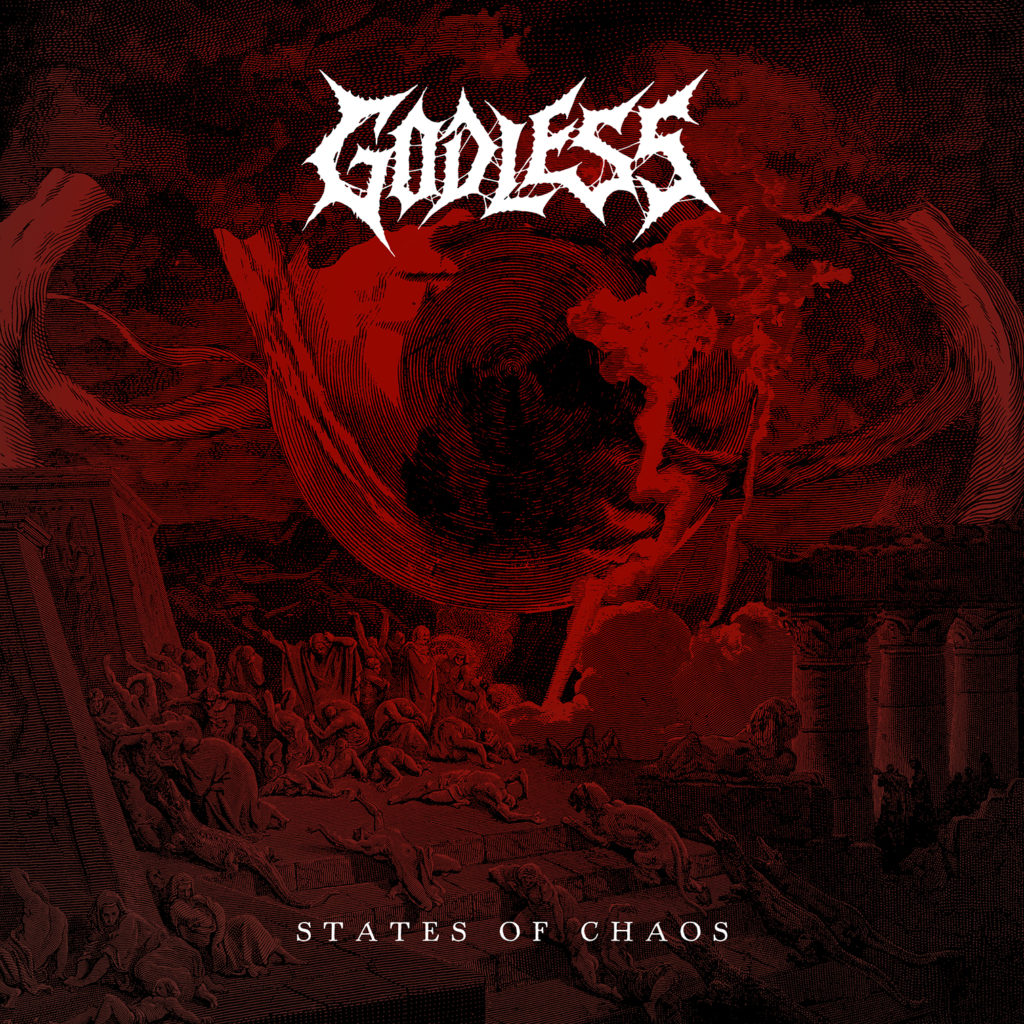 States Of Chaos Track Listing:
1. Malevolent
2. Visions
3. Descent
4. Netherworld
5. Fluxion
6. Cormorant
7. Post-Cryogenic
8. Replicant
9. Orbits Of Decay
GODLESS:
Kaushal LS – vocals
Ravi Nidamarthy – guitars
Moiz Mustafa – guitars
Abbas Razvi – bass
Aniketh Yadav – drums
Vishesh Singh – drums on "Fluxion"
https://www.godless.in
https://www.youtube.com/godlessindia
https://godlessindia.bandcamp.com
https://www.instagram.com/godlessindia
https://twitter.com/godlessindia
https://www.facebook.com/godlessindia