Following their two previous tour assaults throughout California and Arizona, GODHUNTER is preparing for the start of the third and final offensive of their Winter 2013 tour. The sludge/core bruising bastards will raid Vegas this Friday, March 1st for the first battle, followed by showdowns in Arizona, New Mexico, Colorado, and Louisiana, and a cluster of live engagements in Austin, Texas as they invade the annual bedlam of SXSW for the first time, the tour sponsored by Acid Reflux Records and Earsplit.
GODHUNTER Winter Tour 2013 – Stage III:
3/01/2013 Favorite's – Las Vegas, NV
3/02/2013 The Beehive – Flagstaff, AZ
3/03/2013 Hooligan's – Albuquerque, NM
3/04/2013 Seventh Circle – Denver, CO
3/05/2013 The Zodiac – Colorado Springs, CO
3/06/2013 Depot District Oyster Bar – Lubbock, TX
3/07/2013 Headhunter's – Austin, TX
3/08/2013 Boxer And Barrel – Houma, LA
3/09/2013 Euclid Records – New Orleans, LA *daytime show*
3/09/2013 Babylon – Metairie, LA
3/10/2013 Shifter's – Houston, TX
3/11/2013 Night Rocker's Live – San Antonio, TX
3/12/2013 Bond's 007 Bar – San Antonio, TX
3/14/2013 Hoek's Death Metal Pizza – Austin, TX *daytime show*
3/15/2013 Encore Records – Austin, TX *daytime show*
3/16/2013 Spiderland Ballroom – Austin, TX *Austin Heavy Music Showcase*
Moshpit Tragedy recently re-released GODHUNTER's Wolves EP digitally, and will also be handling the digital sales of the act's upcoming City Of Dust LP later in the year. The proceeds from these digital sales are being donated to Cedar Row Farm Sanctuary located in Stratford, Ontario. The band will enter Arcane Digital Studios in Chandler, Arizona (Exhumed, Misery Index, Phobia) this Summer with producer Ryan Butler (Landmine Marathon, Unruh) to record City Of Dust; a concept album about life and death in a decaying desert shithole of a hometown.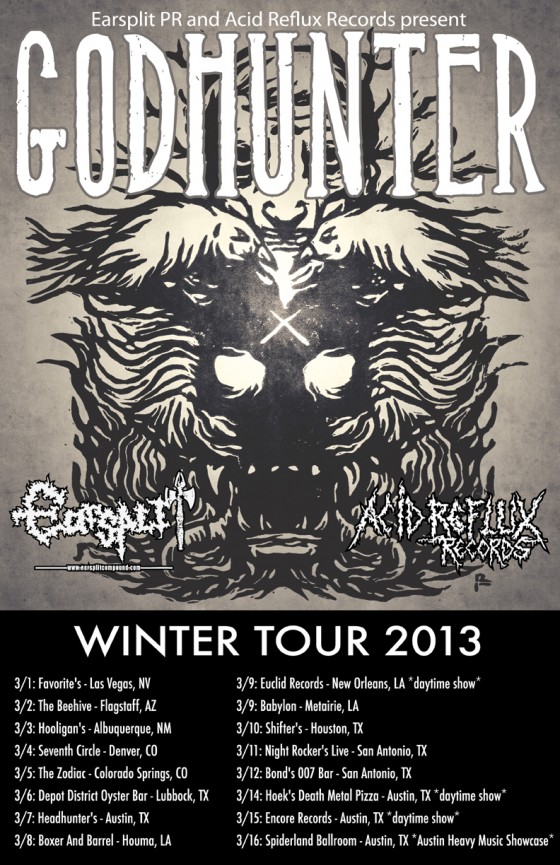 "On Wolves, Tucson's most eligible quintet crafts five stoner-sludge boulders of undeniable weight, unwavering non-conformity, and unrelenting brutality." – Heavy Planet
"Unbearable tension in barely restrained riffs, pounding, constant war beats, a thundering, all encompassing bass walks and vocals that roar with conviction all serve to inform that Godhunter are serious about what they do." – This Is Not A Scene
"…Wolves wields a medulla oblongata-wrenching wallop and obvious political (anarcho-libertarian) lyrics." – Tucson Weekly
"Godhunter have a real sense of purpose about them, something that's been missing from many other acts going about today." – Altsounds
http://godhunter.bandcamp.com
https://www.facebook.com/godhuntertucson666
https://twitter.com/godhuntertucson
http://godhunter.bigcartel.com