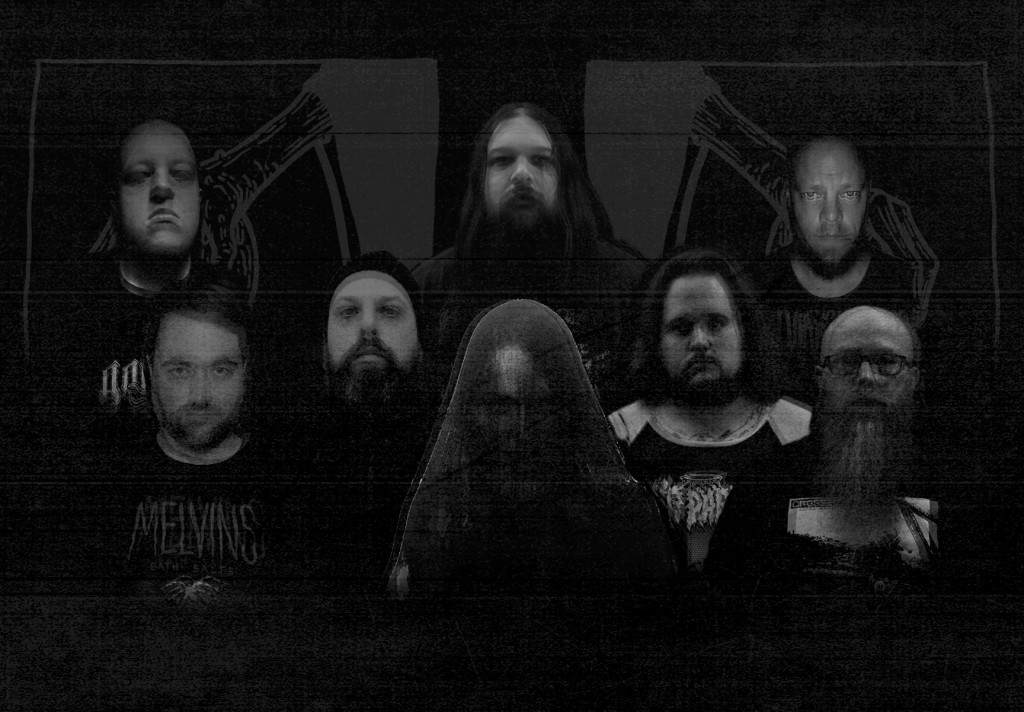 GODHUNTER has issued the artwork, track listing, and a brief trailer for the band's impending Codex Narco record, which features contributions from members of CHRCH, Demon Lung, Mountaineer, Thorne, Methra, and others.
In line with GODHUNTER's commitment to speaking out about social issues, the proceeds of Codex Narco's sales will be donated to Planned Parenthood, the statement reflected in the pink color scheme of the artwork by Bailey Illustration and layout by Cool Ghoul Ltd. (Ethan McCarthy of Primitive Man). Codex Narco was mastered by Brad Boatright at Audiosiege, and features a cover of Tegan & Sara's "Walking With A Ghost," for which a video is being created to support suicide prevention.
See the trailer for Codex Narco at THIS LOCATION.
Codex Narco will see digital release through Battleground Records and cassette release through Baby Tooth Records on May 19th; preorders and further audio samples will be issued in the weeks ahead.
In September of 2015, after finishing a successful US tour with Destroyer Of Light, several members of GODHUNTER amicably split with the band, simply moving on with more family commitments and unable to commit to regular touring. Within weeks of the lineup shift, the rest of the band began writing new material together through internet conversations and individual recording sessions, as remaining guitarist/vocalist David Rodgers, drummer Andy Kratzenberg, and keyboardist Matthew Davis, currently reside on opposite ends of the country, spread across Washington, Arizona, and Georgia. Shortly into the creation process, it was realized that the band was deviating from their usual lyrical content on our deteriorating world and current events, and for the first time were instead focusing towards their own realms of inner darkness. Everyone in the band has experienced some dramatic personal trauma in recent years, a factor which is intensely reflected in the writing of Codex Narco, where dependency, depression, and loss are the driving factors, resulting in the most personal and deeply introspective material the band has ever made.
After fleshing out the main skeleton of the new material, the remaining members of GODHUNTER secured additional elements from several of the band's closer personal and musical friends. Several of the contributors recorded a large amount of Codex Narco at Homewrecker Studios in Tucson, with the additional material recorded by each musician at their hometown studio of choice. The record features guest vocals from Eva Rose (CHRCH) and Josh Thorne (Thorne), bass from Adam Sage (Demon Lung), guitars from Clayton Bartholomew (Mountaineer, ex-Secrets Of The Sky), and vocal, bass, and guitar contributions from Nick Genitals (Methra).
Codex Narco Track Listing:
1. A Dread Of Some Strange Impending Doom
2. Like Glass Under Black Fingernails
3. Our Blood Is Poison
4. Cocaine Witches & Lysergic Dreams
5. Unarmed Combat
6. Walking With A Ghost
7. Distant Fading Screams Of A Dying World
http://www.facebook.com/godhuntersludge
https://battlegroundrecords.bandcamp.com
http://www.battlegroundrnr.com
https://twitter.com/BattlegroundRNR
http://instagram.com/battleground_records
https://babytoothtucson.bandcamp.com
https://www.facebook.com/babytoothtucson