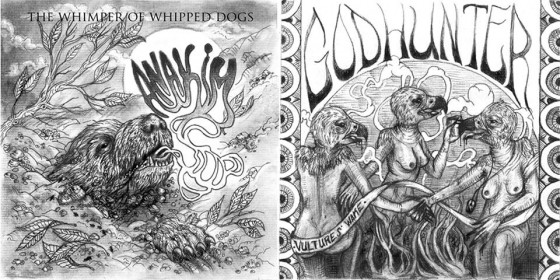 Following a steady surplus of independently-disbursed EPs and split releases since their 2009 origin, Tucson-based sludge thugs, GODHUNTER, unload a new split 7″ with local crew, ANAKIM, as a prelude to their impending debut LP.
GODHUNTER's groove-heavy, low-end bruiser, "Vulture's Wake," leads off the split. Recorded and mixed by Ryan Bram at Homewrecker Studios, the song rides the band's archetypal resin-coated, mid-paced whiplash, all jacked-up with a caustic display of vocal aggression. One of the most solid tracks to date from the self-described "five pissed off dudes in a room full of overheated tube amps and a shitload of beer," this band is no doubt aimed at fans of Eyehategod, Buzzov*en, Weedeater and leaving your problems out in the desert in a freshly-dug hole. The B-side of the EP beholds the track, "The Wimper Of Whipped Dogs," from Tucson's ANAKIM. While the quartet also deploys a slow-motion brew of doom, their tactics are a bit more reserved than their aggro brethren. Recorded and mixed by Mitch Burbidge at Omniversal Studios, the band's stoner riffage is on a more cosmic, cerebral jam-out level, citing Black Sabbath, Samothrace, The Atlas Moth and Pallbearer.
The GODHUNTER/ANAKIM 7″ was mastered by Brad Boatright at Audiosiege, and bears handcrafted artwork by Shona Crawford/Megaspore Studio. Pressed on blue wax in a one-time run of 300 copies, the split is available for preorders now exclusively through Earsplit Distro, a joint release between Earsplit's label, The Compound, and GODHUNTER's own Battleground Records.
Stream the GODHUNTER/ANAKIM split now via GunShyAssassin, HERE, and place preorders for the EP HERE.
In related news, GODHUNTER has put the final touches on their impending debut LP, City Of Dust, which will be released in the first quarter of 2014. Another cooperative release between Battleground/The Compound, City Of Dust will be released digitally and on CD early in the year followed by a massive LP edition shortly afterwards; full details on this epic chalice of brutality will be declared in the final days of this year.
GODHUNTER recently organized and operated the now-annual Southwest Terror Fest in Tucson which they founded last year, after which they provided support for Ghost B.C. as well as Clutch and The Sword in their hometown. More widespread touring of the American landscape will take place in 2014 as GODHUNTER once again plans on trekking to SXSW, trekking further north into the western regions of the country, as well as their first run at the East Coast in support of City Of Dust.
http://godhunter.bandcamp.com
https://www.facebook.com/godhuntertucson666
http://godhunter.bigcartel.com
https://www.facebook.com/pages/Anakim/267185039996606
http://anakim.bandcamp.com
https://www.facebook.com/TheCompoundRecs
http://www.earsplitdistro.com