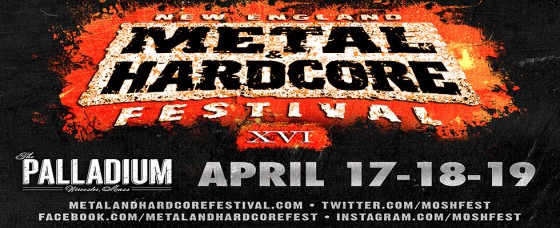 Worcester, Massachusetts-based concert promotions company, MassConcerts, is proud to, once again, host the annual NEW ENGLAND METAL & HARDCORE FESTIVAL in April 2014.
Slated for April 17th, 18th, and 19th, the 2014 installment of the massive NEW ENGLAND METAL & HARDCORE FESTIVAL gathering will mark its sixteenth year. Since 1999, the multiple-day festival has been attracting dozens of bands and thousands of fans to the historic Worcester Palladium, that houses two stages full of music for three full days.. While the final lineup for this year's fest is still being organized, today the first wave of bands confirmed to be taking part in the three-day massacre has come in hard.
Highlights of the three dozen NEMHF 2014 confirmations as of this week include: All That Remains, Iced Earth, Nile, Slapshot, the final East Coast appearance of Bleeding Through, Nails, All Out War, Twitching Tongues, and the 2014 Metal Alliance Tour package still to be announced, with more than half of the lineup still to be disclosed. Tickets for NEMHF 2014 will go on sale this Black Friday, November 29th, with VIP packages to follow soon after. Final lineups will be determined very soon.
NEW ENGLAND METAL & HARDCORE FESTIVAL 2014 Confirmations:
All That Remains
Iced Earth
Nile
Bleeding Through "Final East Coast Appearance"
Sabaton
Revamp
Nails
Within The Ruins
Slapshot
All Out War
Cruel Hand
Ramallah
Twitching Tongues
Lionheart
Counterparts
Harms Way
Suburban Scum
Fire and Ice
Naysayer
Colin of Arabia
Reign Supreme
Fit For An Autopsy
Born Low
The Mongoloids
Warhound
Malfunction
Alpha & Omega
King Nine
Discourse
Will To Die
Barrier
Kublai Khan
Scale The Summit
Sylar
https://www.facebook.com/metalandhardcorefest
http://metalandhardcorefestival.com
https://twitter.com/moshfest
http://www.massconcerts.com
https://www.earsplitcompound.com