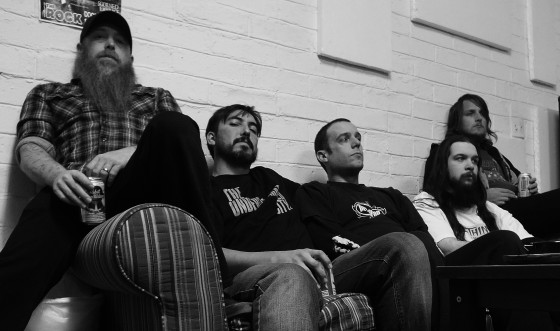 GODHUNTER is finalizing the last few details on their imminent debut full-length release, City Of Dust.
While the brutalizing Tucson-based sludgecore quintet, GODHUNTER, has amassed a plethora of independent recordings since their late 2009 inception, including several split vinyl releases, and their 2011-released Wolves EP, City Of Dust marks the band's first official LP. The band already bears an undeniable kinship to goliaths Noothgrush, Weedeater, Bongzilla and Sourvein, yet the sprawling LP shows the band exploring even more depth, with more sonically-destructive tones, more diverse, melodic song structures and even acoustic strings and gravelly, clean vocal segments atop the sun-baked bed of earthmoving roared vocals and gang chants. More than simply a collection of songs amassed for the purpose of releasing an album, City Of Dust presents a fully conceptual statement, lyrically delivering a political by-the-throat theme which unravels through the bitter finale. The album's eight anthems engulf exactly fifty minutes of brand new material, recorded with trusted cohort Ryan Butler (Landmine Marathon, Unruh) at his Arcane Digital Studios (Exhumed, Misery Index), where GODHUNTER's Wolves EP also came to fruition.
City Of Dust will be released cooperatively between the band's own newly-founded Battleground Records and Earsplit's also recently-formed label, The Compound. The first strike will see the album disbursed on CD digipak and digital download on February 18th, 2014, followed by a limited, deluxe 12″ LP version shortly thereafter.
Today the track listing for City Of Dust has been released, along with the LP's cover artwork by Tucson-based artist Rudy Flores, marking his return after handling the artwork for Wolves as well.

City Of Dust Track Listing:
1. Despite All
2. Rats In The Walls
3. Brushfires
4. Snake Oil Dealer
5. Shooting Down The Sun
6. Palace Of Thorn
7. City Of Dust
8. Plague Widow
Preceding the release of City Of Dust, Battleground/The Compound have just released a split 7″ between GODHUNTER and fellow Tucson tyrants, Anakim. GODHUNTER's groove-heavy, low-end bruiser, "Vulture's Wake," recorded and mixed by Ryan Bram at Homewrecker Studios, overthrows the A-side, with Anakim's "The Wimper Of Whipped Dogs," recorded and mixed by Mitch Burbidge at Omniversal Studios, handles the flip side, the split mastered for vinyl at Audiosiege by Brad Boatright (Nails, Integrity, Sleep, From Ashes Rise). Pressed on blue wax in a one-time run of 300 copies, the split is available for preorders exclusively through Earsplit Distro.
Stream the GODHUNTER/ANAKIM split RIGHT HERE, and place preorders for the EP HERE.
Following their performance at the 2nd Southwest Terror Fest, booked by GODHUNTER, and subsequent shows with Clutch, Ghost B.C., The Sword and more, new live actions into 2014 are already being locked as GODHUNTER will support Windhand at a free show in Tempe this Friday, December 13th, followed by a hometown show with North, Anakim and more on January 3rd, and a massive bill back in Tempe again on January 11th supporting Cattle Decapitation and the mighty Eyehategod.
GODHUNTER Live:
12/13/2013 Tempe Tavern – Tempe, AZ w/ Windhand, Twingiant, Goya, ColumnIII [free show]
1/03/2014 Club Congress – Tucson, AZ w/ North, Territory, Anakim
1/11/2014 Joe's Grotto – Tempe, AZ w/ Eyehategod, Cattle Decapitation, Scattered Guts, Sorrower, Seas Will Rise
http://godhunter.bandcamp.com
https://www.facebook.com/godhuntertucson666
http://www.earsplitdistro.com
https://www.facebook.com/TheCompoundRecs