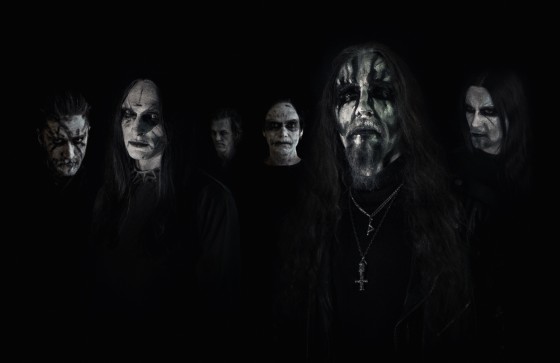 As the release of GOD SEED's first studio album, I Begin, looms, the band has unleashed a teaser from their forthcoming music video for the track "Alt Liv." Produced by Mats Willassen in the depths of the Norwegian wilderness, the video is set to encompass the ambiance and spirit of the track.
I Begin is slated for North American release on October 22nd, October 26th in Norway and October 30th worldwide. Notes About.com in a recent 4/5 review in the record: "The craving to experiment is obvious throughout, with warm vintage tones clashing with icy avant-hues. Yet the album's adventurousness never obscures its pitch-black heart; GOD SEED ensures the frosty assault of black metal is accentuated in any eccentric diversions." For preorder info, point your browser HERE. A vinyl version will also be available through Back On Black.
First single "This From The Past," premiered via esteemed music portal, Pitchfork. If you missed it, check it out HERE. Additionally, the band will march through Europe beginning November 7th on the Creatures From The Black Abyss Tour 2012 alongside Cradle Of Filth! See confirmed dates below.
GOD SEED features within its ranks Gaahl, King Ov Hell, Geir (Dimmu Borgir), Lost (Grimfist), Sir (Trelldom, Djerv) and Kenneth (Motorpsycho) and I Begin is the first studio album King and Gaahl release together since Gorgoroth's Ad Majorem Sathanas Gloriam.
GOD SEED – Creatures From The Black Abyss European Tour 2012 w/ Cradle Of Filth:
11/07/2012 Patronaat – Haarlem, Holland
11/08/2012 Romeein – Leeuwarden, Holland
11/09/2012 Hyde Park – Osnabrück, Germany
11/10/2012 Train – Aarhus, Denmark
11/12/2012 Trädgarn – Gothenburg, Sweden
11/13/2012 Klubben – Stockholm, Sweden
11/15/2012 Klubbi – Tampere, Finland
11/16/2012 Nosturi – Helsinki, Finland
11/17/2012 Rock Cafe – Tallinn, Estonia
11/19/2012 Re:Public – Minsk, Belarus
11/20/2012 Bingo – Kiev, Ukraine
11/22/2012 Progressja – Warsaw, Poland
11/23/2012 Kwadrat – Krakow, Poland
11/24/2012 Winter Masters Of Rock – Zlin, Czech Republic
11/26/2012 Estragon – Bologna, Italy
11/27/2012 Alcatraz (Small Hall) – Milan, Italy
11/29/2012 Rockstore – Montpellier, France
11/30/2012 Santana 27 – Bilbao, Spain
12/01/2012 Capitol – Santiago De Compostela, Spain
12/02/2012 Hard Club – Porto, Portugal
12/04/2012 La Riviera – Madrid, Spain
12/05/2012 Salamandra – Barcelona, Spain
12/07/2012 Musichall – Geiselwind, Germany
12/08/2012 Matrix – Bochum, Germany
12/09/2012 Z-7 – Pratteln, Switzerland
12/11/2012 Meet Factory – Prague, Czech Republic
12/13/2012 Majestic Music Club – Bratislava, Slovakia
12/14/2012 Theaterfabrik – Munich, Germany
12/15/2012 Schlachthof – Wels, Austria
12/16/2012 C-Club – Berlin, Germany
12/19/2012 Forum – London, UK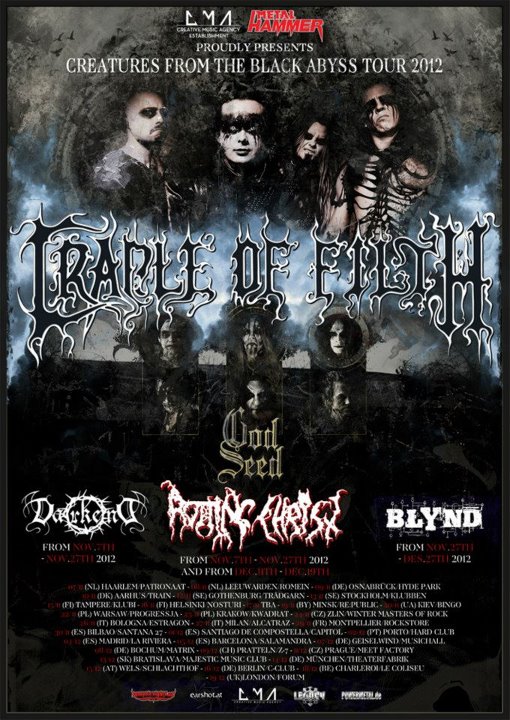 http://www.godseedband.com
http://www.facebook.com/GodSeedOfficial
http://www.indierecordings.net
http://www.facebook.com/indierecordings