Today Metal Injection offers up the official North American premiere of GOD SEED's "Alt Liv" video. Produced by Mats Willassen in the depths of the Norwegian wilderness, "Alt Liv" comes off the band's recently released I Begin full-length and truly encompasses the ambiance and spirit of the track.
Additionally, the video is being premiered at Metalhammer.co.uk in the UK, Metal-hammer.de in Germany and VS-webzine.com in France!
Among the most anticipated black metal releases in recent memory, I Begin was unleashed stateside on October 22 through Indie Recordings and continues to earn hails and horns domestically and abroad. Revolver commends the album in a 4/5 review saying: "Rather than put out more Burzum-influenced black-metal backwash, they've interpolated elements of gloom-rock, prog, and even experimental electronics into their classic-black collages, and, as improbable as it may seem, the variety works," About.com notes: "The craving to experiment is obvious throughout, with warm vintage tones clashing with icy avant-hues. Yet the album's adventurousness never obscures its pitch-black heart; GOD SEED ensures the frosty assault of black metal is accentuated in any eccentric diversions," while Blistering adds: "You couldn't necessarily find the GOD SEED dudes at fault for wanting to continue down the (left-hand) path walked during their time with Gorgoroth, yet I Begin will enter the win column because of its unpredictable nature. In essence, the '70s vibe put out coalesces with the bleak and bloody black metal of Gorgoroth's '00s output, and when you stop to compare the respective albums, is probably better than what Gorogorth was putting out a decade ago." Exclaim agrees: "I Begin is an ambitious and powerful debut, which builds on the foundation of the band members' notable pedigrees, but is also not content to rest on those laurels, pushing beyond the comfort zone of their rasping, bombastic black metal past into something more intricate."
The album's first single, "This From The Past," premiered via esteemed music portal, Pitchfork. If you missed it, check it out HERE. GOD SEED is currently on the Creatures From The Black Abyss Tour 2012 alongside Cradle Of Filth. See remaining dates below. GOD SEED features within its ranks Gaahl, King Ov Hell, Geir (Dimmu Borgir), Lost (Grimfist), Sir (Trelldom, Djerv) and Kenneth (Motorpsycho) and I Begin is the first studio album King and Gaahl release together since Gorgoroth's Ad Majorem Sathanas Gloriam.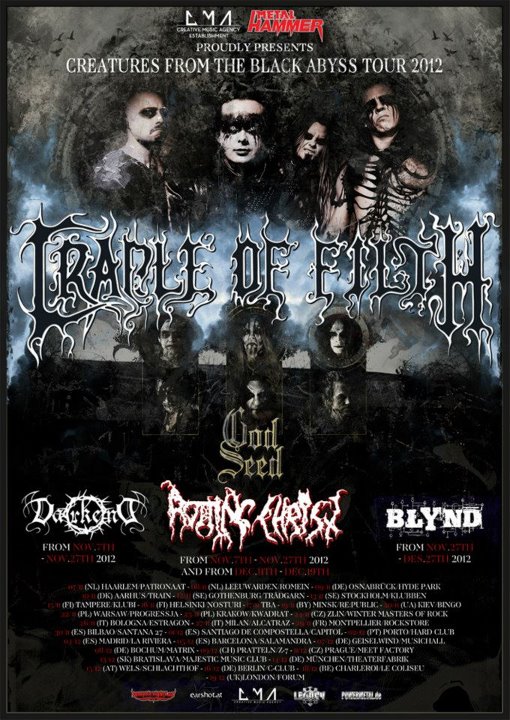 GOD SEED – Creatures From The Black Abyss European Tour 2012 w/ Cradle Of Filth [remaining dates]:
11/29/2012 Rockstore – Montpellier, France
11/30/2012 Santana 27 – Bilbao, Spain
12/01/2012 Capitol – Santiago De Compostela, Spain
12/02/2012 Hard Club – Porto, Portugal
12/04/2012 La Riviera – Madrid, Spain
12/05/2012 Salamandra – Barcelona, Spain
12/07/2012 Musichall – Geiselwind, Germany
12/08/2012 Matrix – Bochum, Germany
12/09/2012 Z-7 – Pratteln, Switzerland
12/11/2012 Meet Factory – Prague, Czech Republic
12/13/2012 Majestic Music Club – Bratislava, Slovakia
12/14/2012 Theaterfabrik – Munich, Germany
12/15/2012 Schlachthof – Wels, Austria
12/16/2012 C-Club – Berlin, Germany
12/19/2012 Forum – London, UK
http://www.godseedband.com
http://www.facebook.com/GodSeedOfficial
http://www.indierecordings.net
http://www.facebook.com/indierecordings