Right in time for the 30th anniversary of their debut album, The Christhunt, Dutch blackened death metal institution GOD DETHRONED recently announced a new chapter of their career. After having emerged in the extreme metal scene of the early '90s and soon gaining international followership thanks to twelve albums that became genre milestones, GOD DETHRONED has always remained loyal to their roots while still reinventing themselves and their new single, "Asmodevs," proves just that. The surprisingly catchy song is accompanied by a music video which was filmed and directed by the band's very own Dave Meester (guitars).
GOD DETHRONED frontman Henri Sattler comments, "'Asmodevs' is one of the oldest demons known to mankind. He appears in ancient scriptures as the prince of demons and hell. The song itself is very much composed as a single. Short but sweet, with all the typical GOD DETHRONED ingredients. Epic tunes combined with sheer brutality."
Watch GOD DETHRONED's "Asmodevs" video at THIS LOCATION. Stream/purchase the song at THIS LOCATION.
Catch GOD DETHRONED live and stay tuned for more news from the band in the weeks to come.
GOD DETHRONED:
12/09/2022 Eindhoven Metal Meeting – Eindhoven, NL
12/10/2022 Ace Of Spades Club – Bogotá, CO
12/11/2022 Barnaby Jones – Medellín, CO
12/13/2022 The Pit – Morelos, MX
12/14/2022 Elite – Querétaro, MX
12/15/2022 HDX Circus Bar – Mexico City, MX
12/16/2022 Local Boomer – Coquimbo, CL
12/17/2022 Santiago Metal Festival – Santiago, CL
12/18/2022 Casa Vieja – Temuco, CL
1/21/2023 7er Club – Mannheim, DE
2/04/2023 JC Vizit – Wilrijk/Antwerp, BE
4/22/2023 Assault Of The Undead – Vechta, DE
9/23/2023 Dark Woods – Heinrichsthal/Aschaffenburg, DE
GOD DETHRONED:
Henri Sattler – vocals, guitars
Jeroen Pomper – vocals, bass
Dave Meester – guitars
Frank Skillpero – drums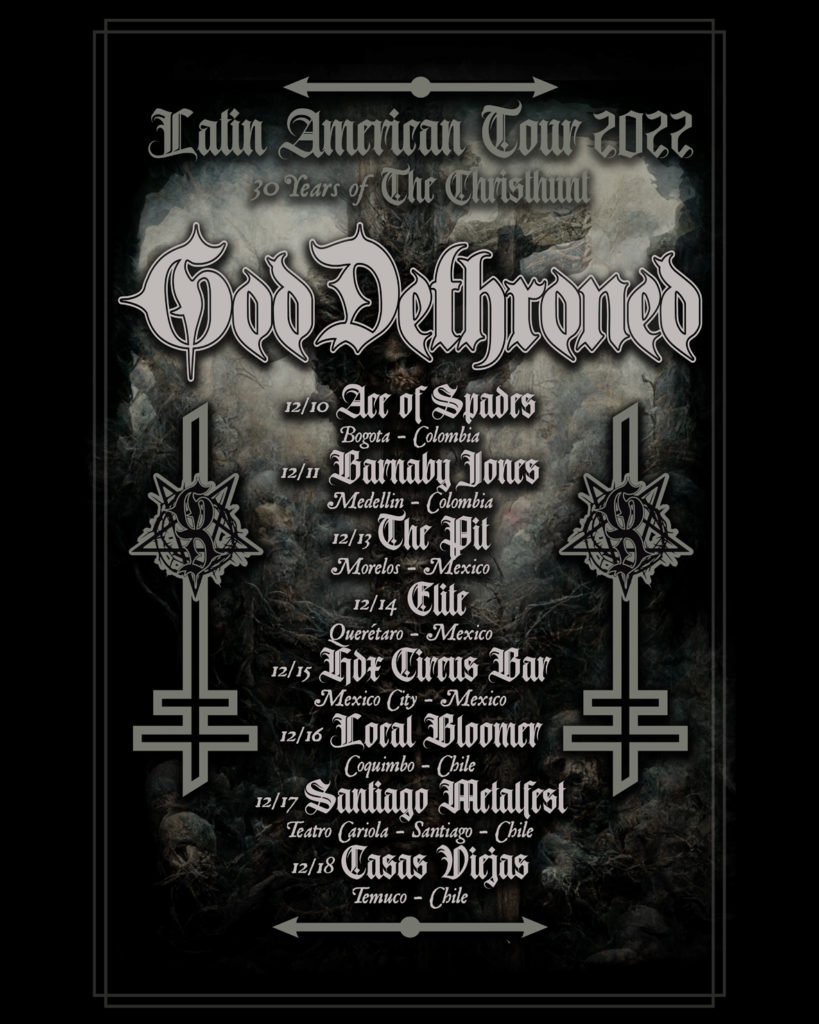 http://www..goddethroned.com
http://www.facebook.com/goddethronedofficial
http://www.instagram.com/goddethroned_official
http://www.twitter.com/villavampiria
http://www.youtube.com/goddethronedofficial666
http://www.atomicfire-records.com
http://www.facebook.com/atomicfirerecords
http://www.instagram.com/atomicfirerecords
http://www.twitter.com/atomicfirerec