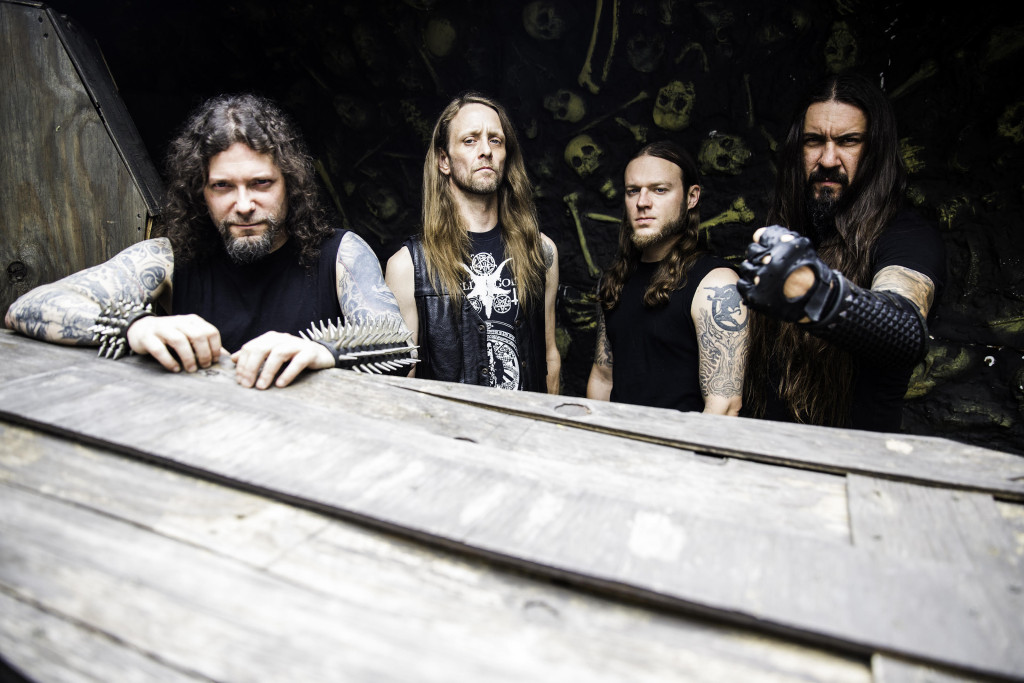 This Friday, GOATWHORE will kick off a near-three-week headlining tour with Vancouver metallers, Anciients. The tour will commence June 9th and run through July 1st. The band's latest journey comes in advance of their previously announced North American fall takeover supporting UK-based metal icons Venom Inc. The Blood Stained Earth Tour will pillage twenty-eight cities from September 1st through October 2nd. Additional support will be provided by Portland punk thrashers Toxic Holocaust and Ohio deathcore unit The Convalescence. See all confirmed dates below.
GOATWHORE will release their anticipated Vengeful Ascension full-length worldwide on June 23rd via Metal Blade Records. The band's seventh full-length and second recorded reel-to-reel, the ten-track, forty-one-minute Vengeful Ascension was captured at Earth Analog in Tolono, Illinois near Champaign with longtime soundman and comrade Jarrett Pritchard (1349, Gruesome).
Vengeful Ascension will be available on CD, vinyl (in multiple limited color variations), and digital formats. Various Vengeful Ascension preorder options are currently available at metalblade.com/goatwhore where you can also sample the record's title track as well as the newly-issued "Chaos Arcane" lyric video.
A sonic manifestation of war, chaos, desolation, and emotional conflict, seamlessly bridging twenty years of the band's signature brand of audio venom, Vengeful Ascension finds its members at their most accomplished both individually and as a cohesive unit. Guitarist Sammy Duet's dense, sub nuclear riff work and possessed solo blitzes are at their most devastating spiraling flawlessly and instinctually around drummer Zack Simmons' and bassist James Harvey's hammering rhythms with frontman Ben Falgoust's distinctly commanding roar, his acidic prose more enunciated than ever before, complimenting the apocalyptic proceedings.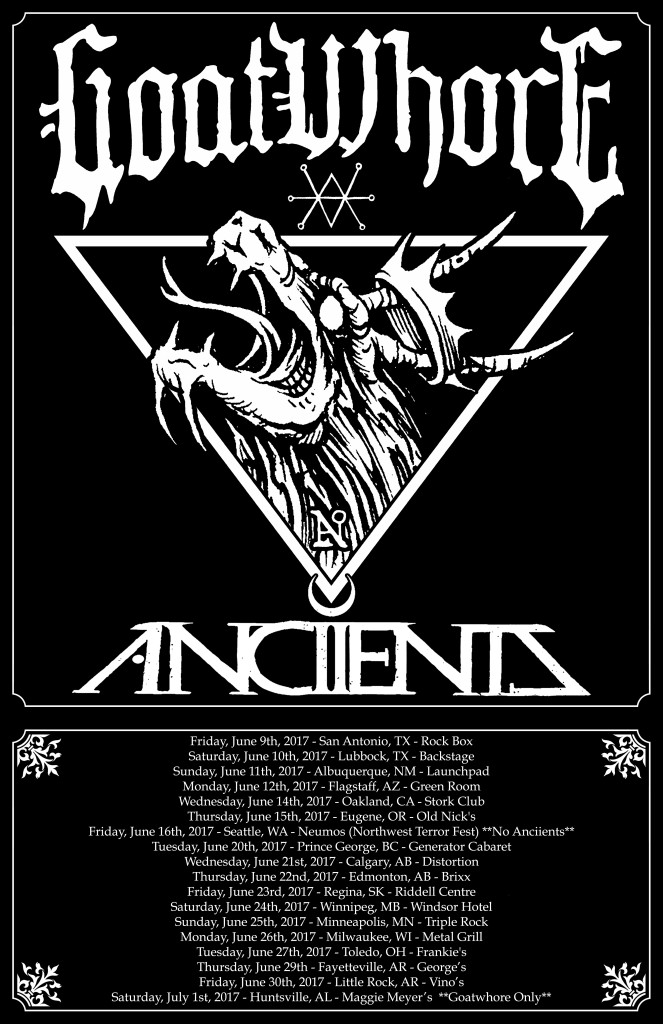 GOATWHORE w/ Anciients:
6/09/2017 The Rock Box – San Antonio, TX
6/10/2017 Backstage Lubbock Depot – Lubbock, TX
6/11/2017 Launchpad – Albuquerque, NM
6/12/2017 The Green Rom – Flagstaff, AZ
6/14/2017 Stork Club – Oakland, CA
6/15/2017 Old Nick's Pub – Eugene, OR
6/16/2017 Northwest Terror Fest @ Neumos – Seattle, WA
6/20/2017 Generator Cabaret – Prince George, BC
6/21/2017 Distortion – Calgary, AB
6/22/2017 Brixx Bar & Grill – Edmonton, AB
6/23/2017 Riddell Center – Regina, SK
6/24/2017 Windsor Hotel – Winnipeg, MB
6/25/2017 Triple Rock Social Club – Minneapolis, MN
6/26/2017 The Metal Grill – Cudahy, WI
6/27/2017 Frankies – Bryan, OH
6/28/2017 Fubar – St Louis, OH
6/29/2017 George's Majestic Lounge – Springdale, AR
6/30/2017 Vino's Brewpub – Little Rock, AR
7/01/2017 Maggie Meyers Irish Pub – Huntsville, AL
End Tour
w/ Venom Inc., Toxic Holocaust, The Convalescence:
9/1/2017 Voltage – Philadelphia, PA
9/2/2017 Gramercy Theater – New York, NY
9/3/2017 Brighton Music Hall – Boston, MA
9/4/2017 Les Foufounes Electriques – Montreal, QC
9/5/2017 Mod Club – Toronto, ON
9/7/2017 Agora Ballroom – Cleveland, OH
9/8/2017 Reggies – Chicago, IL
9/9/2017 Full Terror Metal Fest – Cave In Rock, IL
9/10/2017 Riot Room – Kansas City, MO
9/11/2017 Marquis Theater – Denver, CO
9/13/2017 The Pin – Spokane, WA
9/14/2017 Studio 7 – Seattle, WA
9/15/2017 Rickshaw Theater – Vancouver, BC
9/16/2017 Hawthorne Theater – Portland, OR
9/18/2017 Slims – San Francisco, CA
9/19/2017 The Roxy Theatre – Los Angeles, CA
9/20/2017 Brick By Brick – San Diego, CA
9/21/2017 Club Red – Phoenix, AZ
9/22/2017 Tricky Falls – El Paso, TX
9/23/2017 Gas Monkey – Dallas, TX
9/24/2017 Grizzly Hall – Austin, TX
9/25/2017 White Oak Music Hall – Houston, TX
9/26/2017 Parish at HOB – New Orleans, LA
9/28/2017 Churchill's – Miami, FL
9/29/2017 Orpheum – Tampa, FL
9/30/2017 The Haven – Orlando, FL
10/1/2017 Masquerade – Atlanta, GA
10/2/2017 Soundstage – Baltimore, MD
"…Just sinister…" — Metal Injection on Vengeful Ascension's title track
"…the most mature recording in the GOATWHORE canon. Its combination of disparate subgenres from opposite ends of the structural and melodic continuum is masterful, resulting in a remarkably non-contrasting display of good and evil; that being good songs that sound as evil as all hell." — Team Rock
"Vengeful Ascension is another perfectly-sculpted GOATWHORE masterpiece of raw aggressiveness and the band's classic instrumentals, while at the same time proving that they are indeed 'Trve Kvlt.'" — Metal Wani
"While GOATWHORE don't worry about what sub-genre they fit into, and stick to a sound that is theirs, it's apparent they have rediscovered a sense of adventure with the freshness evident in these songs." — No Clean Singing
"Vengeful Ascension isn't an album that you can easily forget. It's a record that is going to bust your skull in and get you moshing across the floor… Time and time again GOATWHORE have come out on top and now they are sitting with a skull in one hand and a severed limb in the other guiding you into the demonic pit." – Two Guys Metal Reviews
"Vengeful and spirited, GOATWHORE are a force to be reckoned with… They are the embodiment of utter-yet-glorious chaos, and they give an immersive live performance you don't want to miss." – Currently Streaming
GOATWHORE Recording Lineup:
Louis B. Falgoust II – vocals
Sammy Duet – guitars, vocals
Zack Simmons – drums
James Harvey – bass
GOATWHORE Touring Lineup:
Louis B. Falgoust II – vocals
Sammy Duet – guitars, vocals
Zack Simmons – drums
Robert "TA" Coleman – bass
http://www.facebook.com/thegoat666
http://www.twitter.com/goatwhorenola
http://www.youtube.com/Goatwhorenola666
http://www.metalblade.com/goatwhore