The road warriors in GOATWHORE have confirmed several European headlining dates prior to their run supporting Dying Fetus this summer. The tour, which begins July 27th and includes stops at Metaldays, Rockstadt Extreme, Into The Grave Fest, Summer Breeze Fest, and Kaltenbach Open Air, will tear its way through nearly two-dozen cities upon its conclusion on August 24th. Additional support will be provided by Carnifex, Toxic Holocaust, and Venom Prison on select shows.
GOATWHORE's previously announced North American fall run supporting Arch Enemy kicks off on September 28th and runs through October 27th. Additional support will come from Uncured. Tickets are on sale now! See all confirmed dates below.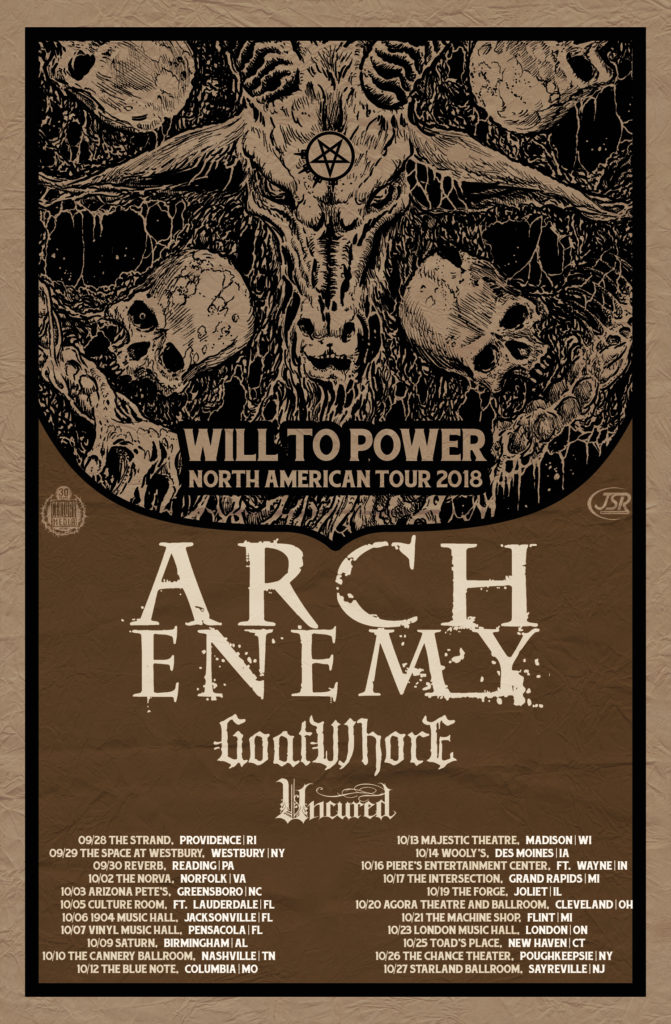 GOATWHORE:
7/27/2018 Metaldays – Tolmin, SI
7/28/2018 Industrial Bar – Zagreb, HR
7/30/2018 Live & Loud – Sofia, BG
8/01/2018 AN Club – Athens, GR
8/04/2018 Rockstadt Extreme – Brasov, RO
w/ Dying Fetus:
8/06/2018 Proxima – Warsaw, PL w/ Toxic Holocaust
8/07/2018 Bi Nuu – Berlin, DE w/ Toxic Holocaust
8/08/2018 LUX – Hannover, DE ** GOATWHORE headlining date
8/11/2018 Into The Grave Fest – Leeuwarden, NL w/ Paradise Lost, Toxic Holocaust, Nails, more
8/12/2018 L'Entrepôt – Arlon, BE w/ Carnifex
8/13/2018 Islington Academy – London, UK w/ Carnifex, Toxic Holocaust, Venom Prison
8/14/2018 Club Academy – Manchester, UK w/ Carnifex, Toxic Holocaust, Venom Prison
8/15/2018 Kulttempel – Oberhausen, DE w/ Carnifex, Toxic Holocaust, Venom Prison
8/16/2018 Chez Paulette – Pagney-derrière-Barine, FR w/ Carnifex, Toxic Holocaust, Venom Prison
8/17/2018 Summer Breeze Fest – Dinkelsbuhl, DE
8/18/2018 Petit Bain – Paris, FR w/ Venom Prison
8/20/2018 Secret Place – Montpellier, FR w/ Toxic Holocaust, Venom Prison
8/21/2018 Kiff – Aarau, CH w/ Carnifex, Toxic Holocaust, Venom Prison
8/22/2018 Spazio Naif – Milano, IT w/ Carnifex, Toxic Holocaust, Venom Prison
8/23/2018 Club Stereo – Klagenfurt, AT w/ Carnifex, Toxic Holocaust, Venom Prison
8/24/2018 Kaltenbach Open Air – Spital am Pyhrn, AT
End Tour
w/ Arch Enemy, Uncured:
9/28/2018 The Strand – Providence, RI
9/29/2018 The Space at Westbury – Westbury, NY
9/30/2018 Reverb – Reading, PA
10/02/2018 The NorVa – Norfolk, VA
10/03/2018 Arizona Pete's – Greensboro, NC
10/05/2018 Culture Room – Ft. Lauderdale, FL
10/06/2018 1904 Music Hall – Jacksonville, FL
10/07/2018 Vinyl Music Hall – Pensacola, FL
10/09/2018 Saturn – Birmingham, AL
10/10/2018 The Cannery Ballroom – Nashville, TN
10/12/2018 The Blue Note – Columbia, MO
10/13/2018 Majestic Theatre – Madison, WI
10/14/2018 Wooly's – Des Moines, IA
10/16/2018 Piere's Entertainment Center – Ft. Wayne, IN
10/17/2018 The Intersection – Grand Rapids, MI
10/19/2018 The Forge – Joliet, IL
10/20/2018 Agora Theatre and Ballroom – Cleveland, OH
10/21/2018 The Machine Shop – Flint, MI
10/23/2018 London Music Hall – London, ON
10/25/2018 Toad's Place – New Haven, CT
10/26/2018 The Chance Theater – Poughkeepsie, NY
10/27/2018 Starland Ballroom – Sayreville, NJ
GOATWHORE's latest full-length, Vengeful Ascension, was released last June via Metal Blade Records. Their seventh full-length – captured at Earth Analog with longtime soundman and comrade Jarrett Pritchard (1349, Gruesome, Wolfhammer) – serves as the band's highest charting album to date and continues to reap the praise of fans and critics alike.
Wrote Alternative Press, "The album roars with the classic GOATWHORE sound of searing, shredding, and screams of rage. The material also tries some new things, tossing in a bit of blackened atmosphere, adding to the philosophical questions the music dives into." Blabbermouth hailed, "Vengeful Ascension proves that the band is firing on all cylinders, standing tall as one of extreme metal's leading bands." MetalSucks named Vengeful Ascension the band's, "most vital album since 2006's A Haunting Curse," and one, "guaranteed to frighten your grandmother directly into her grave," while Loudwire added, "Vengeful Ascension has extremity black metal fans will dig, groove that will appeal to death metal aficionados, and potent guitar work thrash lovers can appreciate."
Vengeful Ascension is out now on CD, vinyl, and digital formats. To preview and purchase the record, visit metalblade.com/goatwhore.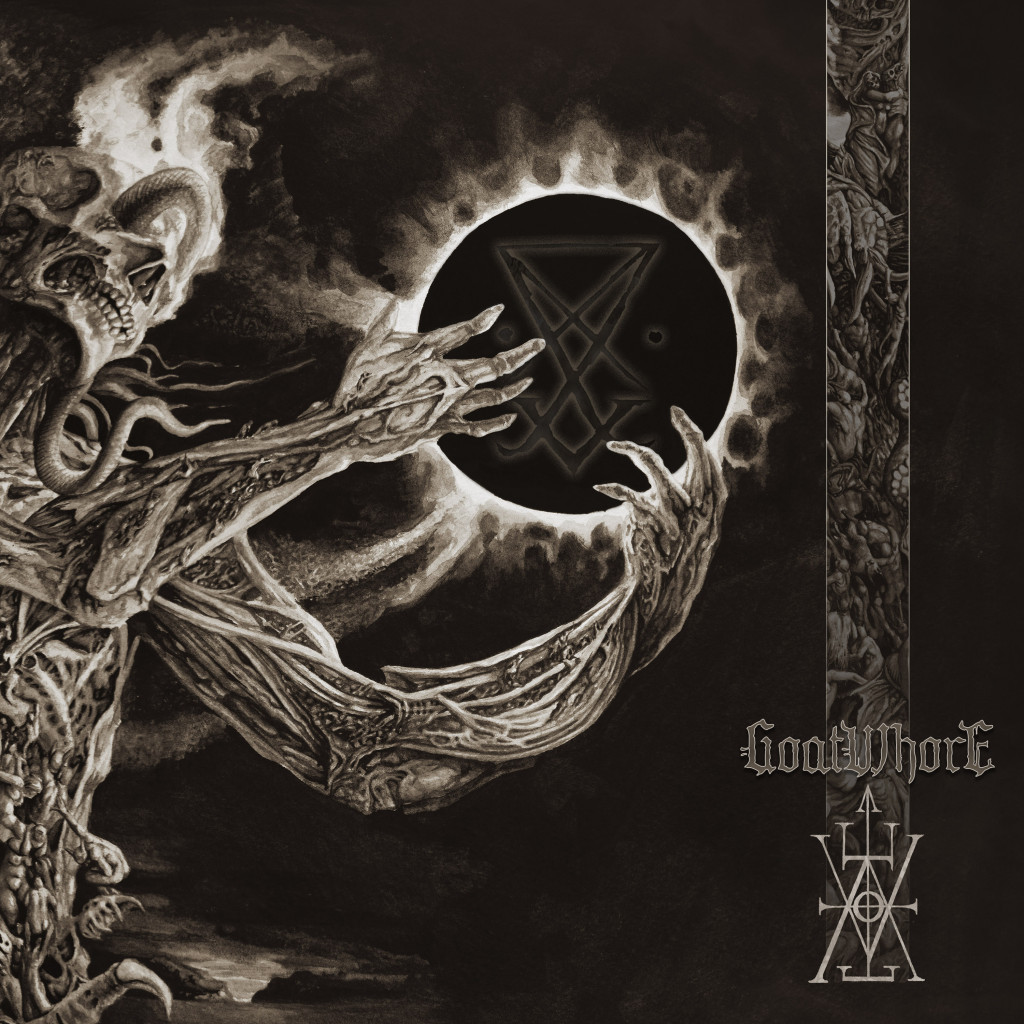 http://www.facebook.com/thegoat666
http://www.twitter.com/goatwhorenola
http://www.youtube.com/Goatwhorenola666
http://www.metalblade.com/goatwhore