GOATWHORE will return to the stage as part of the 2021 edition of Psycho Las Vegas at Mandalay Bay Hotel & Casino August 20th – 22nd! The band plays the main stage on Friday, August 20th alongside Mastodon, Obituary, Vio-Lence, and more. Find more info at vivapsycho.com.
Comments guitarist Sammy Duet, "Calling all hellrats and rivetheads! We are ecstatic to be returning to Psycho Las Vegas! Roll the dice and see what fate lies within this Satanic heavy metal overdose!"
GOATWHORE's Psycho Las Vegas appearance follows a short run of shows through Texas set to commence later this week. The five-date live takeover begins Wednesday, August 11th in San Antonio and runs through Corpus Christi, Austin, Dallas, and Houston. Support will be provided by Necrofier and Frozen Soul. Additionally, the band will play a pair of Louisiana shows in September with Eyehategod in New Orleans and Lafayette respectively as well as a special show in Seattle, Washington featuring support from Heiress and DeathCave with more performances to be announced in the weeks to come.
"We're very excited for these shows," adds Duet. "We know it's been awhile but expect nothing less than a full-on metal assault with our brothers and sister in Necrofier and Frozen Soul! Be there and stay metal!"
Tickets are on sale now! See all confirmed dates below.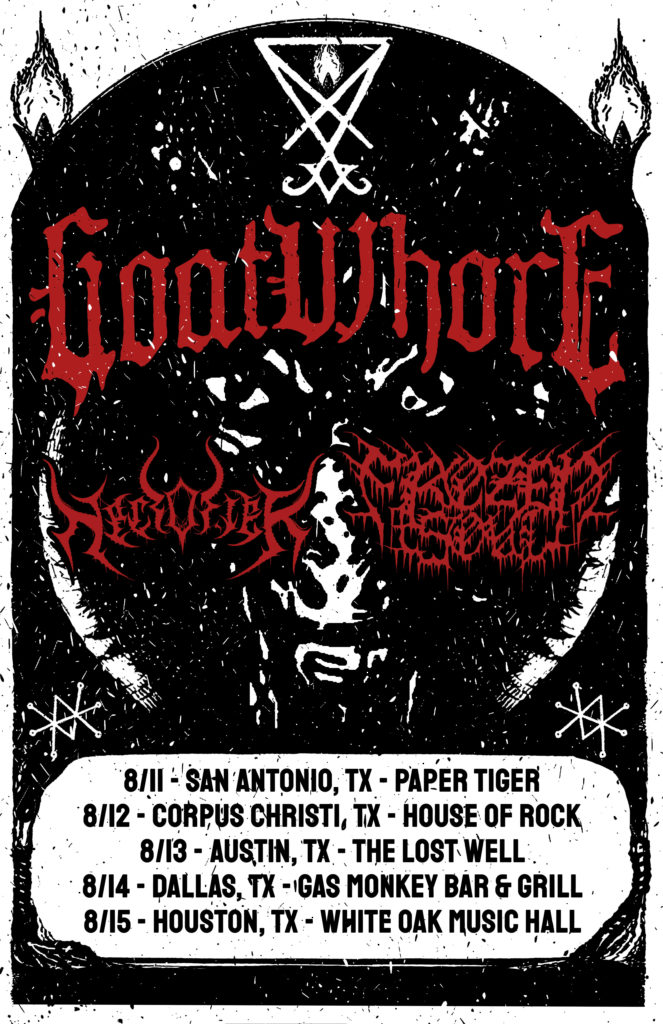 GOATWHORE:
8/11/2021 Paper Tiger – San Antonio, TX w/ Necrofier, Frozen Soul
8/12/2021 House Of Rock – Corpus Christi, TX w/ Necrofier, Frozen Soul
8/13/2021 The Lost Well – Austin, TX w/ Necrofier, Frozen Soul * SOLD OUT
8/14/2021 Gas Monkey Bar N' Grill – Dallas, TX w/ Necrofier, Frozen Soul
8/15/2021 White Oak Music Hall – Houston, TX w/ Necrofier, Frozen Soul
8/20/2021 Psycho Las Vegas @ Mandalay Bay Hotel & Casino – Las Vegas, NV [info]
9/10/2021 Poor Boys – New Orleans, LA w/ Eyehategod
9/12/2021 Freetown Boomboom Room – Lafayette, LA w/ Eyehategod
10/29/2021 El Corazon – Seattle, WA w/ Heiress, DeathCave
GOATWHORE will be touring in support of their most recent full-length, Vengeful Ascension. Released via Metal Blade Records, the critically lauded full-length was recorded with longtime soundman and comrade Jarrett Pritchard (1349, Gruesome, Wolvhammer, Nocturnus AD) and serves as the band's highest charting album to date. Metal Injection called Vengeful Ascension, "the high water mark that GOATWHORE have set for themselves," Alternative Press hailed, "The album roars with the classic GOATWHORE sound of searing, shredding, and screams of rage. The material also tries some new things, tossing in a bit of blackened atmosphere, adding to the philosophical questions the music dives into." Added Loudwire, "Vengeful Ascension has extremity black metal fans will dig, groove that will appeal to death metal aficionados and potent guitar work thrash lovers can appreciate."
Vengeful Ascension is available on CD, vinyl, and digital formats. To preview and purchase the record, visit metalblade.com/goatwhore.
http://www.facebook.com/thegoat666
http://twitter.com/Goatwhore_NOLA
http://www.instagram.com/goatwhorenola
http://www.youtube.com/Goatwhorenola666
http://www.metalblade.com/goatwhore