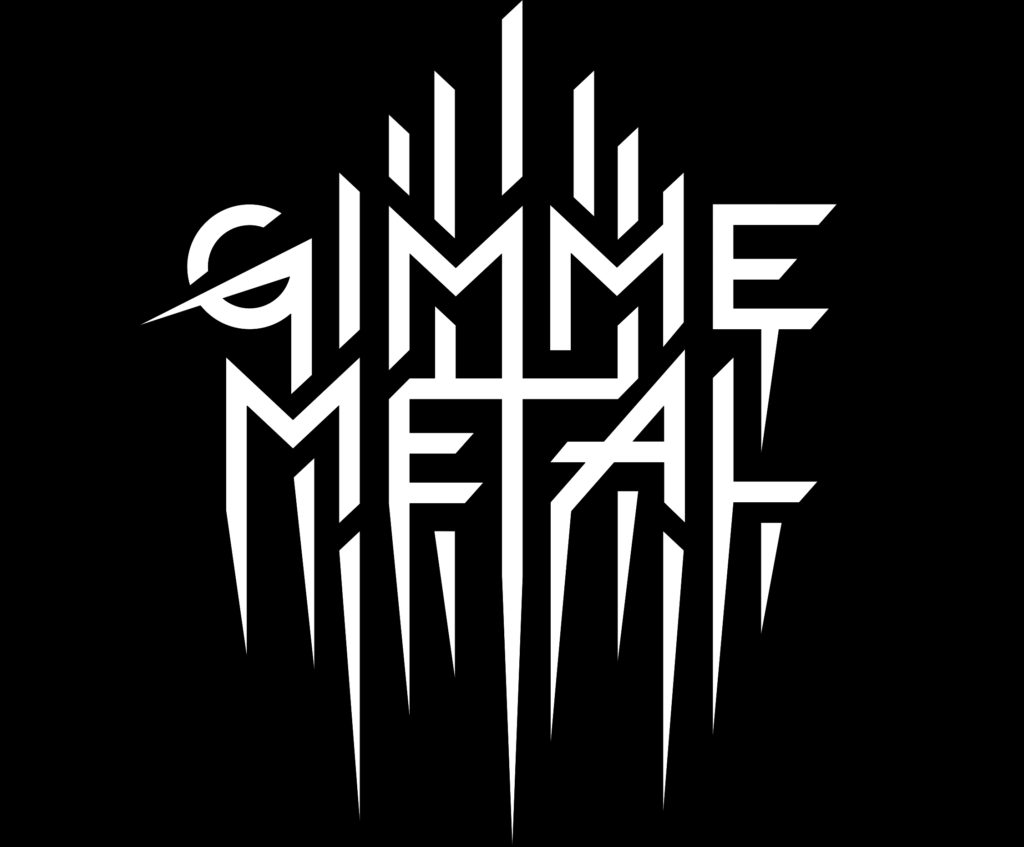 Each week, GIMME METAL publishes its radio chart listing the top 40 tracks played on the station. Already the best metal discovery service online, the GIMME METAL chart is a powerful tool for listeners, labels, and artists for staying up to date on the best new metal released by established greats and up-and-coming underdogs, all handpicked by GIMME's knowledgeable DJ roster and editorial team.
GIMME METAL Chart – August 9th, 2021:
Wizardthrone – "Black Hole Quantum Thermodynamics"
Iron Maiden – "Writing On The Wall"
Hooded Menace – "Those Who Absorb The Night"
Ænigmatum – "Disenthralled"
Ingested – "This Disgusting Revelation"
Mordred – "Malignancy"
A Pale Horse Named Death – "Shards Of Glass"
Wolves In The Throne Room – "Spirit Of Lightning"
OFF! – "Holier Than Thou"
Spirit Adrift – "Forge Your Future"
TRIAL – "Death Dealer Soul Stealer"
Dee Snider – "Down But Never Out"
Kataan – "Processor"
Jinjer – "Mediator"
Ophidian I – "Spiral Uo Oblivion"
Beyond Grace – "Hive Mind"
Robots Of The Ancient World – "Out Of The Gallows"
Aborted – "Impetus Odi"
Gost – "Burning Thyme"
Ministry – "Good Trouble"
Click HERE for the full Top 40 List.
This week on GIMME METAL Radio: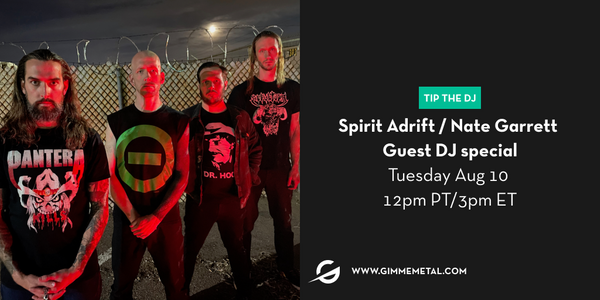 Spirit Adrift Guest DJ Special – Phoenix, Arizona's Spirit Adrift is a band who refuse to slow down. On the heels of their latest album, Enlightened In Eternity, guitarist/vocalist Nathan Garrett alongside drummer Marcus Bryant will issue their Forge Your Future EP via Century Media on August 20th. A former regular on the GIMME METAL masthead, Garrett returns for another guest DJ special. Few bands synergize the powers of hard rock, doom, and psychedelia into such a crushingly heavy monument to the timelessness of heavy metal. JoinGarrett in the Live Chat and New York City residents, be sure to catch Spirit Adrift with High On Fire and October 20th and 21st at Le Poisson Rouge.
Between The Lines w/ Paul Riedl from Blood Incantation – This episode of Between The Live spotlights Blood Incantation's 2016 opus Starspawn, an epic frenzy of technical/ambient/funereal death metal at its ultimate finest. It's also GIMME METAL's Vinyl Club pick for September. The GIMME METAL exclusive comes in transparent red/yellow galaxy vinyl offering. Order yours at shop.gimmeradio.com/pages/gimme-metal-vinyl-club and tune in as Between The Lines host Jim Santanella talks at length with Blood Incantation's Paul Riedl!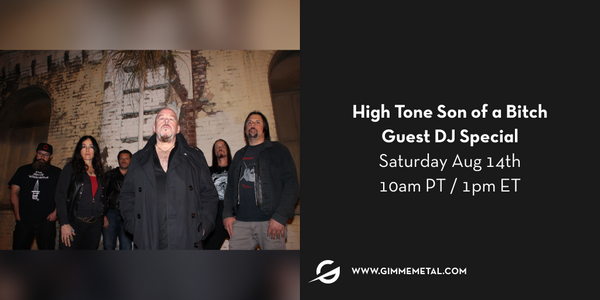 High Tone Son Of A Bitch Guest DJ Special – Originally formed by brothers Paul and Andrew Kott from the ashes of Oakland prog/doom sludge masters Cruevo, and preceding the Matt Pike-fronted Bay Area metal "supergroup" Kalas, High Tone Son Of A Bitch (HTSOB) is a "supergroup" unto itself. Since its founding, the band has pulled together members and collaborators from likes of Noothgrush, Kalas, Hammers Of Misfortune, Men Of Porn, Melvins, Hawkwind, Neurosis, High On Fire, Sleep, Necrot, The Skull, Worshipper, and more. When Andrew Kott passed away unexpectedly in a tragic fall in 2007, HTSOB disbanded — seemingly forever. Paul allowed his brother's inspiration to live on however, eventually reviving the band and carrying the psychedelic hard rock and post-doom vision of HTSOB forward. The band's newest EP, Wicked Threads, is out now, and GIMME is pleased to welcome the band back to the console.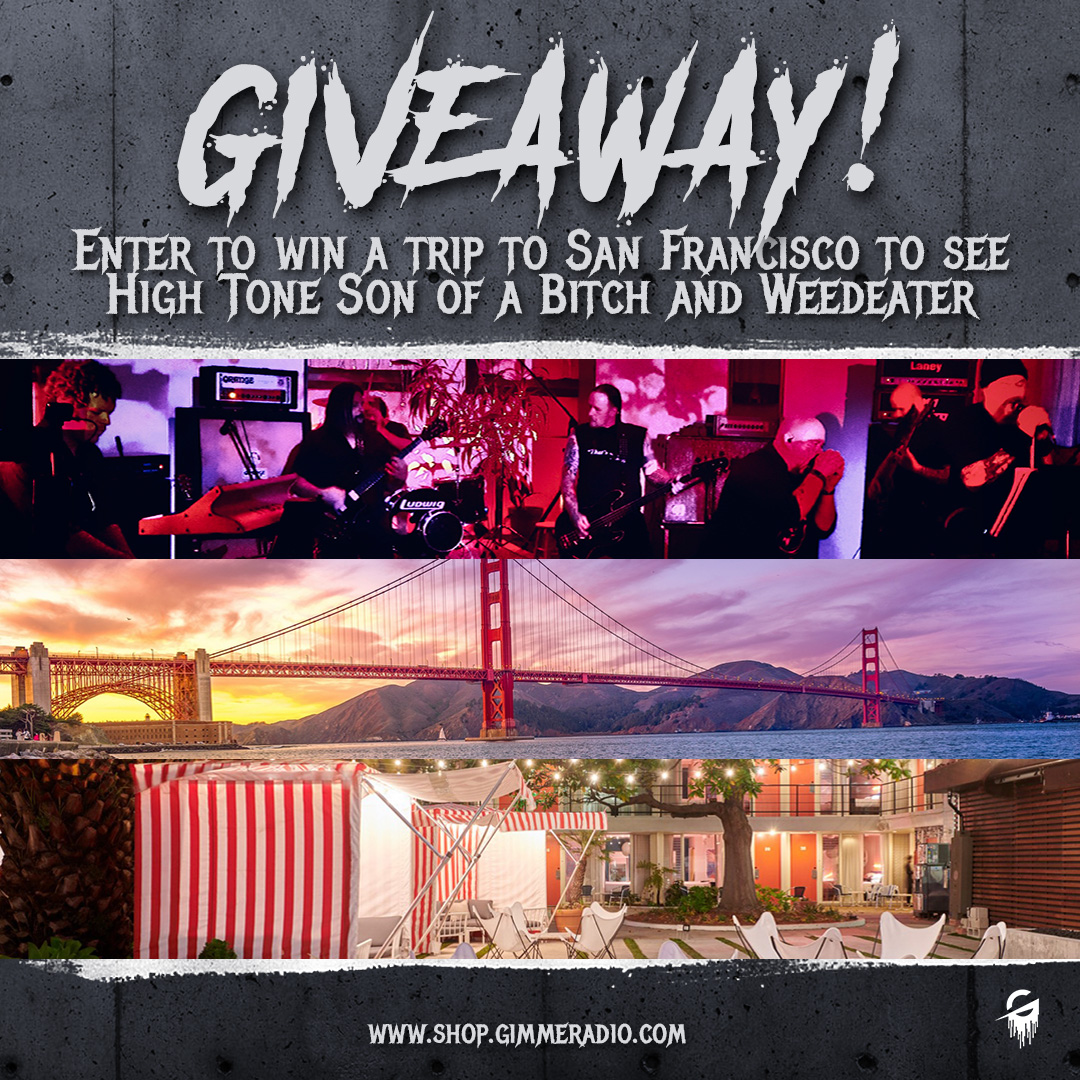 High Tone Son Of A Bitch x GIMME METAL Facebook Live Event + Mega Giveaway – As if that isn't reason enough to get stoked, GIMME METAL will be hosting a special High Tone Son Of A Bitch Facebook Live Event. GIMME will be streaming set two of High Tone Son Of A Bitch's Live At The Hallowed Halls Saturday August 14th right after this radio special! And that's not at all: The band has teamed up with GIMME METAL for a huge grand prize GIVEAWAY that includes two tickets to the band's show in San Francisco, California with Weedeater this November, flights for two from anywhere in the continental US to San Francisco the day of the show, a room for two for one night at the Phoenix Hotel in San Francisco PLUS a special meet and greet with High Tone Son Of A Bitch backstage! Follow this link to enter: https://found.ee/HTSOBxGMFLYAWAY.
This week on GIMME METAL Radio:
8/17 Possessed
8/18 Hooded Menace
8/20 Wolves In The Throne Room
8/21 Full Terror Assault Festival Preview
8/25 Erdve
8/27 Wormwitch
8/30 Michael Alago
8/31 Green Lung
9/01 Rivers Of Nihil
9/02 Mordred
9/03 Robots Of The Ancient World
9/08 Anette Olzon
9/08 Ruin
9/13 Torche
9/14 Witch Vomit
9/15 Autopsy
9/15 Southern Lord Label Special
9/18 A Pale Horse Named Death
9/22 Wraith
9/24 Cannabis Corpse
9/27 Chrome Waves
9/28 Alien Weaponry
9/29 Fucked Up
9/30 Bangers And Mosh
10/01 Ghost Cult
10/05 Karl Willetts/Memoriam/Bolt Thrower
10/06 Full Of Hell
10/11 Order (Anders Odden from Cadaver/Kjetil Haraldsson from Mayhem)
10/13 Exhumed Tour Preview on Malpractice
Don't miss it! Visit GIMME METAL: http://gimmemetal.com.
About GIMME METAL:
Founded by digital music veterans from Apple Music, Google Play, Beats Music, and Napster, parent company GIMME Radio builds highly engaged communities for the passionate fan on a genre-by-genre basis. The company launched its first community in June of 2017: the world's first 24/7 metal-focused service. Fans tune in to hear world class DJs playing metal they can't hear anywhere else – for free. The GIMME METAL app and streaming radio service allows the fans and the DJs/artists to communicate directly with one another in a live feed, in real-time, while they listen. Its roster of 70-plus DJs includes Dave Mustaine of Megadeth, Jessica Pimentel, star of Orange Is The New Black, Brian Posehn, and Randy Blythe of Lamb Of God, among many others.
http://gimmemetal.com
http://www.facebook.com/gimmemetal
http://twitter.com/gimmeradio
http://www.instagram.com/gimmeradio