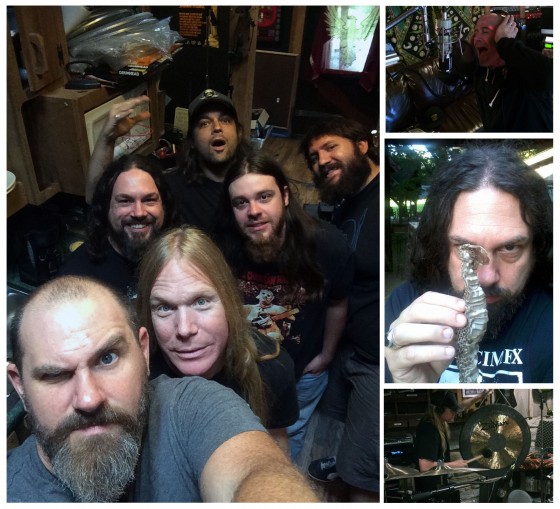 Los Angeles, California's GOATSNAKE is back in a big way. Having spent the Summer at Rock Falcon Studios in Franklin, Tennessee, the band is gearing up to release their first new full-length album since 2000's Flower Of Disease.
The new GOATSNAKE album, due for a release on Southern Lord next year, will feature the familiar faces of Greg Rogers (The Obsessed, Sonic Medusa), providing drums, Greg Anderson of Sunn O))) taking care of the riffs, Pete Stahl (Scream, Wool, Earthlings?) on vocals, and new bassist Scott Renner (Sonic Medusa, Sourvein). Joining them again on production duties is Nick Raskulinecz, who, since being introduced to Dave Grohl during the recording sessions of Flower Of Disease, has gone on to work with seminal artists such as Rush, Alice in Chains, Deftones and Ghost, and has won Grammys with the Foo Fighters. United again, he and the band are sure to serve a menacing cut of the time-honored ultra-heavy rock they are infamous for.
GOATSNAKE came to life in 1996, and released two EPs, two LPs, two 7″ records and a split between 1998 and 2000. In 2010 they returned as a live band, playing a handful of well-received shows in the US and Europe in the years since.
More details of the upcoming album will be announced soon. Fans will be able to catch GOATSNAKE live at several confirmed live events, including the upcoming Southern Lord showcase in LA on October 15th with Excel, Xibalba, Obliterations, Baptists and Torch Runner, followed by a Friday night headlining set at Southwest Terror Fest III: The Western Front, on October 17th, joined by Godhunter and labelmates Eagle Twin and Pelican. GOATSNAKE has also confirmed new 2015 live actions including a spot at Maryland Deathfest in Baltimore, performing Sunday, May 24th with Amorphis, Anaal Nathrakh, Demilich, Inverloch, Neurosis, Primordial, Prosanctus Inferi, Skepticism, Tombs and Winter, as well as taking part in Temples Festival in Bristol, UK taking place may 29th through the 31st, alongside acts including Sunn O))), Today Is The Day and Martyrdöd.
GOATSNAKE Live Actions:
10/15/2014 Los Globos – Los Angeles, CA @ Southern Lord Showcase w/ Excel, Xibalba, Obliterations, Baptists, Torch Runner
10/17/2014 The Rialto Theatre – Tucson, AZ @ Southwest Terror Fest w/ Godhunter, Eagle Twin, Pelican
5/24/2014 Maryland Deathfest – Baltimore, MD w/ Amorphis, Anaal Nathrakh, Inverloch, Neurosis, Primordial, Winter, more
5/29-31/2015 Temples Festival – Bristol, UK w/ Sunn O))), Today Is The Day and Martyrdöd
http://www.southernlord.com
http://southernlord.bandcamp.com
https://www.facebook.com/SLadmin