[photo by Chris Lundry]
With GOATSNAKE's newest LP in a decade-and-a-half, Black Age Blues, nearing its unveiling in early June, this weekend the band has several special Southern California pre-release actions planned. First up, this Saturday, May 2nd the band will venture out to secluded Pioneertown for a one-off show at Pappy and Harriet's. The next day, Sunday, May 3rd, sees the band hosting a public record listening party in Los Angeles where members of GOATSNAKE will be in attendance and fans can hear the entire album a full month before its release.
Interviews with GOATSNAKE at the listening party are welcomed, as are phone interviews with the band in advance of the upcoming release of Black Age Blues.
Following this weekend's actions, the band also has a record release show in Los Angeles on May 20th, followed by their first performance at Maryland Deathfest just days later. That same week they head to Europe for a week-long tour kicking off with a set at Temples Festival.
Preorders for Black Age Blues will go live at the new GOATSNAKE store this coming Monday, May 4th alongside the release of the LP's next single and more. In addition to the physical preorders, iTunes will have the album available for preorder offering the tracks "Black Age Blues" and "Elevated Man" for instant download, and also available to purchase individually the following day.
The maiden single from Black Age Blues, "Elevated Man," was recently premiered at Revolver Magazine RIGHT HERE.
Black Age Blues is an instant classic, with each one of the nine songs an anthem, and each of the members of GOATSNAKE in top form. Everything is magnified; the vocals of Pete Stahl (Scream) vocals have never sounded so powerful, the rhythm section comprised of Greg Rogers (The Obsessed) on drums and Scott Renner on bass is the driving force on each track, and the riffs of guitarist Greg Anderson (SunnO))), Southern Lord Recordings) are heavier than ever before. Recorded and mixed at Rock Falcon Franklin, Tennessee by Nick Raskulinecz (Queens Of The Stone Age, Foo Fighters, Alice In Chains, Mastodon, Rush) and mastered by Brian Big Bass Gardner (N.W.A., Stevie Wonder, Parliament), the production values of Black Age Blues back the top-notch musicianship, creating a seriously unstoppably entertaining album.
Black Age Blues will be released through Southern Lord Recordings in North America on June 2nd, 2015.
GOATSNAKE Live Actions:
5/02/2015 Pappy And Harriet's – Pioneertown, CA w/ Mojave Lords
5/03/2015 Black – Los Angeles, CA *Black Age Blues listening party [info]
5/20/2015 Complex – Glendale, CA *Black Age Blues Record Release Show w/ Bl'ast, Eagle Twin [info]
5/24/2015 Maryland Deathfest – Baltimore, MD [info]
5/30/2015 Temples Festival – Bristol, UK [info]
6/01/2015 De Kreun – Kortrijk, BE
6/02/2015 Melkweg – Amsterdam, NL
6/03/2015 SO36 – Berlin, DE
6/04/2015 Freakvalley Festival – Siegen, DE [info]
6/07/2015 AN Club – Athens, GR
6/20/2015 Crucialfest – Salt Lake City, UT [info]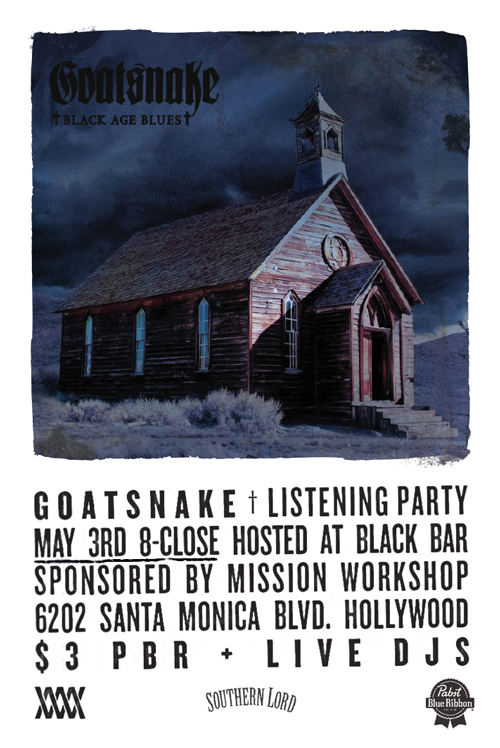 http://www.southernlord.com
http://southernlord.bandcamp.com
http://www.facebook.com/SLadmin