[photo by Samantha Marble]
New York City-based avant/experimental metal outfit GNAW – with members/alumni of Khanate, OLD, Enos Slaughter, Ike Yard, Insect Ark, and more — has exposed another cinematic sample of audio abuse from their impending Cutting Pieces LP, as the record's release through Translation Loss next week creeps in.
GNAW's latest auditory outbreak comes in the form of "Extended Suicide," delivered through an exclusive premiere at No Echo. The pulsating signal leading the track in, caked in speckles of seared flesh cast from the vocal torrent that adjoins it, gives way to one of the most straightforward thundering attacks of the entire Cutting Pieces LP on "Extended Suicide," the band's demented noise metal dynamics soaking in a hotbed of bubbling riffage, harsh whispers, and ultimate demoralization.
GNAW's founding vocalist Alan Dubin was briefly interrogated by No Echo, in which he reveals of the track, "'Extended Suicide' is one of the harsher industrial tracks on the album. We might get flack for the lyrics because they'll be taken the wrong way as pro-suicide which is not quite the intention. The song, to me, is about loneliness — "imagined suicide"– procrastinating and being all talk but never getting around to the deed."
Get the full scoop and unload GNAW's "Extended Suicide" at No Echo RIGHT HERE.
Translation Loss will release Cutting Pieces on LP, CD, and digital formats next Friday, October 27th; find preorders HERE. Also hear prior single "Rat" at No Clean Singing HERE, and "Septic" at Decibel RIGHT HERE.
Following their recent performance as part of Nightside Of Eden in Brooklyn, GNAW will terrorize the neighborhood again on October 29th at their official LP release party. Additional shows are to be expected in the weeks ahead. Also watch for new videos from GNAW to see release in the coming weeks surrounding the release of Cutting Pieces.
GNAW Record Release Show:
10/29/2017 Saint Vitus Bar – Brooklyn, NY w/ Couch Slut, Escuela, Syndromes [info]
GNAW was created by vocalist Alan Dubin following the dissolution of Khanate. Closing a four-year gap since their acclaimed second album, Horrible Chamber, GNAW's Cutting Pieces dredges forth some of the outfit's most unnerving audio assaults yet. In addition to the traditional four-piece rock format and string and wind instruments, GNAW utilizes found sound, homemade instruments, tweaked oscillators, synthesis, and manipulated recordings. Joining returning assassins Alan Dubin (Khanate, OLD), Brian Beatrice, Carter Thornton (Enos Slaughter), Eric Neuser, and Jun Mizumachi (Ike Yard), a recent personnel shift sees the lineup now including Dana Schechter (Insect Ark, ex-Angels Of Light) on lap steel guitar.
Cutting Pieces was written and recorded over the past two years at various studios and locales across NYC, the bulk of the music was written by Thornton, Beatrice, and Dubin with all members creating sound elements and arrangements, the final record mixed by Beatrice and once again mastered by James Plotkin. The graphic and type design for the cover was done by returning French designer Sebastien Hayez. The album employs an extensive arsenal of instrumentation through guitars, bass, drums, voice, lap steel guitar, Chinese cello, Weevil, conga, sawed off Kramer, Drone Thing oscillator, Alto sax, homemade light oscillator, micro cassette recorder, chain link fence, a small child, 2002 Toshiba laptop, voice dictator and space bar, and more. Cutting Pieces also features guest musicians Stefania Alos Pedretti of Italian noise rock act OvO contributing background vocals to the track "Septic," and Swiss saxophone player and sound artist Antoine Chessex (ex-Monno) contributing saxophone and amplifier to "Triptych."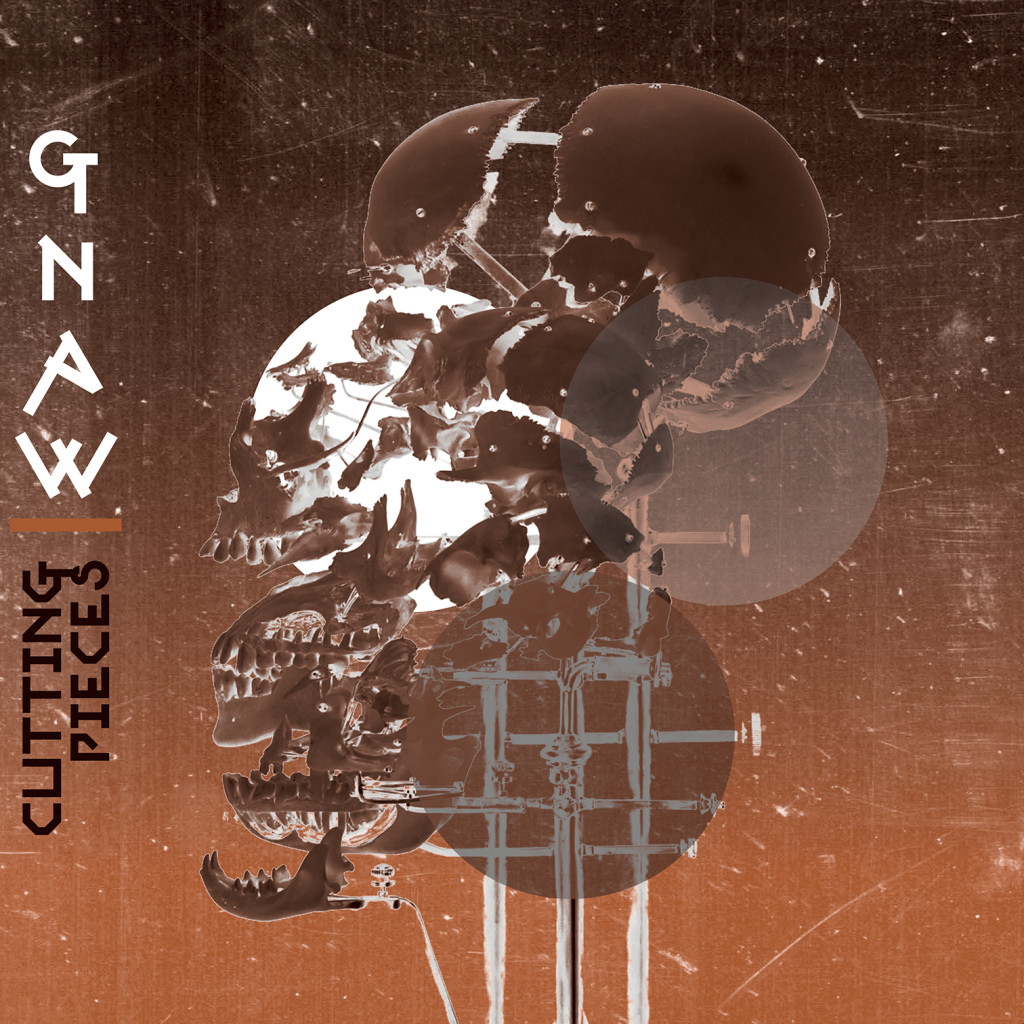 https://www.facebook.com/Gnawtheband
https://www.translationloss.com
https://www.facebook.com/TranslationLossRecords
https://twitter.com/TranslationLoss
https://translationlossrecords.bandcamp.com