The planet's most beloved villains of Creepsylvania, GHOUL, are readying to kick off a mega live takeover supporting GWAR. The infiltration begins October 20th in Richmond, Virginia and will decimate nearly four dozen cities through December 10th in Detroit, Michigan. Additional support will be provided by US Bastards on all dates, as well as Doyle and He Is Legend on select dates. See all confirmed dates below.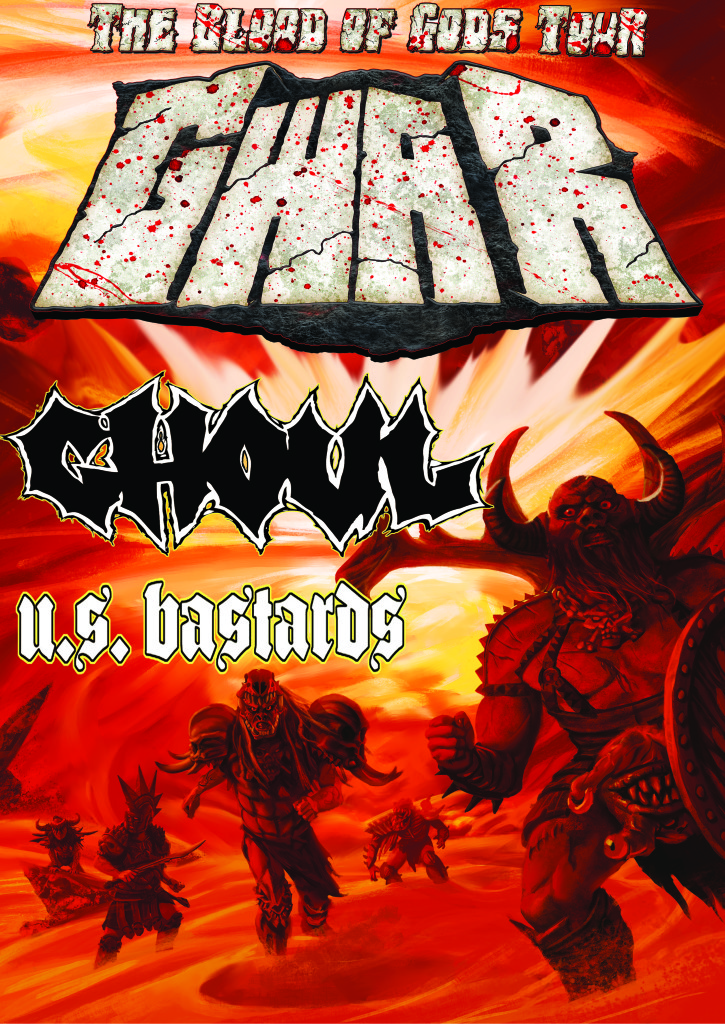 GHOUL w/ GWAR, Doyle, US Bastards:
10/20/2017 The National – Richmond, VA
10/21/2017 The Agora Theatre – Cleveland, OH
10/22/2017 Opera House – Toronto, ON
10/23/2017 Mr. Smalls Theatre – Millvale, PA
10/25/2017 Arizona Pete's – Greensboro, NC
10/26/2017 Rams Head Live – Baltimore, MD
10/27/2017 Toad's Place – New Haven, CT
10/28/2017 The Palladium – Worcester, MA
10/29/2017 The Trocadero Theatre – Philadelphia, PA
10/31/2017 Irving Plaza – New York, NY
11/01/2017 Town Ballroom – Buffalo, NY
11/02/2017 Mercury Ballroom – Louisville, KY
11/03/2017 Pop's – Sauget, IL
11/04/2017 Anthem at Hard Rock Hotel & Casino – Sioux City, IA
11/05/2017 Granada Theater – Lawrence, KS
w/ GWAR, He Is Legand, US Bastards:
11/07/2017 First Avenue – Minneapolis, MN
11/08/2017 Pyramid Cabaret – Winnipeg, MB
11/09/2017 Saskatoon Event Centre – Saskatoon, SK
11/10/2017 Union Hall – Edmonton, AB
11/11/2017 The Palace Theatre – Calgary, AB
11/13/2017 Commodore Ballroom – Vancouver, BC
11/14/2017 Roseland Theater – Portland, OR
11/15/2017 Showbox SODO – Seattle, WA
11/17/2017 The Catalyst – Santa Cruz, CA
11/18/2017 Fremont Country Club – Las Vegas, NV
11/19/2017 Ace Of Spades – Sacramento, CA
11/21/2017 House of Blues – San Diego, CA
11/22/2017 The Fonda Theatre – Los Angeles, CA
11/23/2017 The Marquee – Tempe, AZ
11/24/2017 Sunshine Theater – Albuquerque, NM
11/25/2017 The Summit Music Hall – Denver, CO
11/26/2017 Bourbon Theatre – Lincoln, NE
11/28/2017 Cain's Ballroom – Tulsa, OK
11/29/2017 Gas Monkey Live – Dallas, TX
11/30/2017 House of Blues – Houston, TX
12/01/2017 The Aztec Theater – San Antonio, TX
12/02/2017 Varsity Theater – Baton Rouge, LA
12/03/2017 The Masquerade – Atlanta, GA
12/05/2017 Revolution – Ft. Lauderdale, FL
12/06/2017 The Ritz – Tampa, FL
12/08/2017 The Vogue – Indianapolis, IN
12/09/2017 Limelight – Peoria, IL
12/10/2017 St. Andrew's Hall – Detroit, MI
GHOUL continues to tour in support of their delightfully deviant Dungeon Bastards studio offering. Released via Tankcrimes in July 2016, the record consumed Billboard Charts upon its first week of release debuting at #11 on the Heatseekers Chart, #13 on the Top Vinyl Albums Chart, #13 on the Hard Rock Chart, and #27 on the Independent Albums Chart. The band also earned prime spots on year end lists globally including the #19 position of Decibel's Top 40 Albums Of 2016, the revered rag issuing of the album, "For those who lived through Nancy and Ronald, S.O.D., and D.R.I. GHOUL's sound is like finding a shoebox of discontinued candy, all of it fresh to eat. That said, the gonzo midnight movie vibe and cartoonish energy on Dungeon Bastards perfectly articulates the apocalyptic anxiety that we're all sharing in 2016."
Dungeon Bastards was captured and mixed by Scott Evans (Kowloon Walled City) at Antisleep Studios in Oakland, mastered by Dan Randall (Impaled, Annihilation Time, Fucked Up, Necrot) at Mammoth Sound in San Francisco, and wields eleven hemorrhage-inducing tracks of the band's now-patented Creepsylvanian splatterthrash.
Dungeon Bastards is out now on CD and digital formats as well as slime green and blood red vinyl with a gatefold jacket that opens into the Dungeon Bastards board game. Players take turns advancing through a Creepsylvanian map; the first one to get to end of the map and jump the Wall Of Death wins. CD orders are available HERE, vinyl HERE, and digital HERE.
"…the gonzo midnight movie vibe and cartoonish energy on Dungeon Bastards perfectly articulates the apocalyptic anxiety that we're all sharing in 2016." – Decibel
"Dungeon Bastards isn't just GHOUL's finest album to date – it's one of 2016's strongest albums to date, a pipe bomb hybrid of thrash, death metal, and hardcore that is effortlessly aggro and fun. Dungeon Bastards is the kind of record that will have you looking cockeyed at anyone who claims not to like it." – MetalSucks
"Infused with the savage technicality of thrash behemoths and legendary crossover beasts such as Blind Illusion and Attitude, the energy and power of early Death and Sodom and the morbid humours of GWAR, GHOUL's lifelong mission has taken another crucial step toward world domination. Thrashing time is here." – Mass Movement
"The production here is crisp and choppy and adds to the fun of this release… add in the sing-a-long choruses and you have a pretty beaking cool release. 7 Fucking Pecks" – Decibel's For Those About To Squawk column
"…the best thing GHOUL has put out to date." – Ave Noctum
http://www.facebook.com/GhoulunaticsAsylum
http://www.creepsylvania.com
http://www.tankcrimes.com
http://www.facebook.com/tankcrimes