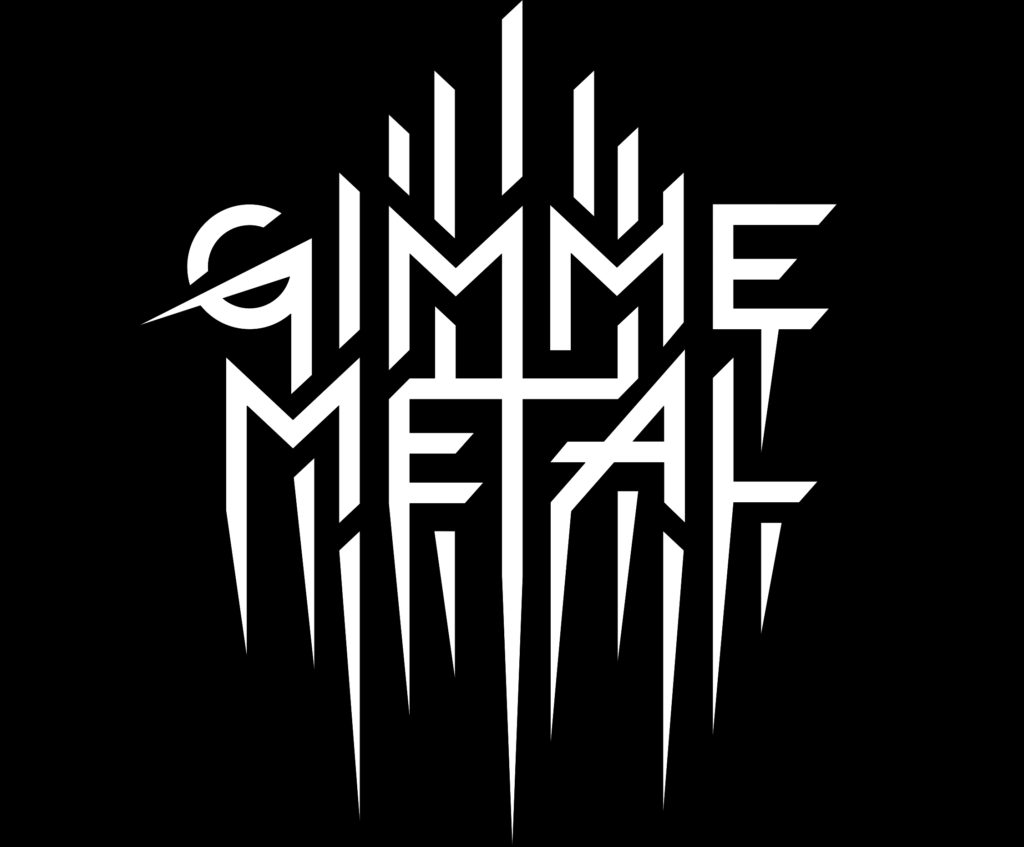 Each week GIMME METAL publishes its radio chart listing the top 40 tracks played on the station for the week. Already the best metal discovery service online, the GIMME METAL chart is a powerful tool for listeners, labels, and artists for staying up to date on the best new metal released by established greats and up-and-coming underdogs, all handpicked by GIMME's knowledgeable DJ roster and editorial team.
GIMME METAL Chart – June 26th, 2020:
Ingested – "Dead Seraphic Forms"
Xibalba – "Años En Infierno"
Living Gate – "The Delusion Of Consciousness"
Winterfylleth – "A Hostile Fate (The Wayfarer Pt. 4)"
Tithe – "Scum"
Chepang – "Pahilo Bhet"
Lamb Of God – "Routes"
Bell Witch/Aerial Ruin – "Heaven Torn Low II (The Toll)"
Blood Star – "The Fear"
Necrot – "Stench Of Decay"
Click HERE for the full Top 40 List.
Upcoming Shows on GIMME METAL:
Atheist: Gimme Relief Series Guest DJ Special Premieres Friday 6/26 at 3:00pm EST/12:00pm PST – Atheist co-founding guitarist/vocalist Kelly Shaefer hits GIMME METAL with a guest DJ special today! For the uninitiated, Atheist were founded in 1984, spearheading Florida's legendary death metal scene and creating '90s metal classics: Piece Of Time, Unquestionable Presence, and Elements. Their unique style of technical death metal with funk smatterings helped build a solid following both stateside and abroad. The band is currently working on a new release. If you miss the premiere, tune in for the re-airings Tuesday, June 30th at 7:00pm EST/4:00pm PST and Wednesday, July 8th at 9:00pm EST/6:00pm PST!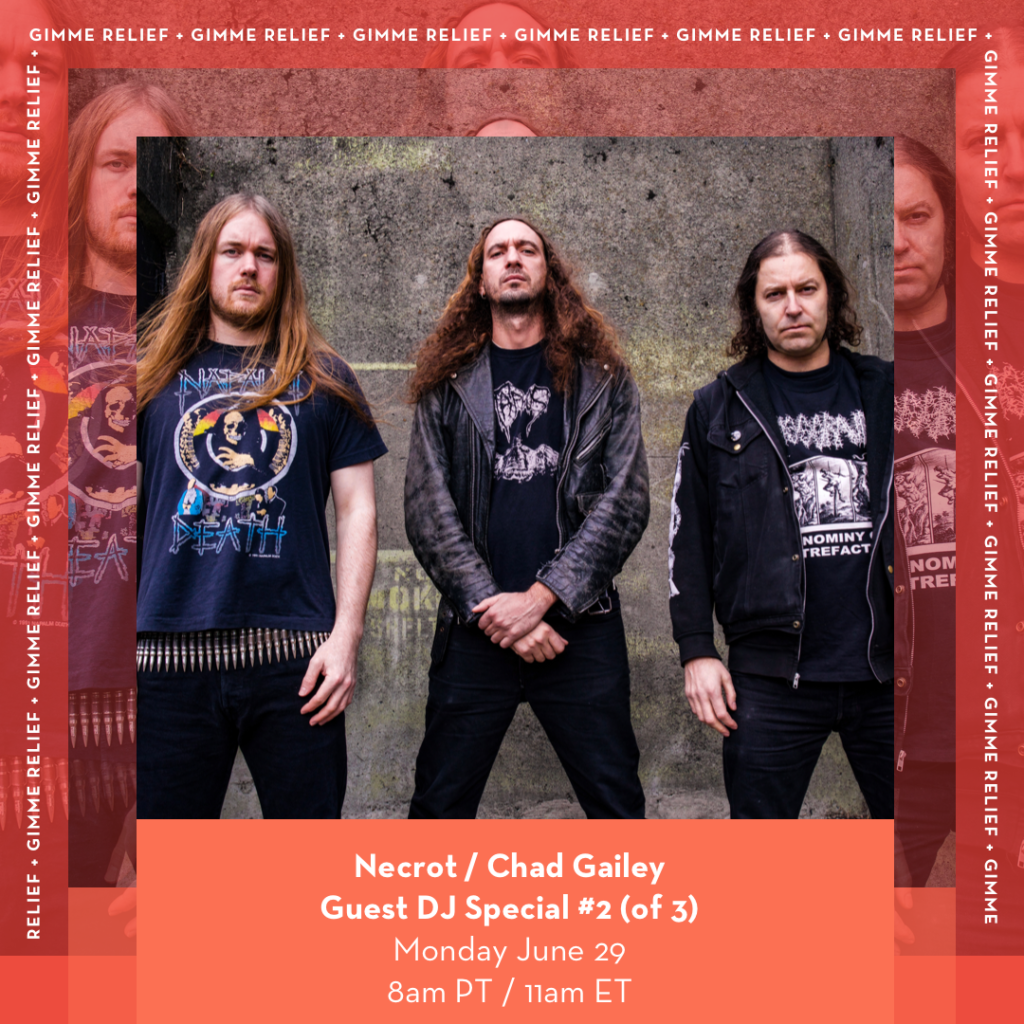 Necrot's Triple Takeover With Chad Gailey: Gimme Relief Series Guest DJ Special #2 Premieres Monday 6/29 at 11:00am EST / 8:00am PST – Drum-meister Chad Gailey hosts the second of GIMME METAL's three-part Necrot special. Each show will air a new single from their upcoming new album Mortal, set for release via Tankcrimes this August! The first single "Stench Of Decay" was unveiled on May 27th during bassist/vocalist Luca Indrio's GIMME METAL set. Chad Gailey's show includes a preview of "Asleep Forever." Stay tuned for Sonny Reinhardt to take the guest DJ seat July 29th!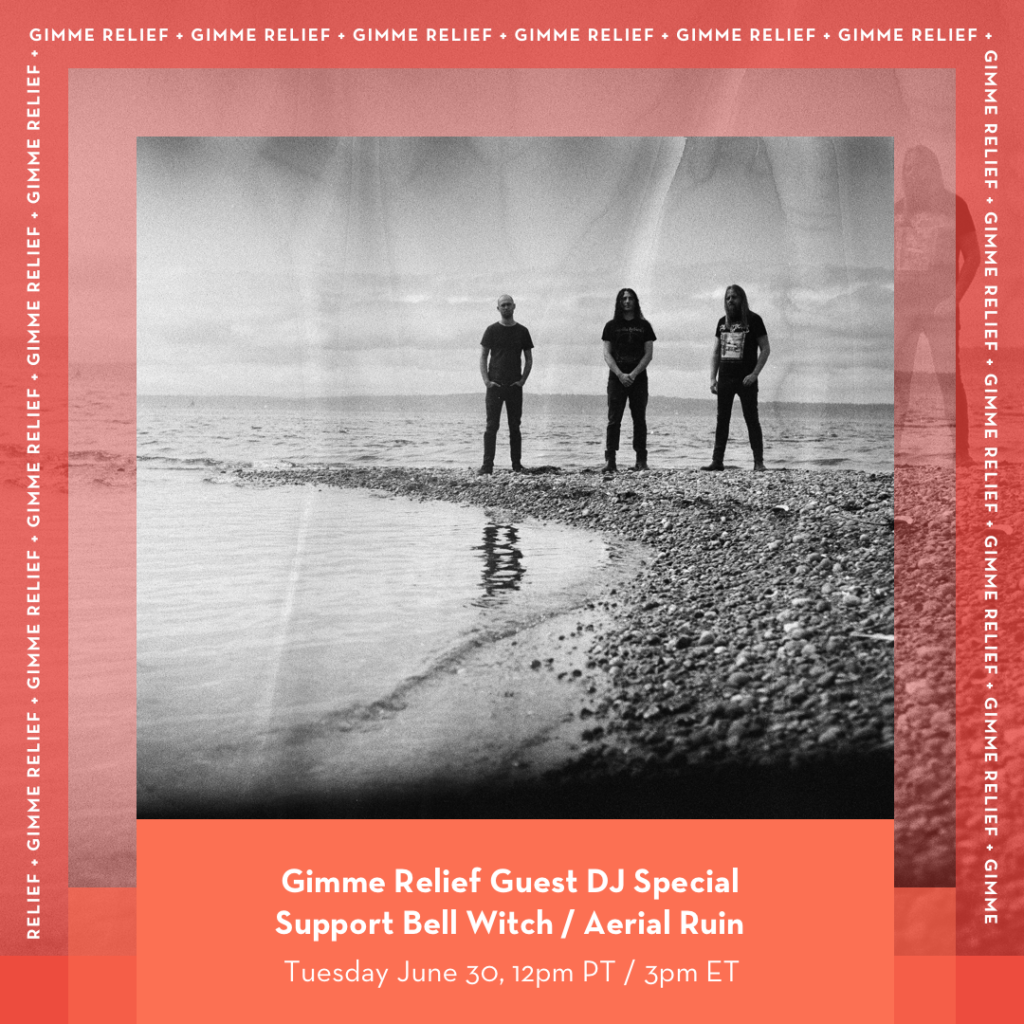 Bell Witch/Aerial Ruin: Gimme Relief Series Guest DJ Special Premieres Tuesday 6/30 at 3:00pm EST/12:00pm PST – This collaborative effort titled Stygian Bough arrives June 26th on Profound Lore, a wedding of the Seattle funereal doom duo of Jesse Shreibman and Dylan Desmond (Bell Witch) and solo dark folk artist Erik Moggridge (Aerial Ruin). Join them as they create a three-way guest DJ special.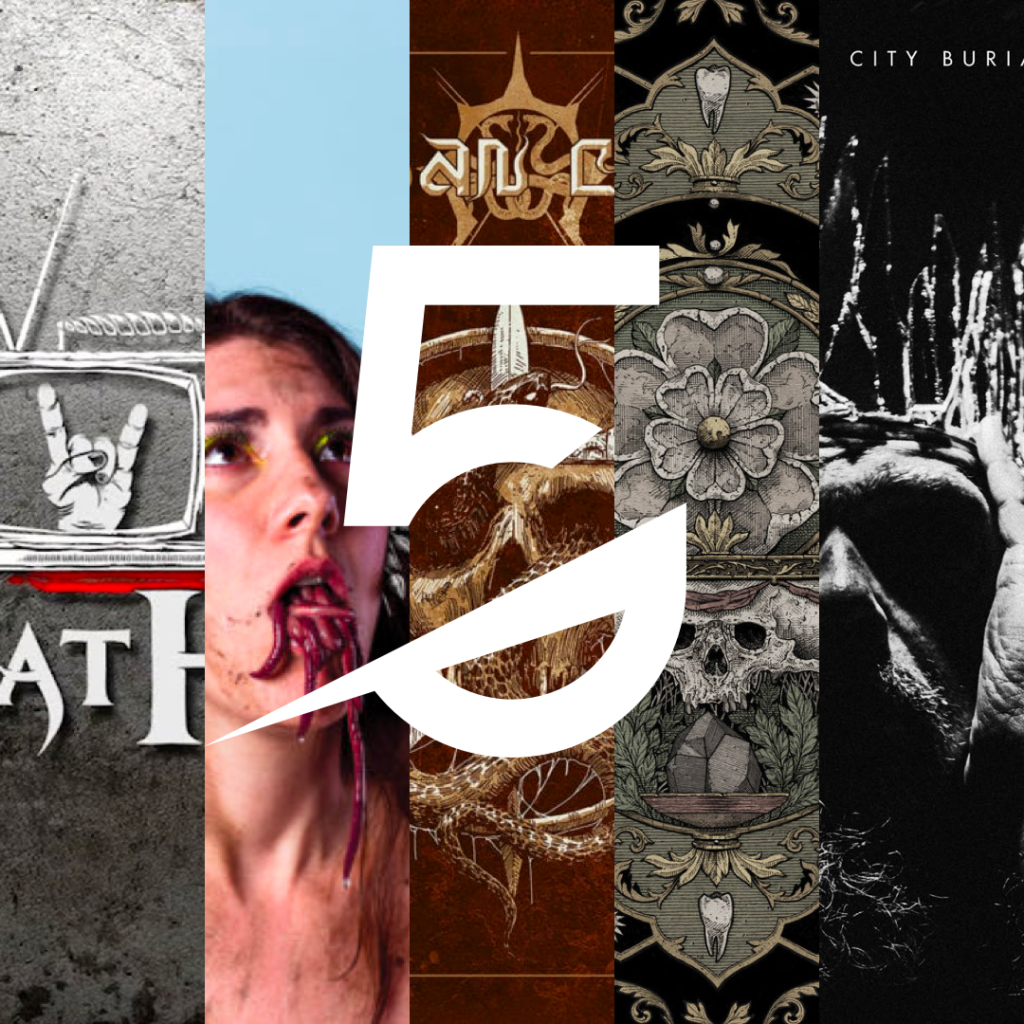 Gimme 5 with Kelsey Chapstick: Airs Tuesday 6/30 at 5:00pm EST/2:00pm PST – Kelsey returns with more album spotlights and interviews including Dave Davidson of Revocation/Gargoyl who talks about his recent Slay At Home project, Vile Creature delves into new album Glory! Glory! Apathy Took Helm, Stygian Crown chats about their new self-titled full-length, Paradise Lost dive into their latest Obsidian plus Katatonia talks new album City Burials.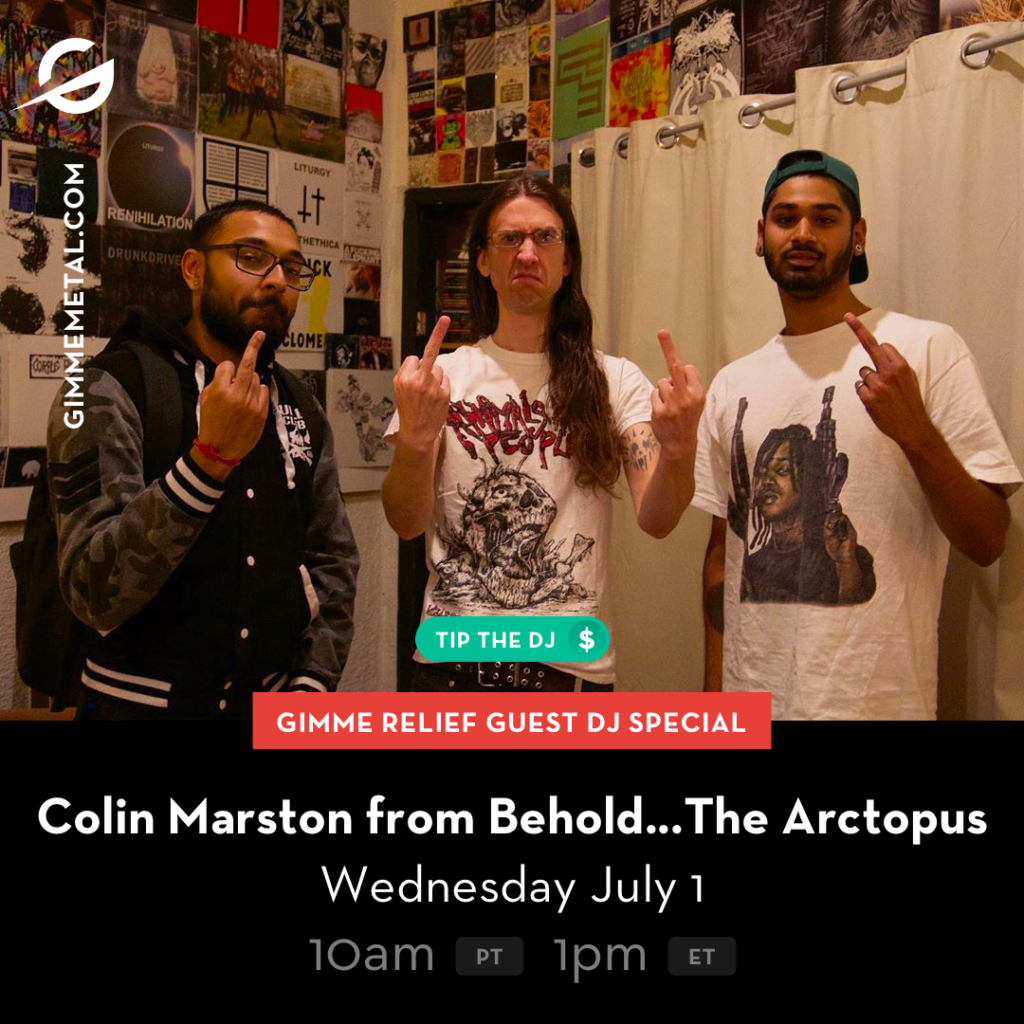 Colin Marston/Behold…The Arctopus: Gimme Relief Series Guest DJ Special Premieres Wednesday 7/01 at 1:00pm EST/10:00am PST – Producer of artists such as Jarboe, Panopticon, Liturgy, Kayo Dot, and Orthrelm, and a member of such notable combos as Krallice, Gorguts, and Dysrythmia, NYC-based Colin Marston is a busy cat. His latest release Hapeleptic Overtrove with Behold…The Arctopus (in which he's joined by fellow musicians Mike Lerner and Jason Bauers) turns the genre-meter upside down on its head. It's a virtual splattered prog-tech-death channelling of every influence from Darkthrone to Krzysztof Penderecki into epic compositions that reach dizzying heights. GIMME welcomes Marston to his first guest DJ special!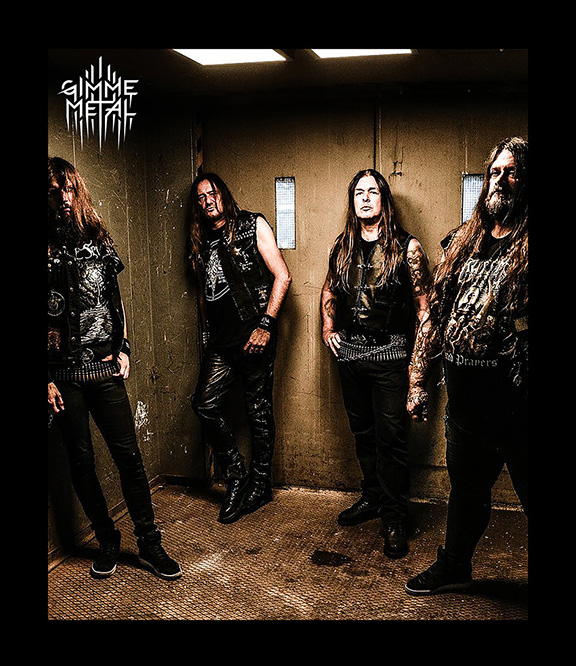 Sodom/Yorck Segatz Guest DJ Special Premieres Friday 7/3 at 3:00pm EST/12:00pm PST – With a new year, new EP, Out Of The Frontline Trench, and forthcoming full-length, German thrash titans Sodom show no sign of slowing down. Tom Angelripper's newly-revamped lineup includes the return of classic guitarist Frank "Blackfire" Gosdzik, and today we welcome back second axeman Yorck Segatz who chimes in with a second guest DJ show. Sodom are back and blistering for 2020!
Upcoming Shows On GIMME METAL:
YOB 7/08
-(16)- 7/09
Inter Arma 7/10
Victorius 7/14
Mantar 7/14
Exciter 7/15
Fit For An Autopsy 7/17
Watain 7/20
Temple Of Void – 7/22
Kall 7/23
Khthoniik Cerviiks 7/24
Necrot show #3 7/29
Chepang 7/30
Pallbearer 7/31
Michael Alago 8/03
Okkultokrati 8/03
Imperial Triumphant 8/7
Valdrin 8/10
No Clean Singing site 8/17
About GIMME METAL:
Founded by digital music veterans from Apple Music, Google Play, Beats Music, and Napster, parent company Gimme Radio builds highly engaged communities for the passionate fan on a genre-by-genre basis. The company launched its first community in June of 2017: the world's first 24/7 metal-focused service. Fans tune in to hear world class DJs playing metal they can't hear anywhere else – for free. Recently rebranded to GIMME METAL, the app and streaming radio service allows the fans and the DJs/artists to communicate directly with one another in a live feed, in real-time, while they listen. Its roster of 70-plus DJs includes Dave Mustaine of Megadeth, Jessica Pimentel, star of Orange Is The New Black, Brian Posehn, and Randy Blythe of Lamb Of God among many others.
http://gimmemetal.com
http://www.facebook.com/gimmemetal
http://twitter.com/gimmeradio
http://www.instagram.com/gimmeradio