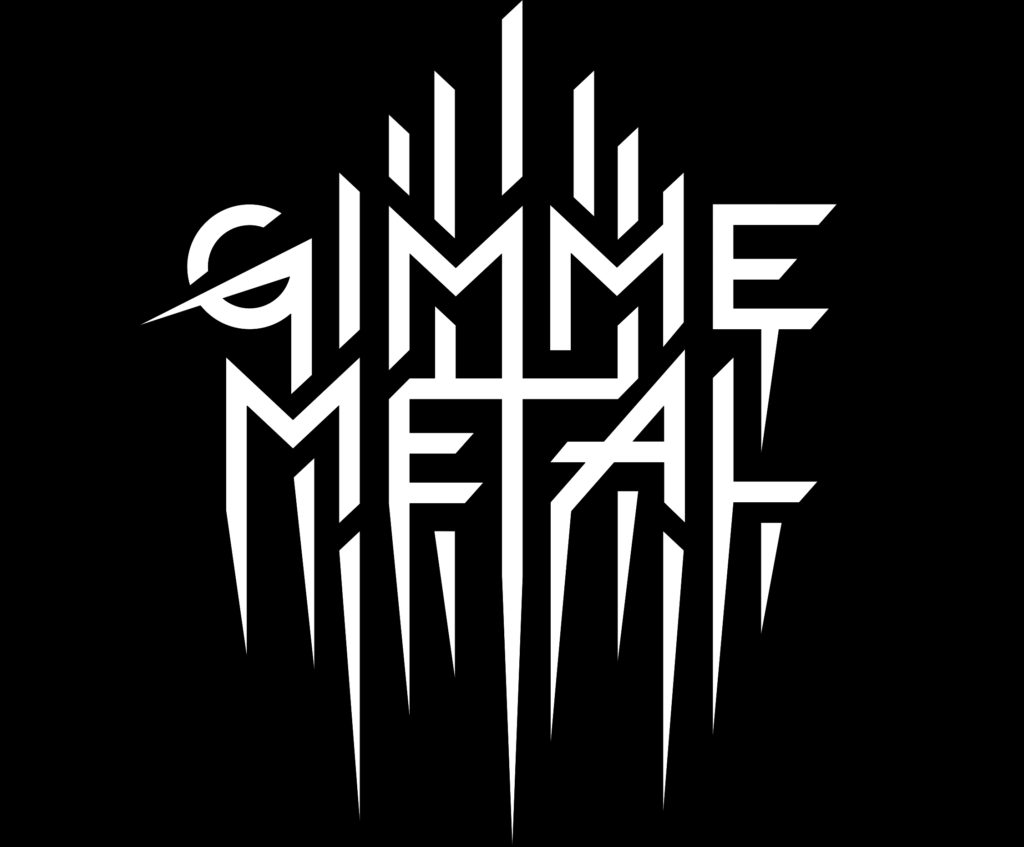 Each week, GIMME METAL publishes its radio chart listing the top 40 tracks played on the station. Already the best metal discovery service online, the GIMME METAL chart is a powerful tool for listeners, labels, and artists for staying up to date on the best new metal released by established greats and up-and-coming underdogs, all handpicked by GIMME's knowledgeable DJ roster and editorial team.
GIMME METAL Chart – June 28th, 2021:
Enforced – "UXO"
Crypta – "Dark Night Of The Soul"
Gorgon – "Death Was Here"
Wormwitch – "Abracadabra"
Pestilence – "Deificvs"
Coffin Lurker – "Of Suffering"
Withered – "Dissolve"
Wristmeetrazor – "Eyes Of Sulfide"
King Buffalo – "Grifter"
Blazon Rite – "Endless Halls Of Golden Totem"
Click HERE for the full Top 40 List.
GIMME METAL Vinyl Club August Release: YOB's Clearing The Path To Ascend – The next GIMME METAL Vinyl Club release comes from Portland doom icons YOB and their crushing, critically-adored 2014 release Clearing The Path To Ascend. As commanding as it is cathartic, Clearing The Path To Ascend demands the tandem attention of mind, body, and soul. The path to ascend is clearly an arduous one, fraught with the peril of mediocrity. YOB pummels that path here however, climbing upward into a realm that sets the band in a heavy metal place that has been and will always remain wholly their own. Among the highest acclaimed of their discography, the Clearing The Path To Ascend GIMME exclusive comes on translucent gold with gold/silver/aqua blue splatter vinyl! Spin the sinister melodies, out-of-this-world riffing, and bone-chilling harmonies of this paramount piece of doom metal by signing up for the GIMME METAL Vinyl Club today: https://found.ee/GimmeMetalVinylClub. And tune in Friday, July 9th at 3pm ET / 12pm PT where Jim Santanella's Between The Lines show examines the record, and talks to YOB's Mike Scheidt! Several airings of Scheidt's past guest DJ specials are also scattered throughout the month's calendar. Check the listings!
This week on GIMME METAL Radio: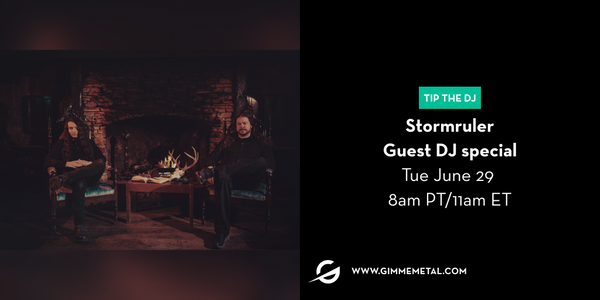 Stormruler Guest DJ Special – Stormruler, featuring the dark lyrical genius and deft skill of guitarist/vocalist Jason Asberry and drummer Jesse Schobel, have built a noteworthy subterranean following since their formation, leading to their recent signing with Napalm Records. Combining unrelenting black metal atmosphere and vision from varying metal genres with a brutal, modernized twist of inspiration, careful listeners may just be able to identify themes from some of their favorite stories, games and more. Their new LP Under The Burning Eclipse is out now, and the band piles on a black metal-heavy playlist for their DJ takeover! Join them in the Live Chat!
At The Gates Guest DJ Special – Swedish melodic death metal pioneers At The Gates have returned with a revamped lineup featured in part on their last outing. Their latest LP, The Nightmare Of Being, drops on July 2nd via Century Media with rumors that it finds the band exploring some uncharted, proggier terrain. No words can sum up the impressive footprint this band has left on the Swedish death metal scene, and GIMME METAL is honored to have legendary vocalist Tomas Lindberg share the DJ booth with GIMME Program Director Brian Turner for this special episode featuring Lindberg's biggest influences playlisted out for our ears to behold. Don't miss this!
GIMME 5 w/ DJ Jet – It's that wicked monthly show where DJ Jet hangs out with members of five spotlighted bands! This summertime lineup features: Tomas Lindberg of At The Gates, Bryce VanHoosen of Silver Talon, Falk Maria Schlegel of Powerwolf, Igor Amadeus Cavalera of Go Ahead And Die and Kevin Muller of Alluvial! Don't miss a phenomenal time in the Live Chat with the GIMME METAL community!
Withered Guest DJ Special – Masters of tortured blackened death metal Withered return with Veloren ("lost"). A congruous evolution from albums past, the startling record serves as the most emotional chapter in their career. The quartet wields abyssal passion and pain for a heavy, emotional, and volatile exposition of churning, tempestuous metal. Veloren is a mammoth album with an agonizing, heart-rending sonic arc akin to legends Neurosis and Converge — undoubtedly their tour-de-force. To celebrate the record's release June 25th via Season Of Mist, bassist Rafay Nabeel will be taking over the GIMME METAL console for what's sure to be killer guest spin! Come hang in the Live Chat!
Caveman Cult Guest DJ Special – Not every band can fit accurately within the "barbaric beastly death" genre on Bandcamp, but Florida's relentlessly brutal Caveman Cult serves those marketing needs quite ably. No Clean Singing sums up their sound best: "Savagery… a massive war metal storm of ugly, eviscerating riffs, booming bass cudgels, merciless drum munitions, and ghastly vocal excretions. When the band is blasting ahead at full steam, it's a distorted, grinding hurricane of sound, with a production quality that drenches everything in a thick layer of filth. When they downshift into low gear, they generate a grisly, doom-drenched atmosphere, pestilential, and repellant." The band includes Rick Smith (who has also drummed for Torche since 2014), vocalist Alvar Antillon, and guitarist H. Bosch, and all three will host a severely blasted GIMME takeover. Join the Live Chat and hold onto your faces!
This week on GIMME METAL TV:
Necrot Live at The Brooklyn Bazaar – As part of its ongoing commitment to bring the live music to you, GIMME METAL TV will be airing Bay Area death metal trio Necrot's pounding live performance from Brooklyn Bazaar, New York CIty stop of their tour with Exhumed and Gatecreeper in 2019. Join everyone in the Live Chat for one of two Max Volume Silence shot live performances this weekend and don't forget to raise your horns!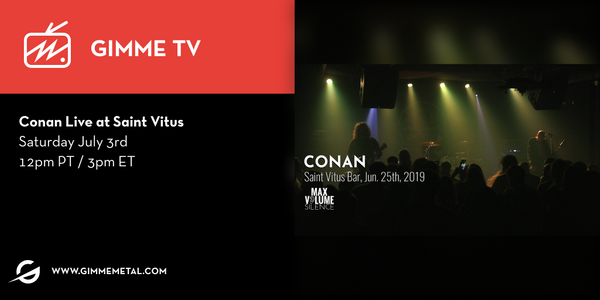 Conan Live at Saint Vitus Bar – The second Max Volume Silence filmed live show for the week is Conan's soul-crushing performance at the renowned Saint Vitus Bar! Tune in for a heavy, powerful, bone-destroying concert from one of the best battle doom practitioners around! And hang out with the GIMME METAL community in the Live Chat to share in the heavy!
Upcoming on GIMME METAL:
7/07 Autopsy
7/07 Mastiff
7/13 Powerwolf
7/13 The Lion's Daughter
7/16 Amenra
7/19 Fulci
7/21 Memoriam
7/22 Crypta
7/23 Tee Pee Records Label Special
7/27 Ophidian I
7/28 Ingested
7/29 Wizardthrone
7/30 No Clean Singing Site Special
8/02 Gost
8/03 King Fowley
8/10 Trial
8/18 Hooded Menace
8/20 Wolves In The Throne Room
8/21 Full Terror Assault Festival Preview
8/24 King Woman
8/27 Wormwitch
9/22 Wraith
10/01 Ghost Cult Site Special
Don't miss it! Visit GIMME METAL: http://gimmemetal.com.
About GIMME METAL:
Founded by digital music veterans from Apple Music, Google Play, Beats Music, and Napster, parent company GIMME Radio builds highly engaged communities for the passionate fan on a genre-by-genre basis. The company launched its first community in June of 2017: the world's first 24/7 metal-focused service. Fans tune in to hear world class DJs playing metal they can't hear anywhere else – for free. The GIMME METAL app and streaming radio service allows the fans and the DJs/artists to communicate directly with one another in a live feed, in real-time, while they listen. Its roster of 70-plus DJs includes Dave Mustaine of Megadeth, Jessica Pimentel, star of Orange Is The New Black, Brian Posehn, and Randy Blythe of Lamb Of God, among many others.
http://gimmemetal.com
http://www.facebook.com/gimmemetal
http://twitter.com/gimmeradio
http://www.instagram.com/gimmeradio