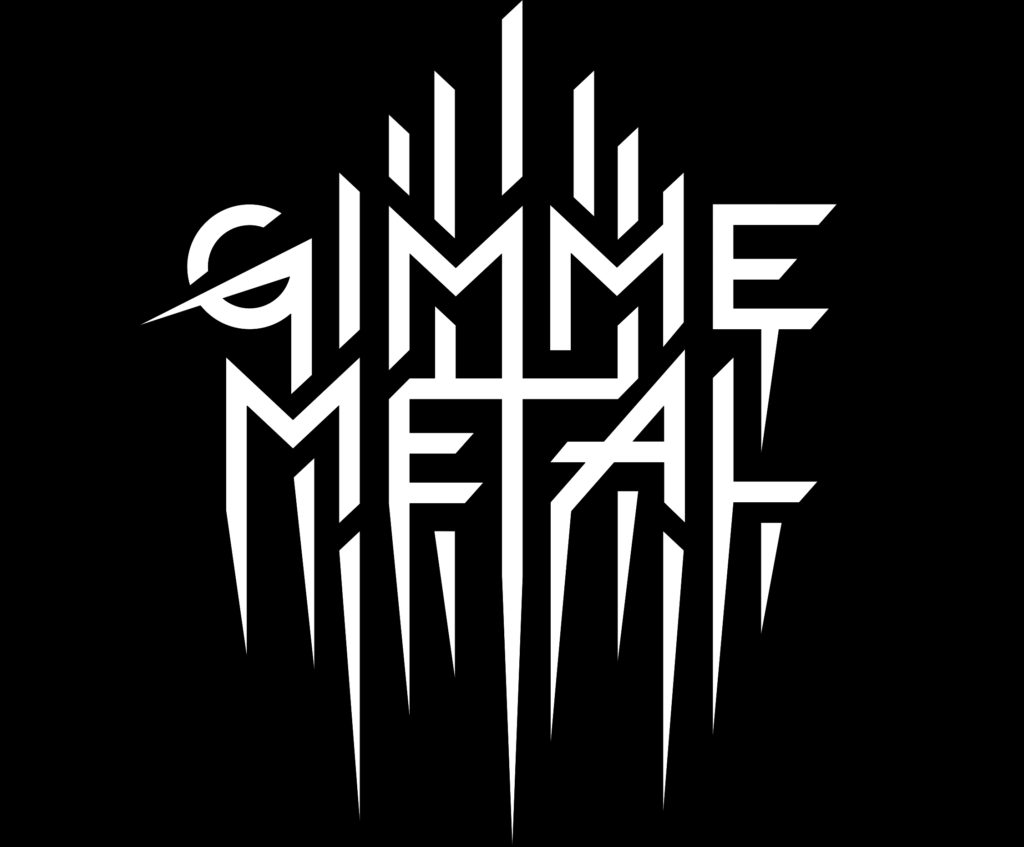 Each week, GIMME METAL publishes its radio chart listing the top 40 tracks played on the station. Already the best metal discovery service online, the GIMME METAL chart is a powerful tool for listeners, labels, and artists for staying up to date on the best new metal released by established greats and up-and-coming underdogs, all handpicked by GIMME's knowledgeable DJ roster and editorial team.
GIMME METAL Chart – June 21st, 2021:
Amenra – "Voor Immer"
Pestilence – "Deificvs"
Crypta – "Dark Night Of The Soul"
Gorephilia – "Ouroboran Labyrinth"
Burning Witches – "The Witch Of The North"
Coffin Lurker – "Of Suffering"
At The Gates – "The Paradox"
Darkthrone – "Hatecloak"
Powerwolf – "Beast Of Gévaudan"
Steel Bearing Hand – "Lich Gate"
Click HERE for the full Top 40 List.
GIMME METAL T-Shirt Club: "Psychedelic Panther" – Get tripped out with the next GIMME METAL T-Shirt Club release: "Psychedelic Panther" created by Rob Israel! An illustrator/designer with over twenty-one years of professional experience, Israel is a native New Yorker that currently resides in Texas. His work covers the gamut of surreal horror, sci-fi, and psychedelic with heavy pop culture influences. This exclusive GIMME tee is limited to 200 so sign up for yours before it's too late! For more info visit: found.ee/GimmeMetalTshirtClub.
This week on GIMME METAL Radio:
Michael Alago Guest DJ Special – Michael Alago spent the mid-1970s as a denizen of Max's and CBGB, revelling in newfound musical freedom and how it related to him as a gay Latino kid growing up in Brooklyn. He started a Dead Boys fanclub and grew into a downtown music scene fixture, eventually booking gigs at The Ritz. He then found himself ascending to an A&R position at Elektra ultimately signing Metallica to the label, as well as working with countless other legends. Drew Stone's 2017 documentary film Who The F*** Is That Guy? chronicles Alago's travels, trials, new resurgence in life, and his outlook. GIMME METAL is pleased to welcome Alago for another guest DJ special.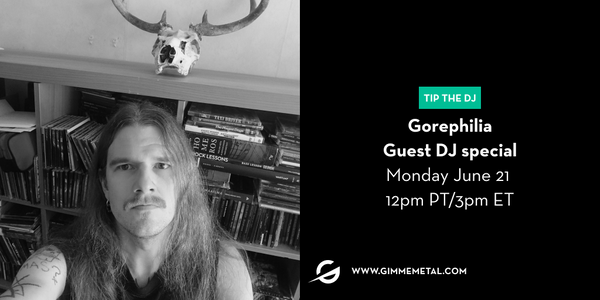 Gorephilia Guest DJ Special – Gorephilia will take over the guest DJ throne this week. Their show will serve as a precursor to their exclusive GIMME METAL livestream June 26th (find more details below). Hang out with the band in the Live Chat while they spin through two hours of sonic sickness. The guest DJ show will reair on Saturday June 26 at 11:00am ET / 8:00am PT prior to the band's TV takeover.
Possessed Guest DJ Special – Vocalist Jeff Becerra is back! Possessed's Seven Churches debut was unleashed in 1985, and not only opened the gates for death metal (Becerra coined the term itself in 1983), but weighed in with profound impact on legions of forward-thinking musicians for decades to follow. Recorded during the band's junior high school spring break (!), Seven Churches opens with a lift from the version of "Tubular Bells," famously used in The Exorcist blasting into the track of the same name. From then on, the world is greeted with one of the most relentless, maniacal metal records of the 1980s – one that has rightly earned classic status. GIMME METAL's Vinyl Club subscription series offered the opportunity to once again own this master work on vinyl (in exclusive red wax plus a collectable GIMME METAL pin)! Becerra's become a regular at GIMME METAL and again takes listeners on a tour of his record parlor with an exclusive DJ session. He'll also be in the Live Chat! Don't miss it!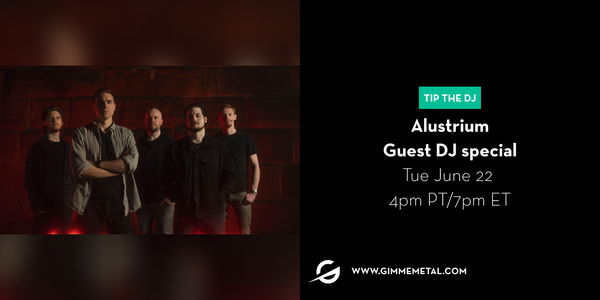 Alustrium Guest DJ Special – Philadelphia progressive/technical death metallers Alustrium recently dropped their smoldering A Monument To Silence full-length upon the masses via Unique Leader Records. With intense, technical riffs and soulful ear-bending solos, Alustrium creates a unique blend between melody and fierce brutality that sets them apart from the norm. Following up their 2020 EP Insurmountable, A Monument To Silence further pushes the boundaries of contemporary heavy music. The band will be taking over the airwaves this Tuesday. Join them in the Live Chat!
Knotfest Guest DJ Special – Knotfest ravages GIMME METAL once again for a special two-hour Pulse Of The Maggots Festival episode spotlighting the most exciting emerging artists in the aggressive community, hosted by Jon "Stay Puft" Mallow. The second installment of the streaming festival will feature performances from Hyro The Hero, Lotus Eater, As Everything Unfolds, Baest, Pupil Slicer, Earthists, Gaerea, and more. The free event will be aired via the Knotfest Twitch channel on Friday, June 25th with the programming set to begin at 6:00pm ET / 3pm PT. GIMME METAL will be hosting a preview of the festivities on Wednesday, June 23rd at 3:00pm ET / 12:00pm PR! Find further info at knotfest.com.
Thy Catafalque Guest DJ Special – Thy Catafalque's humble genius Tamás Kátai abandons any and all prenotions of tradition. Intertwining elements from a vast swath of unrelated genres, from jazz to pop to folk, and everything in between, Thy Catafalque masterfully crafts an eclectic sound that breaks down any generic barriers or borders. Following the massive success of 2020's critically-acclaimed Naiv, the entity returns with Vadak, another esoteric monument in its already storied catalog set for release on June 25th via Season Of Mist. Meaning "Wildlings" in Hungarian, the album title is a deliberate clue to the exotic and feral essence of Vadak. Like seedlings scattered throughout the forest by the mere forces of nature, Thy Catafalque's imaginative sound grows with an organic sense of whimsy, cultivated within the vast influences of our megacosm. Thematically, Vadak is a foreboding lesson in mortality. Emphasizing the fragility that is shared by man and beast alike, the record explores our Freudian life instincts, in which we inherently fear and run from the ultimate goal of existence: death.
The Dave Mustaine Show Episode #125 – On the most recent episode of The Dave Mustaine Show (#125), Mustaine settles rumors and confirms Megadeth's removal of bassist David Ellefson from their upcoming record and reveals more new information about what fans can expect. Be sure to tune in for updates every Thursday! Listening is free and you can chat with Mustaine in the Live Chat by signing up for a thirty-day FREE Brigade membership! This also gets you into the Vault where you can listen to all two-hours of this and every episode of the show. Just tap on "Vault" in the GIMME METAL app to get started on your membership today! More info HERE.
This week on GIMME METAL TV:
Friday Thrash Attack – It's another Friday night showcasing one of the most beloved subgenres of metal: Thrash! This Friday's Thrash Attack will include music videos from some of your favorite thrash artists as well as exclusive thrash-themed clips provided by Metal Injection. It will also be the final GIMME METAL TV airing of The Rise Of LA Thrash 2! Get ready to tear your living room apart Friday with this relentless thrash blast and be sure to join in the head-smashing Live Chat!
Gorephilia Death Dream Livestream – The time has finally come! GIMME METAL TV has teamed up with Dark Descent Records to bring a brutal, punishing, mind-mangling performance from Finnish death metal practitioners, Gorephilia! Dubbed the Death Dream performance and pre-recorded exclusively for GIMME METAL, join the gore-some foursome in the Live Chat as they spew forth ravenous death metal conjurings from their decade-plus discography. Only on GIMME METAL TV THIS SATURDAY! Don't miss it! Download the GIMME METAL app to get your ticket for $5 today: gimmemetal.app.link/GimmeGorephilia.
Upcoming on GIMME METAL:
6/29 Stormruler
6/29 At The Gates
6/29 GIMME 5 w/ At The Gates, Silver Talon, Powerwolf, Go Ahead And Die, Alluvial
6/30 Withered
7/05 Go Ahead And Die
7/07 Autopsy
7/07 Mastiff
7/13 Powerwolf
7/13 The Lion's Daughter
7/16 Amenra
7/19 Fulci
7/21 Memoriam
7/22 Crypta
7/23 Tee Pee Records Label Special
7/27 Ophidian I
7/28 Ingested
7/30 No Clean Singing Site Special
8/02 King Woman
8/18 Hooded Menace
8/20 Wolves In The Throne Room
8/21 Full Terror Assault Festival preview
8/27 Wormwitch
9/22 Wraith
10/01 Ghost Cult Site Special
Don't miss it! Visit GIMME METAL: http://gimmemetal.com.
About GIMME METAL:
Founded by digital music veterans from Apple Music, Google Play, Beats Music, and Napster, parent company GIMME Radio builds highly engaged communities for the passionate fan on a genre-by-genre basis. The company launched its first community in June of 2017: the world's first 24/7 metal-focused service. Fans tune in to hear world class DJs playing metal they can't hear anywhere else – for free. The GIMME METAL app and streaming radio service allows the fans and the DJs/artists to communicate directly with one another in a live feed, in real-time, while they listen. Its roster of 70-plus DJs includes Dave Mustaine of Megadeth, Jessica Pimentel, star of Orange Is The New Black, Brian Posehn, and Randy Blythe of Lamb Of God, among many others.
http://gimmemetal.com
http://www.facebook.com/gimmemetal
http://twitter.com/gimmeradio
http://www.instagram.com/gimmeradio