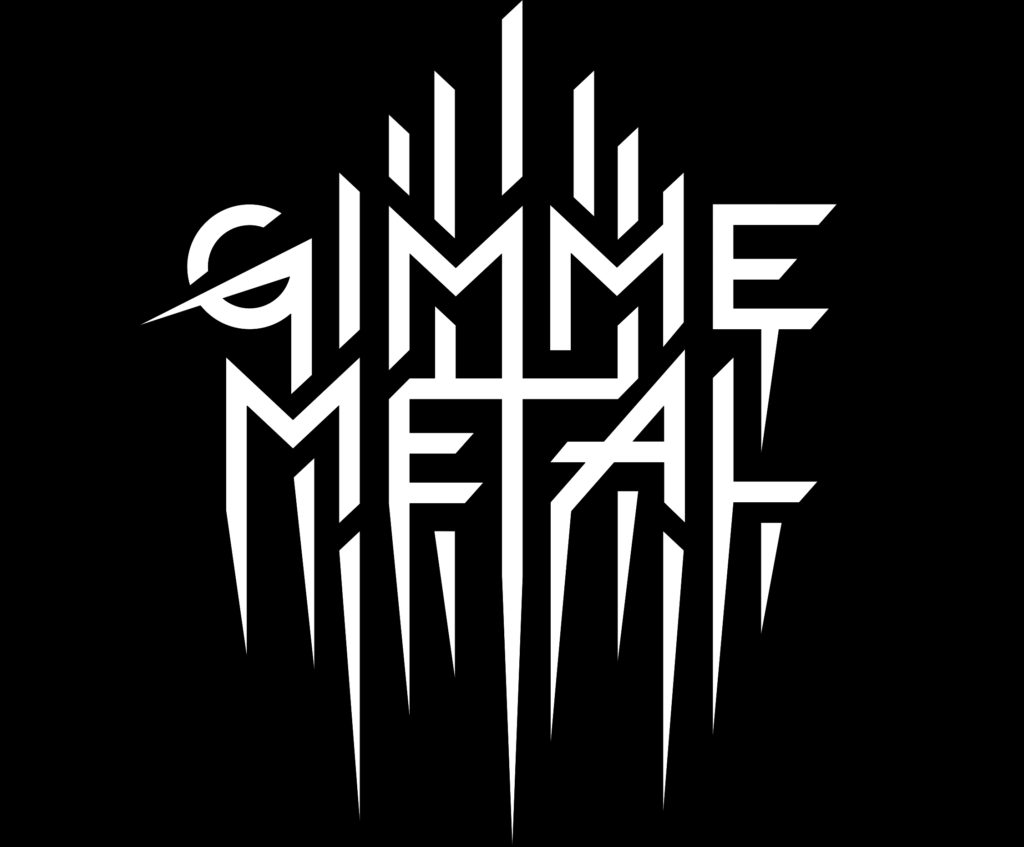 Each week, GIMME METAL publishes its radio chart listing the top 40 tracks played on the station. Already the best metal discovery service online, the GIMME METAL chart is a powerful tool for listeners, labels, and artists for staying up to date on the best new metal released by established greats and up-and-coming underdogs, all handpicked by GIMME's knowledgeable DJ roster and editorial team.
GIMME METAL Chart – August 2nd, 2021:
1. Tombstoner – "Victims Of Vile Torture"
2. Iron Maiden – "Writing On The Wall"
3. Deafheaven – "The Gnashing"
4. Wormwitch – "The Wolves Of Ossory"
5. King Woman – "Boghz"
6. Benighted – "A Personified Evil"
7. Sepultura – "Mask"
8. Psychic Hit – "Constellation"
9. Erdve – "Pragulos"
10. Andrew W.K. – "Everybody Sins"
11. Anette Olzon – "Sick Of You"
12. Vouna – "Grey Sky"
13. Mayhem – "Voces Ab Alta"
14. Wizardthrone – "Black Hole Quantum Thermodynamics"
15. Amenra – "Voor Immer"
16. Ingested – "This Disgusting Revelation"
17. A Pale Horse Named Death – "Shards Of Glass"
18. Carcass – "Kelly's Meat Emporium"
19. OFF! – "Holier Than Thou"
20. Green Lung – "Leaders Of The Blind"
Click HERE for the full Top 40 List.
GIMME METAL Vinyl Club – You may be familiar with that one Blood Incantation album with the alien on the cover [Hidden History Of The Human Race]. But GIMME is bringing you the one that started it ALL! The next GIMME METAL Vinyl Club release is the atmospheric death metal outfit's debut full-length Starspawn pressed on a GIMME exclusive transparent red with yellow galaxy variant! A 30-minute cerebral whirlwind of powerful atmospheric death metal, the intense and otherworldly technical/ambient/funeral death metal of Starspawn leaves the listener feeling transcendentally disembodied at the end of an unknown dimension. Grab your copy today! Visit found.ee/GimmeMetalVinylClub for more info!
This week on GIMME METAL Radio:
Gost Guest DJ Special – After making it home from the last European tour just before the world went into a shutdown, Gost burrowed into his nucleus and started working on a new album, Rites Of Love And Reverence, set for release August 13th on Century Media. Having toured with the diverse likes of Author & Punisher, Mayhem, Gaahls Wyrd, Power Trip, Ghoul, The Black Dahlia Murder, Midnight, Khemmis, Skeletal Remains, and more, Gost's music is not quite fitting of a simplified mold. The perfect soundtrack to these uncertain and frequently horrifying times, Rites Of Love And Reverence renders Gost's post-synthwave exploits in kaleidoscopic technicolor, delivering all the glass-shattering grit, incisive melodic melancholy and tripped-out, electronic fervour that his ever-expanding army of admirers demand.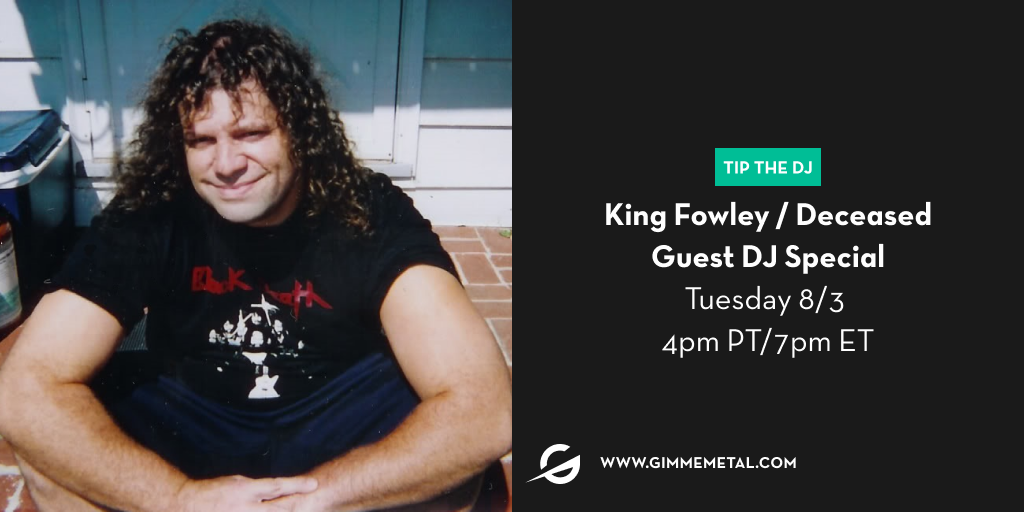 King Fowley Guest DJ Special – Deceased's founding mainman King Fowley is a metal lifer, and one who's escaped death on multiple occasions (see his autobiography Stay Ugly for one rollercoaster ride of rock history). A truly respected warrior in the world of metal and a larger-than-life character, GIMME METAL is honored to have Fowley host his own episode once again.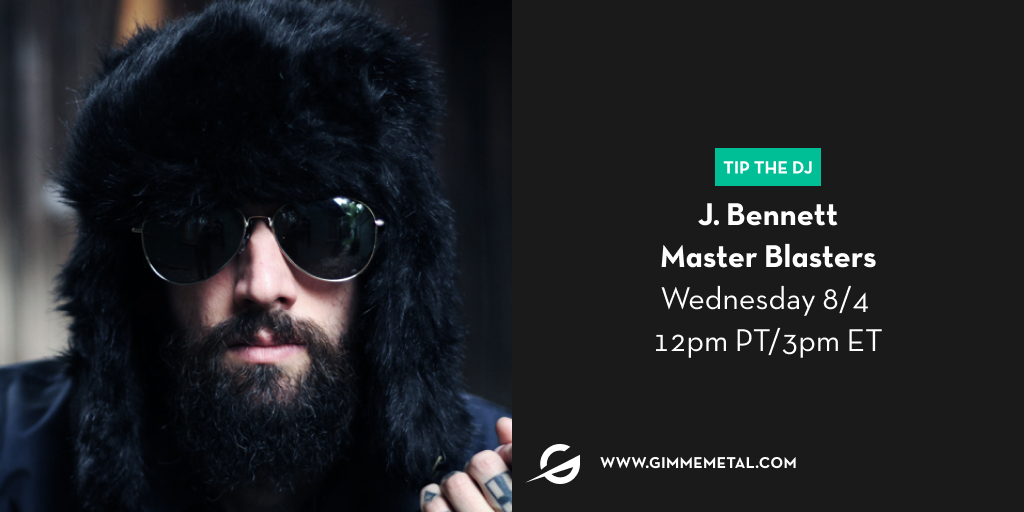 Master Blasters w/ J.Bennett – The third episode from Mr. J. Bennett himself! When he isn't shaking his fist at the sky or two-fingering the peanut butter, he's writing long-winded articles about music and culture. His work has appeared in Decibel, Revolver, Playboy, High Times, and Vice, among so many others. He lives in an abandoned missile silo on the outskirts of Los Angeles. Join him this week on Master Blasters.
Redefining Darkness Label Special – GIMME METAL is pleased to welcome Thomas Haywood back for another Forever Underground episode. Haywood is the owner and operator of Redefining Darkness and Seeing Red Records, a partner at Reaper Metal Productions, a 2003 PIT Graduate (Musicians' Institute), a former member of Abigail Williams (2007-2009), and is currently involved in Grave Plague, To Dust, Humanity Is Cancer, and Vintage Warlords. Join Haywood for what's sure to be a heavy and memorable edition of Forever Underground!
Trial Guest DJ Special – New episode! Trial was formed in the UK through a shared dystopian vision of vistas shrouded in acid precipitation, deformed and jagged remnants of superstructures, and humanity rising up in scattered, intent hordes. Forged under cold, acidic grey metallic skies, with sunlit plains now distant memories, both members are from seasoned UK acts Khost and Primitive Knot, who, in the context of Trial are known as INTERIM_VOID and DEMÖNIAC. Having soaked in the storms of thrash, speed, industrial metal through the decades, Trial manifests a hellish sound that's equal parts '79, '86, and the turmoil of recent times.
This week on GIMME METAL Radio:
8/10 Spirit Adrift
8/13 Between The Lines w/ Paul Reidl/Blood Incantation
8/14 High Tone Son Of A Bitch
8/17 Possessed
8/18 Hooded Menace
8/20 Wolves In The Throne Room
8/21 Full Terror Assault Festival Preview
8/25 Erdve
8/27 Wormwitch
8/30 Michael Alago
8/31 Green Lung
9/01 Rivers Of Nihil
9/02 Mordred
9/03 Robots Of The Ancient World
9/08 Anette Olzon
9/08 Ruin
9/13 Torche
9/14 Witch Vomit
9/15 Autopsy
9/15 Southern Lord Label
9/18 A Pale Horse Named Death
9/22 Wraith
9/24 Cannabis Corpse
9/27 Chrome Waves
9/28 Alien Weaponry
10/01 Ghost Cult
10/05 Memoriam
10/06 Full Of Hell
10/11 Order (Anders Odden from Cadaver/Kjetil Haraldsson from Mayhem)
10/13 Exhumed Tour Preview on Malpractice
Don't miss it! Visit GIMME METAL: http://gimmemetal.com.
About GIMME METAL:
Founded by digital music veterans from Apple Music, Google Play, Beats Music, and Napster, parent company GIMME Radio builds highly engaged communities for the passionate fan on a genre-by-genre basis. The company launched its first community in June of 2017: the world's first 24/7 metal-focused service. Fans tune in to hear world class DJs playing metal they can't hear anywhere else – for free. The GIMME METAL app and streaming radio service allows the fans and the DJs/artists to communicate directly with one another in a live feed, in real-time, while they listen. Its roster of 70-plus DJs includes Dave Mustaine of Megadeth, Jessica Pimentel, star of Orange Is The New Black, Brian Posehn, and Randy Blythe of Lamb Of God, among many others.
http://gimmemetal.com
http://www.facebook.com/gimmemetal
http://twitter.com/gimmeradio
http://www.instagram.com/gimmeradio