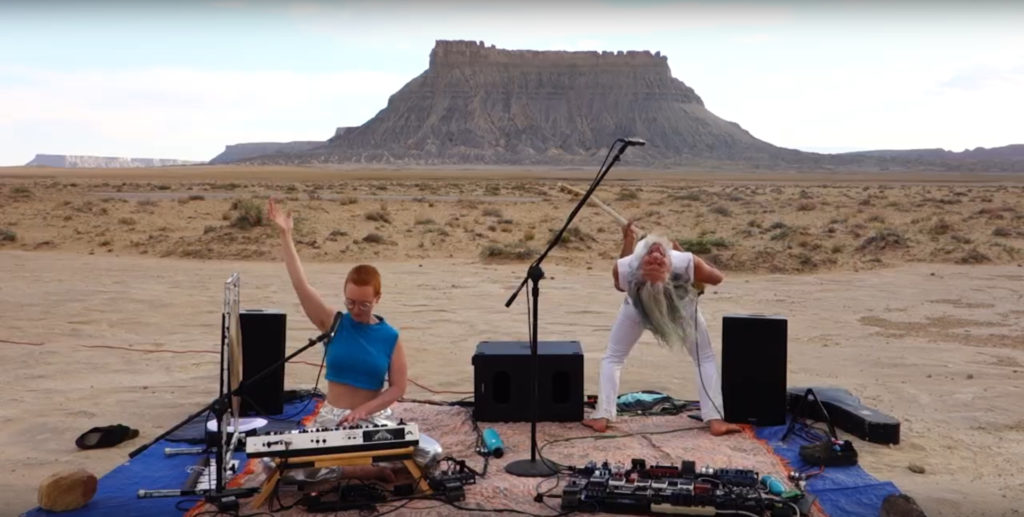 Baltimore's psychedelic/prog explorers DARSOMBRA have issued a new live version of "Call The Doctor," filmed live in a desert in Utah on their recent surprise tour of the US Southwest. The track is found on the band's new two-song EP, Call The Doctor/Nightgarden, released in April, bridging their 2019-issued Transmission LP and its successor, which is currently under construction.
Clocking in at twenty-seven minutes, the newest offering from DARSOMBRA presents the familiar prog-inspired guitar/vocals/synth/percussion galaxy rock that fans around the globe have come to expect from the duo, while also presenting a departure in mood from their previous efforts. "Call The Doctor" is fifteen minutes of 120-bpm oscillating dance music, drawing sonic influence from 1970s glam and stadium rock, as well as 1980s electronic dance tracks. Fans of The Who, AC/DC, Whodini, The Beatles, and The Residents are in for a treat in this ecstatic orgy of riffs, runs, choruses, and field recordings. The second track, "Nightgarden," is a ten-minute lullaby, beginning with a spacey, relaxed waltz that progresses into a slow, methodical, patient study of interweaving guitar riffs and twinkling synth-y rambles at 60-bpm before crashing down into a heavy dissonance lest the listener forget to contemplate their mortality, if only for a minute. Both songs are great for zooming around the galaxy, exploring alien planets, or enjoying life here on Earth with the rest of us cosmic jokers.
DARSOMBRA's Brian Daniloski writes, "Following our vaccinations in April, we did a top-secret tour in the month of May to the desert, which included our first live shows to audiences since early 2020, as well as some of our legendary generator shows for the bugs and aliens and landscapes along the way. We are excited to present to you our new video for 'Call The Doctor' live to a butte in Utah. Enjoy, stay safe, and we'll catch you in the multiverse one way or another!"
Watch DARSOMBRA's "Call The Doctor" live from the desert now at THIS LOCATION.
Find DARSOMBRA's Call The Doctor/Nightgarden EP and more at Bandcamp HERE and find a wide array of DARSOMBRA's albums and merch at their webshop HERE.
In recent days, DARSOMBRA has returned to live performances in their hometown and beyond and has just announced more new shows for the Summer months. The band will play a gig at Buffalo Infringement Festival in Buffalo, New York TONIGHT, a set at MycoSymbiotics Mushroom & Arts Festival in Pennsylvania August 7th, their first-ever show in Hawaii on August 14th, and a set at Shadows Woods Metal Fest in Maryland at the end of August. More shows are to be announced shortly.
Watch for a double album from DARSOMBRA to see release in the coming year, which will feature alternate versions of both songs from this single, as well as an array of other tracks composed in COVID-19 quarantine in Baltimore.
DARSOMBRA Live:
7/30/2021 Buffalo Infringement Festival @ Sanctuary at 232 Pratt – Buffalo, NY
8/07/2021 MycoSymbiotics Mushroom & Arts Festival – Chambersburg, PA
8/14/2021 Gigs Place – Kihei, HI
8/28/2021 Shadows Woods Metal Fest – White Hall, MD
https://www.darsombra.com
https://darsombra.bandcamp.com
https://www.facebook.com/darsombra
https://www.youtube.com/darsombra
https://www.instagram.com/darsombra