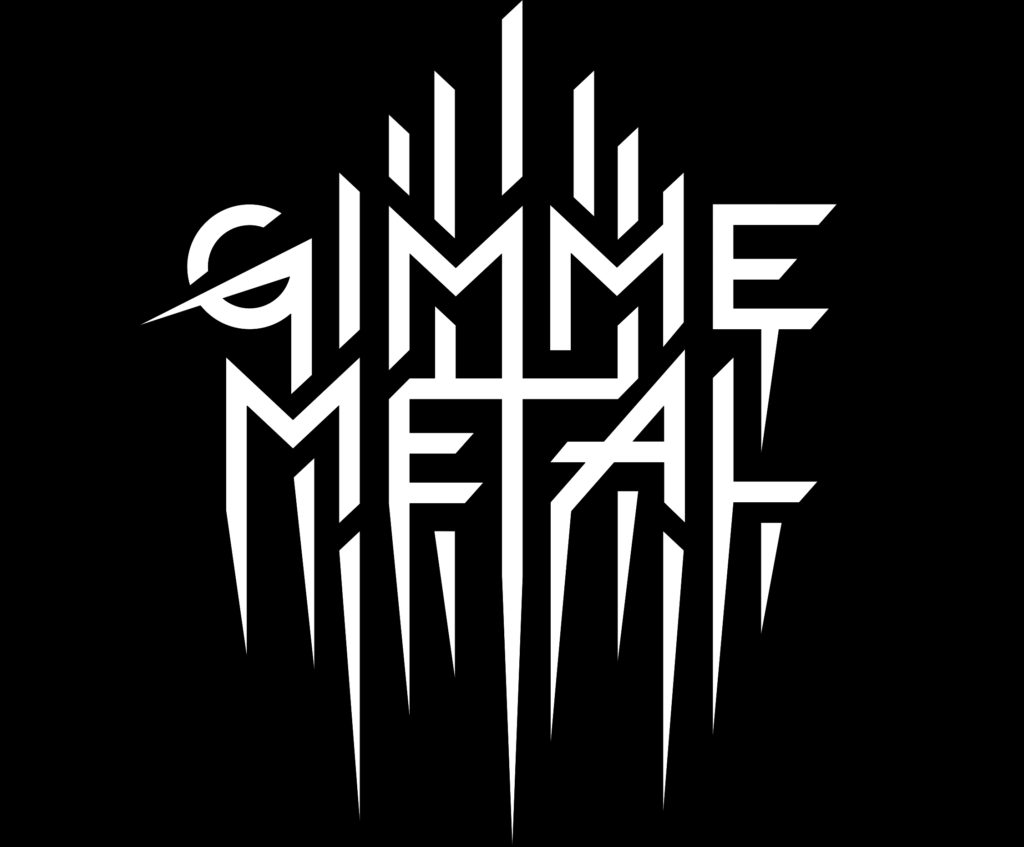 Each week, GIMME METAL publishes its radio chart listing the top 40 tracks played on the station. Already the best metal discovery service online, the GIMME METAL chart is a powerful tool for listeners, labels, and artists for staying up to date on the best new metal released by established greats and up-and-coming underdogs, all handpicked by GIMME's knowledgeable DJ roster and editorial team.
GIMME METAL Chart – November 13th, 2020:
1. Tombs – "The Hunger"
2. Megaton Sword – "Wastrels"
3. Brave The Cold – "Blind Eye"
4. Perdition Sect – "Plague Of Incompetence"
5. Spirit Adrift – "Cosmic Conquest"
6. Mörk Gryning – "Fältherren"
7. Grafvitnir – "Helvetesnatt"
8. Gwar – "Maggots (30th Anniversary Remix)"
9. Hatebreed – "Instinctive (Slaughterlust)"
10. Cadaver – "Morgue Ritual"
Click HERE for the full Top 40 List.
Upcoming Shows on GIMME METAL:
Fates Warning Guest DJ Special – Fates Warning has been a formidable presence in progressive metal for more than thirty-five years, helping to shape and drive the genre without ever compromising their integrity or losing relevance. The band returns in 2020 with their stunning new full-length, Long Day Good Night, their thirteenth studio album and most epic offering of their storied career. The result of all the painstaking work put in by all involved is undeniable as the band once again takes a bold step forward into the next phase of their evolution. To celebrate, drummer Bobby Jarzombek guest spins and will be hanging in the chat! Be sure to tune in and check out the new LP on Metal Blade Records.
Déluge Guest DJ Special – France has long been a fertile breeding ground for black metal, and one of its best kept secrets is Déluge, who've been kicking up a curious brand of blackened post-hardcore since 2014. Following their debut full-length Æther (2015), Déluge returns in 2020 with their sophomore effort Ægo Templo, a more accessible offering that pushes their sound in ever more imaginative directions. Founding guitarist François-Thibaut Hordé will take GIMME's guest DJ chair with some choice cuts while he chats with fans. Don't miss it!
Realize Guest DJ Special – The machines are coming! Arizona's Realize channels Godflesh, Nailbomb, and Meathook Seed with their sophomore album Machine Violence, out now on Relapse Records. Assembling an abrasive and hyper-aggressive take on industrial metal, the band, featuring Kyle Kennedy (Sex Prisoner), Matt Underwood (Sex Prisoner), and Matt Mutterperl (North, Languish), amalgamates crushing metal riffs with driving, yet often unorthodox industrial rhythms and dissonant noise. The pace of Machine Violence is unrelenting throughout, tackling stark themes such as isolation, altered reality, simulations, and anxiety, taking inspiration from science fiction writers such as Phillip K. Dick and Frederik Pohl. Adhering to an old-school approach of writing and recording, the band reflects on the advancing convergence of organic life and machines.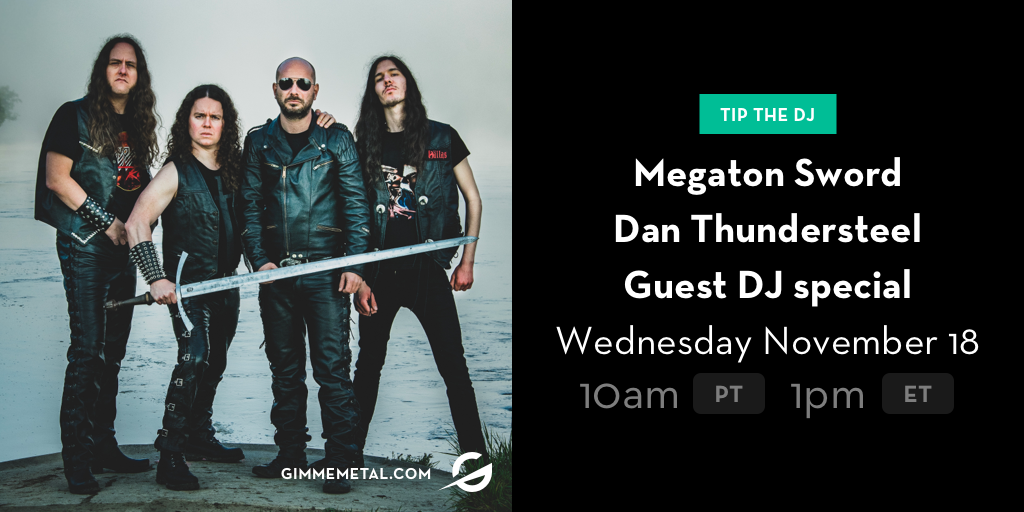 Megaton Sword Guest DJ Special – Hailing from Switzerland and founded in 2018, Megaton Sword is ever aptly monikered — with a vocalist named Uzzy Unchained to boot! The band churn out a nuclear-powered style of true-as-steel heavy metal drunk on high fantasy and the enduring themes of conquest and valor, triumph, and tragedy. Fans of fancy fantasy a la Manilla Road, charging riffs, battlefield waste etc need not miss this GIMME special. Join Dan Thundersteel as he takes us on a musical conquest of the netwaves.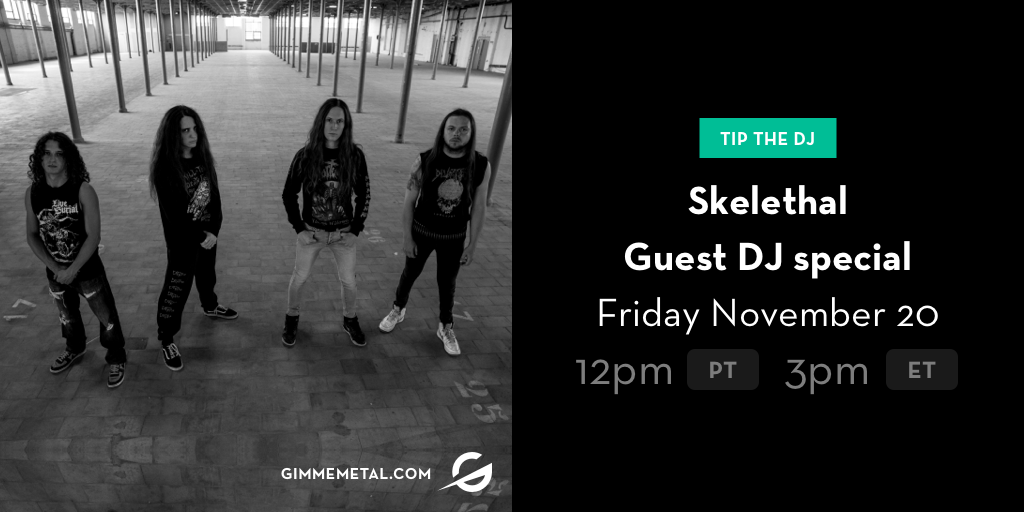 Skelethal Guest DJ Special – French death bringers Skelethal will unleash their Unveiling The Threshold
LP later this month via Hells Headbangers. With an added guitarist and raw but rich studio sound their second LP takes a stride forward. Relentless buzzing guitars, stop/start proficiency, and ripping vocals from Guillaume Zeller alternate between raspy screams and woofer-flapping guttural growls. Indecent and obscene, Unveiling The Threshold is the proof that Skelethal are not here to crawl, but to climb to the very top of the Swedeath food chain. Don't miss the band's GIMME METAL takeover!
Possessed Guest DJ Special – Jeff Becerra is back! Possessed's Seven Churches debut was unleashed in 1985, and not only opened the gates for death metal (singer Jeff Becerra coined the term itself in 1983), but weighed in with profound impact on legions of forward-thinking musicians for decades to follow. Recorded during the band's junior high school spring break (!), Seven Churches opens with a lift from the version of "Tubular Bells," famously used in The Exorcist blasting into the track of the same name. From then on, the world is greeted with one of the most relentless, maniacal metal records of the 1980s – one that has rightly earned classic status. A Seven Churches reprint was GIMME METAL's first blowout Vinyl Club offers, which Becerra kindly pumped up on his first special. GIMME is very pleased to welcome Becerra back to the DJ seat for another show brimming with his metal faves.
Coming Soon on GIMME METAL:
11/23 – Sarcator
11/23 – Serpent Omega
11/24 – Agalloch
11/24 – GIMME 5 interviews: Armored Saint / Benediction / Deafkids / Nocturnus AD / Tombs
11/25 – Wytch Hazel
12/01 – Evildead
12/02 – My Dying Bride
12/04 – Raven
12/07 – Warfect
12/08 – Hjelvik
12/11 – Tombs
12/16 – Perdition Sect
12/18 – Autopsy
12/21 – Hrom
12/22 – Ilsa
1/14 – Michael Alago
1/20 – Ripple Music label special
1/26 – Translation Loss label special
1/29 – Nervosa
Don't miss it! Visit GIMME METAL: http://gimmemetal.com.
About GIMME METAL:
Founded by digital music veterans from Apple Music, Google Play, Beats Music, and Napster, parent company Gimme Radio builds highly engaged communities for the passionate fan on a genre-by-genre basis. The company launched its first community in June of 2017: the world's first 24/7 metal-focused service. Fans tune in to hear world class DJs playing metal they can't hear anywhere else – for free. The GIMME METAL app and streaming radio service allows the fans and the DJs/artists to communicate directly with one another in a live feed, in real-time, while they listen. Its roster of 70-plus DJs includes Dave Mustaine of Megadeth, Jessica Pimentel, star of Orange Is The New Black, Brian Posehn, and Randy Blythe of Lamb Of God, among many others.
http://gimmemetal.com
http://www.facebook.com/gimmemetal
http://twitter.com/gimmeradio
http://www.instagram.com/gimmeradio