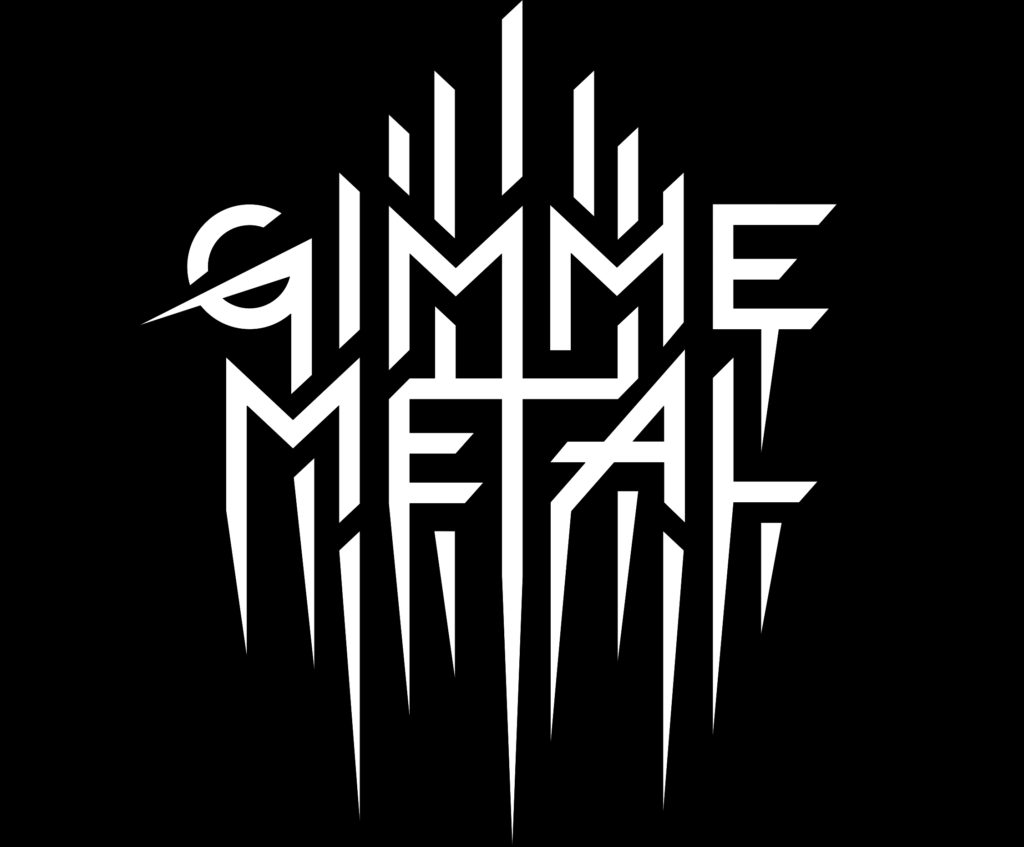 Each week, GIMME METAL publishes its radio chart listing the top 40 tracks played on the station. Already the best metal discovery service online, the GIMME METAL chart is a powerful tool for listeners, labels, and artists for staying up to date on the best new metal released by established greats and up-and-coming underdogs, all handpicked by GIMME's knowledgeable DJ roster and editorial team.
GIMME METAL Chart – October 11th, 2021:
Monolord – "The Weary"
Enslaved – "Caravans To The Outer Worlds"
Green Lung – "Upon The Altar"
Scarecrow – "Raise The Death's Head"
Møl – "Photophobic"
Creeping Death – "The Edge Of Existence"
Full Of Hell – "Eroding Shell"
Order – "It Burns"
Exodus – "Clickbait"
Witchcryer – "Hellmouth"
Cradle Of Filth – "Necromantic Fantasies"
Lucifer – "Crucifix"
Blood Red Throne – "6:7"
God Damn – "Radiation Acid Queen"
Antichrist Siege Machine – "Unleashed Hostility"
Genocide Pact – "Perverse Dominion"
Gaahls Wyrd – "The Humming Mountain"
Khemmis – "Living Pyre"
Iron Maiden – "Senjutsu"
Mastodon – "Teardrinker"
Click HERE for the full Top 40 List.
This week on GIMME METAL Radio: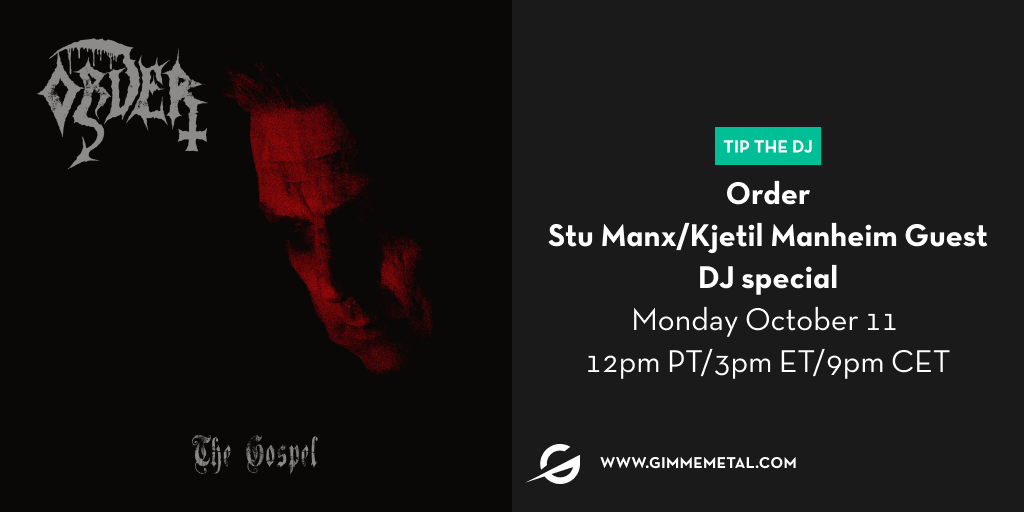 Order Guest DJ Special: Founded in 2013 Order features Anders Odden (Cadaver) and Kjetil Manheim (ex Mayhem). Both have had a heavy hand in sculpting the paths of Scandinavian death and black metal, and after four long years, their second full-length The Gospel is finally here. Rounded out by Billy Messiah (ex Mayhem) and Stu Manx (Gluecifer member who replaced Rene Jansen who sadly passed away in 2014), the band is a true blood-blast of the highest order. "This time we have arrived at a place where the creative flow truly feels unique and to the core of Order," said Manheim. "In The Gospel you will meet us on a very personal level. In this record we open ourselves and invite you into our innermost, both musically and through the lyrics. If you ever wondered who we are, and where we come from musically this album is an answer." Don't miss it!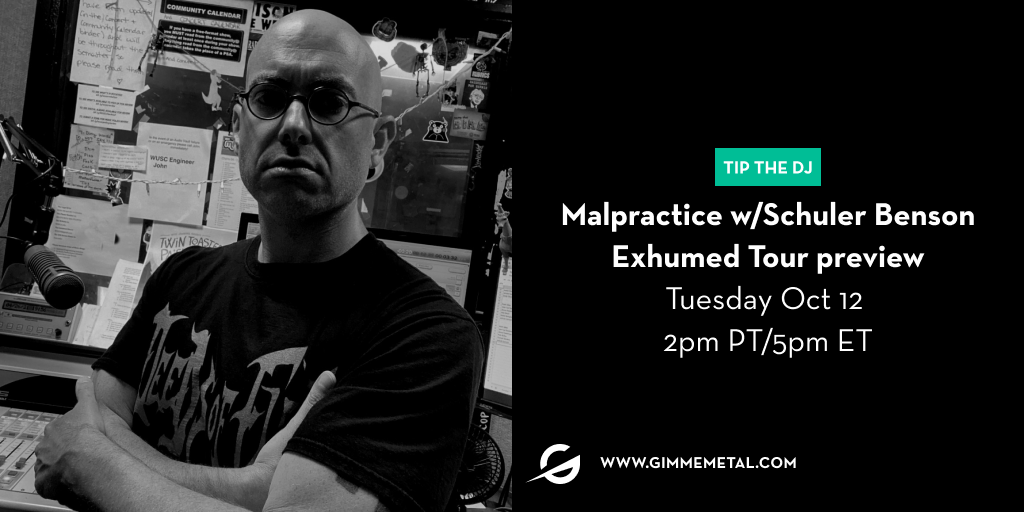 Malpractice Previews The Worming Through America Tour: Death Metal Radio's Schuler Benson is back with a new Malpractice Episode for GIMME, this time spotlighting the upcoming Worming Through America Tour featuring Exhumed, Creeping Death, Bewitcher, and Enforced! He'll be joined by Exhumed Surgeon General Matt Harvey for a tour through the band's discography, plus tracks from the other bands, and commentary from members on the choices!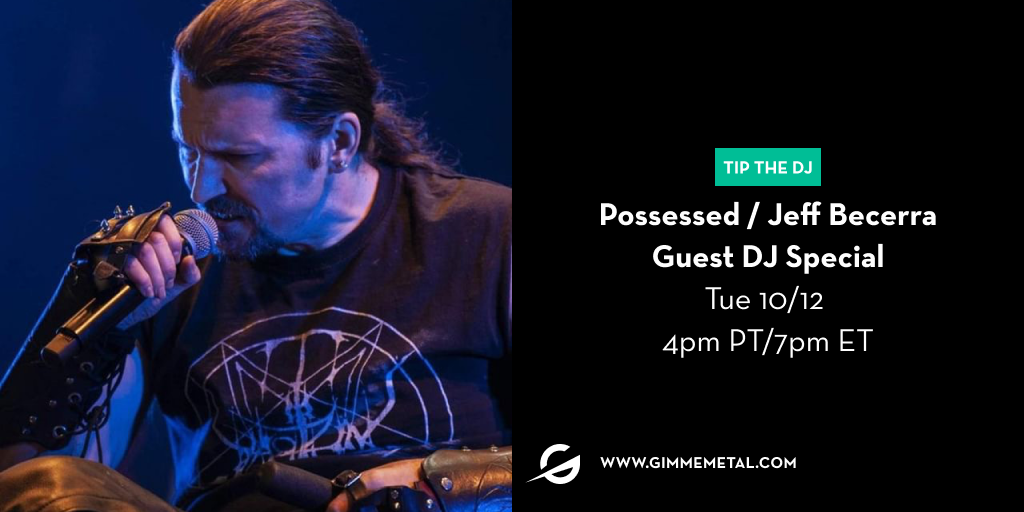 Possessed Guest DJ Special: Vocalist Jeff Becerra is back! Possessed's Seven Churches debut was unleashed in 1985, and not only opened the gates for death metal (Becerra coined the term itself in 1983), but weighed in with profound impact on legions of forward-thinking musicians for decades to follow. Recorded during the band's junior high school spring break (!), Seven Churches opens with a lift from the version of "Tubular Bells," famously used in The Exorcist blasting into the track of the same name. From then on, the world is greeted with one of the most relentless, maniacal metal records of the 1980s – one that has rightly earned classic status. Becerra has become a regular at GIMME METAL and again takes listeners on a tour of his record parlor with an exclusive DJ session. He'll also be in the Live Chat!
Blood Red Throne Guest DJ Special: With over twenty-five years and ten albums soon to be under their belt, Blood Red Throne is dedicated to the continual delivery of straight forward, exceptional death metal with the latest Imperial Congregation (Nuclear Blast) being no exception boasting a quality, old-school sound while reflecting in part upon the self righteous nature of humanity and its incessant need to destroy itself through power, ignorance, and religion. The band was forged in 1998 by former Satyricon live guitarist Daniel "Død" Olaisen and former Emperor bassist Tchort. The band's lineup now consists of Død (guitar), Yngve "Bolt" Christiansen (vocals), Ivan "Meathook" Gujic (guitar), Stian "Gunner" Gundersen (bass), and Freddy "The Shred" Bolsø (drums). Welcome Bolt and Meathook for a somewhat "loose" guest DJ set digging into past and present faves!
Creeping Death Guest DJ Special: Creeping Death is the ultimate fan service for death metal disciples. Like an Easter egg-packed superhero sequel or The Lord Of The Rings director's cuts, the bludgeoning assemblage serves up the best elements of the brutal subgenre's past, present, and future, with neck-breaking intensity. It's an unrelenting sonic celebration of the style, played with blissful mayhem by people who truly love it. Legendary bands like Bolt Thrower, Gorguts, Obituary, and Grave are part of the band's subcultural DNA. The band's crushing The Edge Of Existence EP, released last Friday via MNRK Heavy, further demonstrates the power, fury, and outright revelry at the heart of the band's identity. Welcome the band for their GIMME takeover and get in on the chat!
Witchcryer Guest DJ Special: With When Their Gods Come For You, out now on Ripple Music, Austin's Witchcryer addresses visions of deities of mankind's history telegraphed through an epic classic doom and proto-metal lens, augmented by the fantastic vocals of Suzy Bravo. The track "Nemesis The Inevitable" is an especially personal tome to Bravo's first hand witnessing of crimes against women making for a spiralling and fearsome offering. GIMME welcomes Bravo for a guest DJ special this Friday!
Upcoming on GIMME METAL Radio:
10/19 Bastarður
10/20 Cradle Of Filth
10/20 Alcatrazz
10/22 Robots Of The Ancient World
10/23 Enslaved Takeover Marathon on GIMME METAL 2
10/25 The Agonist
10/26 Twelve Foot Ninja
10/27 Archspire
10/29 Armored Saint
10/30-31 Halloween DJ specials!
11/02 Musk Ox
11/03 Lucifer
11/05 Khemmis
11/08 Hate
11/09 Ghost Cult Site Special
11/10 Necrofier
11/15 Michael Alago
11/16 Rockhammer Radio Special
11/17 Monolord
11/19 Ghoul
12/01 Genocide Pact
12/03 Imperial Triumphant
12/08 Wharflurch
Don't miss it! Visit GIMME METAL: http://gimmemetal.com.
About GIMME METAL:
Founded by digital music veterans from Apple Music, Google Play, Beats Music, and Napster, parent company GIMME Radio builds highly engaged communities for the passionate fan on a genre-by-genre basis. The company launched its first community in June of 2017: the world's first 24/7 metal-focused service. Fans tune in to hear world class DJs playing metal they can't hear anywhere else – for free. The GIMME METAL app and streaming radio service allows the fans and the DJs/artists to communicate directly with one another in a live feed, in real-time, while they listen. Its roster of 70-plus DJs includes Dave Mustaine of Megadeth, Jessica Pimentel, star of Orange Is The New Black, Brian Posehn, and Randy Blythe of Lamb Of God, among many others.
http://gimmemetal.com
http://www.facebook.com/gimmemetal
http://twitter.com/gimmeradio
http://www.instagram.com/gimmeradio