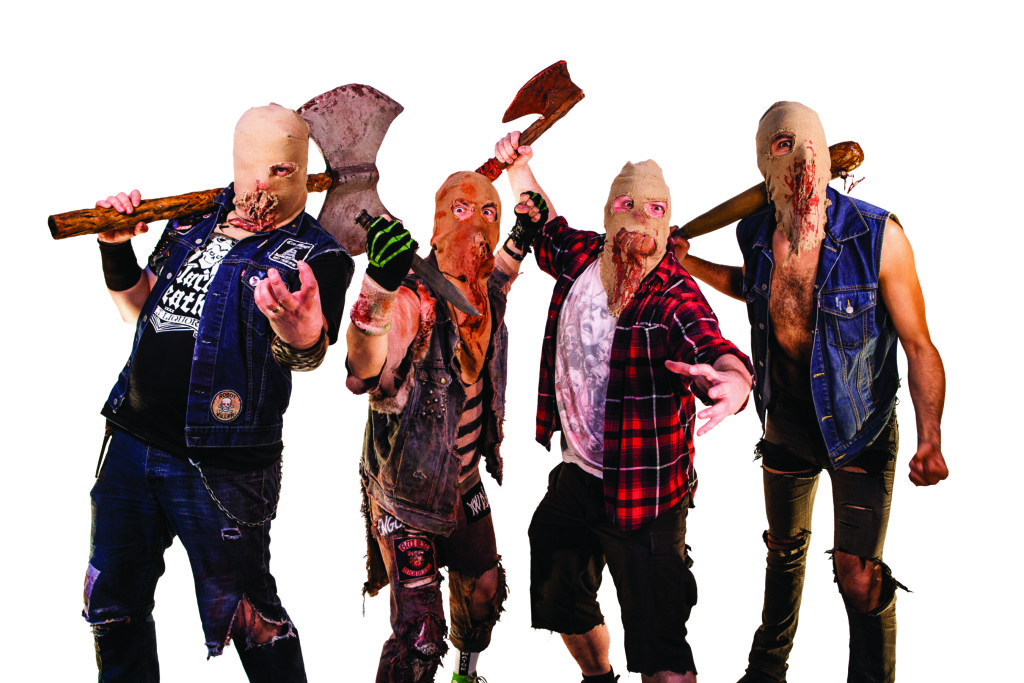 Today, the masked malefactors of Creepsylvania GHOUL are pleased to contaminate the airwaves with a premiere of "Shred The Dead" from their forthcoming Dungeon Bastards opus. In "Shred The Dead," vocalist Baron Samedi's commands to retrieve the Omicron Bomb fall on deaf ears, as GHOUL retreats deeper into the Catacombs muttering half-hearted assurances; that is, until Samedi unleashes an army of revivified corpses to persuade them otherwise.
Elaborates guitarist Digestor, "'Shred The Dead' is a song about undead fiends, eldritch, mysterious skateboard tricks, and the efficacy of the prevent defense. If Mr. Mustaine is reading this, I'm sure our lawyers can work something out. You seem like a reasonable man."
You can also check out the band's fan-made "Ghoulunatics" video below as well as the previously-unearthed "Bringer Of War" playing at Revolver RIGHT HERE.
GHOUL is currently mucking up stages with blood and dread nationwide supporting Carcass and Crowbar on a seventeen-city US tour. The One Foot In The Grave Tour 2016 will come to a close August 8th. Additional support is being provided by Night Demon. Following their run with Carcass, GHOUL will infect four more cities on a smattering of headlining shows. See all confirmed dates below.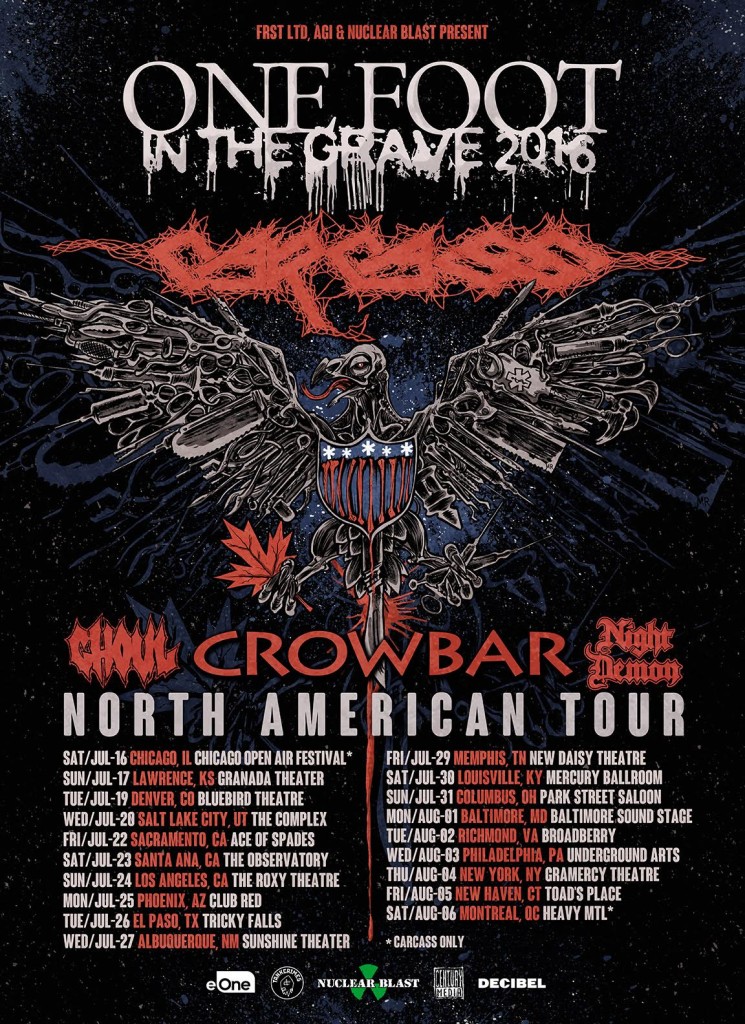 GHOUL w/ Carcass, Crowbar, Night Demon:
7/22/2016 Ace Of Spades – Sacramento, CA
7/23/2016 The Observatory – Santa Ana, CA
7/24/2016 The Roxy Theatre – West Hollywood, CA
7/25/2016 Club Red – Mesa, AZ
7/26/2016 Tricky Falls – El Paso, TX
7/27/2016 Sunshine Theater – Albuquerque, NM
7/29/2016 New Daisy Theatre – Memphis, TN
7/30/2016 Mercury Ballroom – Louisville, KY
7/31/2016 Park Street Saloon – Columbus, OH
8/01/2016 Baltimore Soundstage – Baltimore MD
8/02/2016 The Broadberry – Richmond, VA
8/03/2016 Underground Arts – Philadelphia, PA
8/04/2016 Gramercy Theatre – New York, NY
8/05/2016 Toad's Place – New Haven, CT
End Tour
8/06/2016 Harmony House – Webster, NY *
8/07/2016 Reggies – Chicago, IL *
8/08/2016 Rock Room – Kansas City, MO*
8/13/2016 Metro – Oakland, CA *
*GHOUL Headlining Shows
GHOUL's Dungeon Bastards LP brandishes eleven hemorrhage-inducing tracks of the band's Creepsylvanian splatterthrash. The record was captured and mixed by Scott Evans (Kowloon Walled City) at Antisleep Studios in Oakland, and mastered by Dan Randall (Impaled, Annihilation Time, Fucked Up, Necrot) at Mammoth Sound in San Francisco), the final presentation of this atrocity wrapped in the ghoulightful graphics of Mark W. Richards of Heavy Hand Illustration (Pig Destroyer, The Black Dahlia Murder, Toke, Black Fast). With Dungeon Bastards, the world's most revered hooded cannibals will rip your flesh with speed and riffs… before eating it.
Dungeon Bastards will rear its seditious head from the subterranean bowls of Creepsylvania on July 29th, 2016 on CD, vinyl, and digital formats courtesy of the sound assassins at Tankcrimes Records. The record will also come in slime green and blood red vinyl options with a gatefold jacket that opens into the Dungeon Bastards board game. Players take turns advancing through a Creepsylvanian map; the first one to get to end of the map and jump the Wall Of Death wins. For more detailed gaming info, visit Invisible Oranges, who got the inside scoop at THIS LOCATION. Vinyl preorders are currently available HERE and digital preorders HERE.
http://www.facebook.com/GhoulunaticsAsylum
http://www.creepsylvania.com
http://www.tankcrimes.com
http://www.facebook.com/tankcrimes